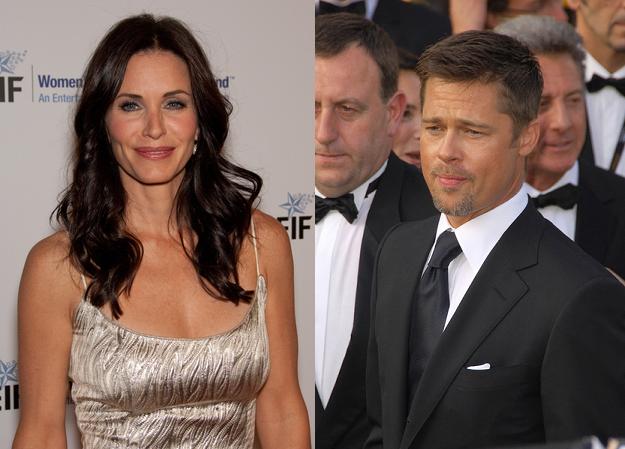 After a split that's more than four years old, can the friends of a divorced couple switch allegiances temporarily for a night? That's what happened when Courteney Cox ran into Brad Pitt in Los Angeles. Courteney and her husband David Arquette were attending a concert at the Wiltern Theater when they saw Brad. Instead of ignoring Brad, Courteney went right up to him and started chatting. This is all according to Page Six, so it could be total crap. I don't even know if Brad's been in Los Angeles recently. But if it did happen, is it a big deal?
With friends like Courteney Cox, who needs enemies? Cox, who is supposedly best pals with her former "Friends" co-star Jennifer Aniston, was spotted chatting with Aniston's ex-husband Brad Pitt at a concert Sunday night.

Cox was at the Wiltern Theater in LA with husband David Arquette for the final stop on rocker Chris Cornell's Scream album tour when Pitt showed up.

Our backstage spy told us, "Instead of ignoring him, Courteney chatted away with Brad all night. The three were in great spirits and seemed really happy to see each other."
[From Page Six]
Some will claim, "Oh for the love of God, she was just talking to him! It's not the end of the world!" And still others will claim "Disloyal! Friends that side with the ex-wife have a constitutional duty to ignore the ex-husband!" When Brad and Jennifer were married, Courteney and David were one the couples that they were closest to. David has even spoken out about Brad and Jen's divorce before. That being said, if this happened, it isn't the first time they've all run into each other, and they seem to generally behave like adults. I mean, they're all in their forties, so it would be weird if Courteney acted like a bitchy schoolgirl and ignored Brad in-between shooting him the death stare.