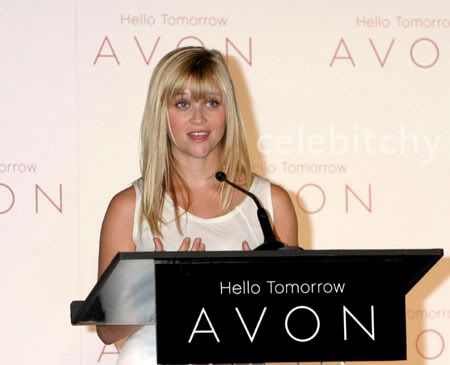 Reese Witherspoon is going to be the new global face of Avon. She is, according to their press release, going to be the brands first ever 'Global Ambassador'.
"Our partnership with Reese represents a breakthrough moment for our company — and comes just months after the launch of our successful Hello Tomorrow campaign, which signaled a true evolution for the Avon brand," said Geralyn Breig, Senior Vice President and Global Brand resident, Avon Products, Inc. "This is the first time we have had celebrity representation on all three dimensions of our business — our philanthropic initiatives, our brand, and the Avon Representative — and we are incredibly excited to have someone of Reese's talent and stature add her voice to Avon's message to help bring it to the world."

The Avon Foundation and Ms. Witherspoon will partner in raising awareness for the Foundation's programs in the areas of breast cancer, domestic violence and emergency relief. The Avon Foundation is a 501(c)(3) public charity founded in 1955 with the mission of championing the health and well being of women globally through its philanthropic efforts.

"I am very excited to be partnering with Avon. Avon is more than an iconic world class beauty leader — it is a company that is known the world over as a crusader for women's causes," said Ms. Witherspoon. "I am truly impressed by how Avon has been able to effect real change in the
communities in which it does business, and by how committed the company is to providing economic and personal fulfillment to women all over the world. I feel a great responsibility in my own life to give back to society. Now, as the Honorary Chairman of the Avon Foundation, I am proud to be joining in the great philanthropic work that is already underway."
Oh, she is so perfect to be an Avon Lady. I never really believed glamourpuss Salma Hayek used Avon products – even though there's nothing wrong with them at all – but I could definitely see Reese Witherspoon using them. She's such a mum. I wish she was my mum – I'd borrow her clothes!
Reese is also reportedly seeing Jake Gyllenhaal again/still, and has signed onto star in a movie with Vince Vaughan. It's titled 'Four Christmases' and is a comedy about a couple trying to visit their four sets of divorced parents at Christmas. Obviously for the characters in the film, they weren't interested in my solution to that problem – moving overseas away from the divorcees! Then again, that scenario is hardly open to hilarious incidents in a movie format.
Thanks to WENN for these photos.