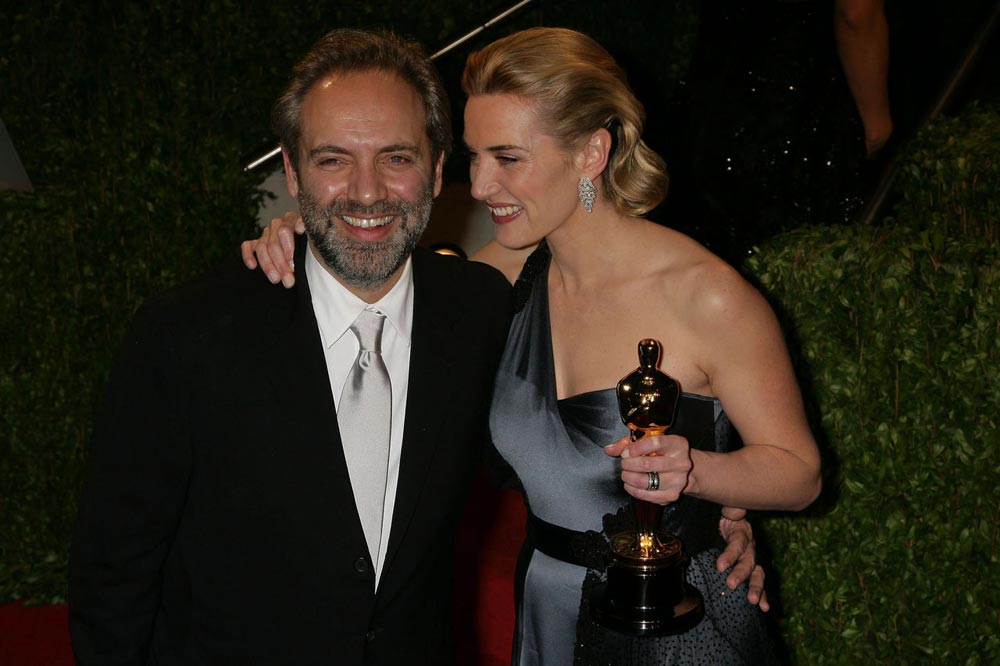 Kate Winslet has brought the hammer down on another publication for libel. This time, it's The Daily Mail, specifically a writer who wrote a particularly nasty piece about Winslet's body called "Should Kate Winslet Win an Oscar for the World's Most Irritating Actress?" Charming. This isn't the first time Winslet has sued or threatened to sue, and as far as I can find, every time a publication pisses her off, an editor either has to apologize or give Winslet money. In 2003, the British edition of GQ had to issue Winslet an apology over the digital enhancement to Kate's image – they made her look very, very thin, and if memory serves, they even digitally lengthened her legs.
In March 2007, Winslet won a libel lawsuit against the British magazine Grazia, who claimed that she was seeking outside diet help. At the time, she issued a statement, saying that she was donating the money won to an eating disorder charity: "Grazia magazine has apologized to me in full, and admitted that their story was incorrect, which gives me tremendous peace of mind. I feel very strongly that 'curves' are natural, womanly and real… I shall continue to hope that women are able to believe in themselves for who they are inside, and not feel under such incredible pressure to be unnaturally thin. I am donating the 'damages' given to me by Grazia, to an eating disorder charity."
This time, I'm actually not quite sure if Winslet has a case. The writer, Liz Jones, is very nasty, but I'm not sure if she actually crosses the libel line:
Kate Winslet, role model for women everywhere who don't fit into Hollywood's traditional ideal body, is so protective of her status that she's just mad enough to sue a publication that says she lied about her fitness habits.

The Oscar winner is suing the Daily Mail, a UK tabloid, saying they libeled her in an article called, "Should Kate Winslet Win an Oscar for the World's Most Irritating Actress?" She's seeking around $225,000 in damages.

It's not the irritating part that has her up in arms, leaving her "distressed and embarrassed" and feeling that they had "injured her personal and professional reputation," however.

"[Winslet] was particularly upset by what she regarded as the very unpleasant and nasty way in which the article was written," according to her April legal filing.

The tab questioned a quote she gave to Elle, where she said, "I don't go to the gym because I don't have time, but I do Pilates workout DVDs for 20 minutes or more every day at home."

The Daily Mail writer, Liz Jones, claims she had succumbed to Hollywood pressure and slimmed down, saying she "has become, in my opinion, as drippy and as impossibly vain as the rest of them."

"She caught a nasty dose of Hollywooditis. It happens to the best of them, of course it does," wrote Jones. "It is the duplicitousness that enrages me and most other women I have spoken to."

Kate doesn't want the tabloid to reprint their claims, however, they are so far refusing the ban.
[From OK! Magazine]
During the Oscar season, I read a lot of articles about Kate Winslet, especially in the British press. I missed this Daily Mail piece, but I did notice something peculiar about the way the British press in general approached Kate Winslet. Specifically, Kate was damned if she did, damned if she didn't. When she was honest about her struggles with her weight or body image, she was slammed for being vain or image-obsessed. When she tried to just talk about the work, and leave her personal stuff aside, the journalists tended to put in a few sly references to "the fat girl is all grown up", stuff like that. I like that Winslet has the cajones to take on members of the press when she thinks they've crossed a line. But there is that old expression – "Never pick a fight with someone who buys ink by the barrel."
Kate Winslet is shown on Oscar night. Credit: WENN.com