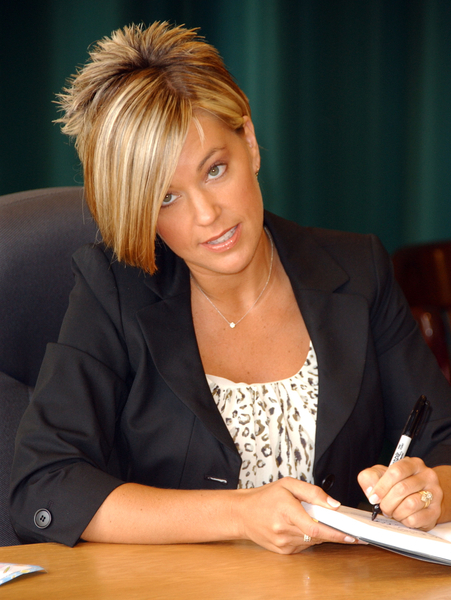 Radar Online has an exclusive video interview with Kate Gosselin of Jon & Kate Plus 8's brother, and he says that his sister's marriage crisis isn't as recent or as one-sided as she's making it out to be. Two weeks ago Kate's husband Jon was featured on the cover of US Weekly in a car at 2am with another woman. Jon's supposed mistress was identified last week as a 23 year-old school teacher from his hometown of Reading, Pennsylvania. The upcoming tabloids feature the Jon and Kate split heavily, with cover stories on People, In Touch, Star and The National Enquirer.
Kate did the talkshow circuit to talk about her family problems and promote her new book. She said on The Today Show that she was "hesitant to believe" that Jon was cheating, although she admits in the upcoming issue of People that their relationship is in trouble, saying "I don't know that we're in the same place anymore." It all comes across like Kate is just figuring out that her husband was unfaithful and gradually coming to terms with it. That's not the case at all, her brother maintains. Kevin Kreider and his wife Jodi told Radar Online that Kate broke up with Jon six months ago and that she's cheating on him too. Their reality show is a sham, he said, and they would sometimes fight so much "the film crew would have a hard time getting 15 minutes worth of decent coverage out of 8 hours of filming. It was horrible."
Production crew disturbed by inaccuracy of the show
Kevin said "Some of the production crew came to us and said how they had moral problems with how they acted, and what they were filming with the kids."
Kate is cheating with the bodyguard
His wife Jodi added "Jon is making some poor choices right now, but all the media attention is going to him. Jon has told us that he feels that Kate is also a… [whispering] cheater."
Kevin said "Jon came to our door one day, and told Jodi that he suspects it's Steve the bodyguard and he feels that he's getting the bad rap, but… Kate's not being faithful either…
"He has talked to us about how he suspects that Kate has been unfaithful… It paints how bad and how different reality is from the reality show."
Kevin ended with the plea to the two of them "Please do not trade your marriage and your family for fame and fortune."
Many other people have similar advice for the Gosselins, with Courtney Hazlett at MSNBC's The Scoop urging them to cash out and try to live peacefully out of the spotlight. It all seems like it's too late for these two, and why am I not surprised that even when things fell apart for them they tried to spin into something else? Kate is said to be estranged from many of her family members, and she must have really pissed off her brother and his wife to get them to speak out against her so publicly. It seems like it's too late for Kate and Jon to save their family, especially considering that they'd rather save their sham public image instead.
Kate Gosselin is shown at a book signing on 4/14/09. Credit: PRPhotos