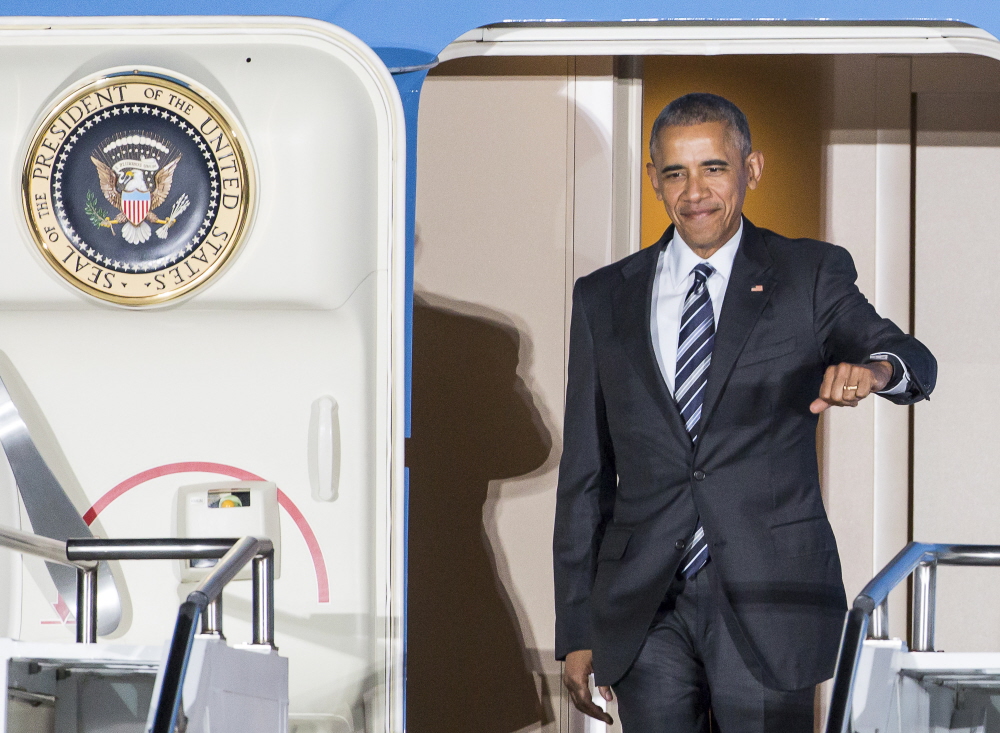 We only have less than four weeks to enjoy President Barack Obama. Then all hell breaks loose under President Orange. So, Obama has continued to do his exit interviews, and he ended up sitting down with his friend David Axelrod for Axelrod's podcast. The interview came out after Christmas, and there's one part in particular that has drawn the ire of President Orange.
Though he is barred by the Constitution from a third four-year-term, President Obama believes voters would have supported him to victory against Donald Trump.

"I'm confident that if I — if I had run again and articulated it, I think I could've mobilized a majority of the American people to rally behind it," Obama, 55, said during his interview on The Axe Files podcast, released Monday, with David Axelrod, his former adviser. "I know that in conversations that I've had with people around the country, even some people who disagreed with me, they would say the vision, the direction that you point towards is the right one."

In his interview with Axelrod, Obama spoke highly of Democratic nominee Hillary Clinton, whom he stumped for during the election cycle.

"[Hillary] performed wonderfully under really tough circumstances. I've said this publicly, I'll repeat it. I think there was a double standard with her," he said. "For whatever reason, there's been a longstanding difficulty in her relationship with the press that meant her flaws were wildly amplified relative to. If you think you're winning, then you have a tendency, just like in sports, maybe to play it safer."
There are a lot of "what if" scenarios that Democrats have been war-gaming over the past month and a half. It's part of the electoral-grief process. What-if Putin hadn't gotten involved. What-if Bernie Sanders had gotten the nomination. What-if Joe Biden had run. What-if Elizabeth Warren had run. What-if Hillary had run a different campaign. What-if Obama could run for another term. For what it's worth, I do think Obama is right – if he was the candidate on the Dem ticket, everything would have been a lot different. And yes, he probably would have won. But not according to the Orange One. PEOTUS got into a snit about Obama's interview, because PETTY. Christmas Petty.
President Obama said that he thinks he would have won against me. He should say that but I say NO WAY! – jobs leaving, ISIS, OCare, etc.

— Donald J. Trump (@realDonaldTrump) December 26, 2016
The world was gloomy before I won – there was no hope. Now the market is up nearly 10% and Christmas spending is over a trillion dollars!

— Donald J. Trump (@realDonaldTrump) December 26, 2016
You know what I say to this? Trump could have easily run against Obama in 2012. But Trump didn't. Because he was too much of a coward. So spare me the what-ifs, Orange One.
#MerryChristmas pic.twitter.com/5GgDmJrGMS

— Donald J. Trump (@realDonaldTrump) December 25, 2016
Photos courtesy of WENN.