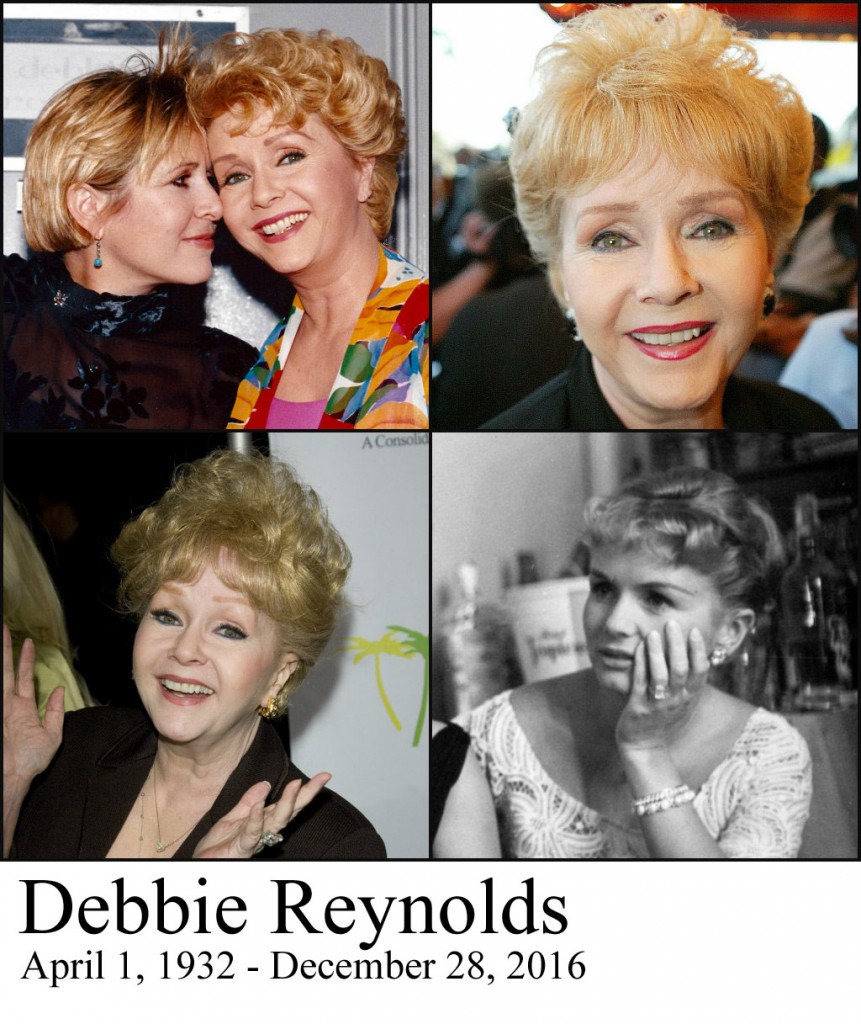 In yet more incredibly sad news to close out the year, Debbie Reynolds, Carrie Fisher's mother, suffered a stroke at her son Todd's home yesterday and was rushed to hospital. She passed away at the age of 84, just one day after losing her daughter, Carrie, from a heart attack. Debbie's son, Todd, spoke to E! and TMZ about his mom and said that she was under a lot of stress from losing Carrie and that she said she wanted wanted to be with her. He told E! "She held it together beautifully, obviously, for the last couple of days but she was under a lot of emotion and stress from the loss [of Carrie] and it's pretty much what triggered this event." To TMZ he said that Debbie told him earlier that day "I miss her so much, I want to be with Carrie."
Debbie was Hollywood royalty and she reinvented herself several times in her long career, which was launched by an appearance at 18 in Singin' in The Rain. She married her first husband, Carrie and Todd's father, Eddie Fisher, in 1955 and that marriage ended in divorce when Eddie left Debbie to marry her best friend, Elizabeth Taylor, which was a huge scandal at the time. Debbie starred in over thirty films and made the move to television in 1969 with her own show, The Debbie Reynolds Show. She went on to a stage career in her 40s including singing and dancing, she released albums, she owned a Las Vegas casino in her 60s and she collected Hollywood memorabilia including iconic costumes and props, later selling her collection for millions. She was active with roles in television and on tv movies well into her 80s, including a role in the 2013 HBO special, Beyond the Candelabra, as Liberace's mom. Debbie was also known for her philanthropy, she was active for over fifty years in the organization The Thalians, which is dedicated to mental health issues. Here's part of her obituary, from People:
Reynolds soon starred in a string of crowd-pleasers, including The Affairs of Dobie Gillis ('53), Susan Slept Here ('54) and The Tender Trap ('55), opposite Frank Sinatra. She and Sinatra became pals. "He was very good to me and gave me some very good advice that I did not listen to," Reynolds told PEOPLE in a 2015 interview. "He said, 'Don't marry Eddie.' He said you shouldn't get married to a singer. We're not faithful." Eddie was, of course, Eddie Fisher, the first great love of Reynolds' life, whom she wed in 1955. He was the father of her two children, Carrie and Todd…

Reynolds was also a prolific recording artist at the time, making the hit gold record "Tammy" from her 1957 film, Tammy and the Bachelor, and putting out an eponymous album in 1959. In the wake of her divorce, she also went on to make dozens of pictures, including John Ford's How the West Was Won ('62); The Unsinkable Molly Brown ('64), for which she was nominated for an Academy Award; and The Singing Nun ('66), which spun off into a TV show.

In her personal life, Reynolds didn't stay heartbroken for long. She wed businessman Harry Karl in 1960, in a union that lasted for 13 years, then was married to real-estate developer Richard Hamlett from 1984 to 1996.

Meanwhile, Reynolds developed a deep passion for something else — Hollywood memorabilia. It started in 1970, when the Metro-Goldwyn-Mayer studio sold off its huge collection, with Reynolds picking up every piece she could buy. She went on to amass more objects: Marilyn Monroe's famous dress from The Seven Year Itch, the blue gingham dress Judy Garland wore as Dorothy in The Wizard of Oz, Charlie Chaplin's bowler hat, and thousands more items of clothing and props from Hollywood's golden era. "The studios should have taken each of their famous articles and preserved the history," she told PEOPLE. "But they didn't do that. They didn't feel it was very important."

But Reynolds did. She collected so much, that she fought long and hard to create a Hollywood museum, briefly installing many of the pieces in her Debbie Reynolds Hollywood Hotel in Las Vegas. The business eventually folded, forcing Reynolds to offer her pieces in multiple auctions that raised millions of dollars.

But even during her years of collecting, working with charities and dealing with business ventures and failings, Reynolds never tired of being onscreen. She memorably played Albert Brooks' irascible mom in the 1996 film Mother, and Liberace's in Steven Soderbergh's 2013 TV movie Behind the Candelabra. She guest-starred on everything from Wings to Will & Grace, Rugrats to Roseanne.

Reynolds also took it upon herself to heal fractured relationships. After years of tension with daughter Carrie, the two had a rapprochement, maintaining a close relationship until Fisher's death. Reynolds even made up with Taylor, approaching her on the Queen Elizabeth cruise ship and rekindling a friendship of "many, many years," she recalled. They starred together in the 2001 TV movie These Old Broads, written by Carrie.
Debbie received an honorary Academy Award last year for her work with The Thalians and she received a Life Achievement Award from the Screen Actors Guild in 2014.
As People mentions, Debbie and Carrie were estranged from each other for some time, but they reconnected, became very close and lived right next door to each other. My heart goes out to their family and especially to Billie Lourd, Carrie's daughter, who lost both her mom and her grandmother right after the holidays. I hope she has her family and friends around her and that she's hugging her sweet dog, Tina, and her mom's dog, Gary.
Variety posted this interview of Carrie Fisher and Debbie Reynolds from Oprah in 2011. It's fascinating. At about 12:30, after they play a clip from Carrie's Wishful Drinking special where she said her dad, Eddie Fisher, consoled Elizabeth Taylor after her husband's death "with his penis," Debbie makes a sign with her index finger and thumb showing the length Fisher went to. Damn! Around 18:00 they talk about Debbie's second marriage, to millionaire Harry Karl, when she lost everything. They discuss Carrie's mental breakdown and their estrangement as well. Both Carrie and Debbie are hilarious and so candid about everything they've gone through.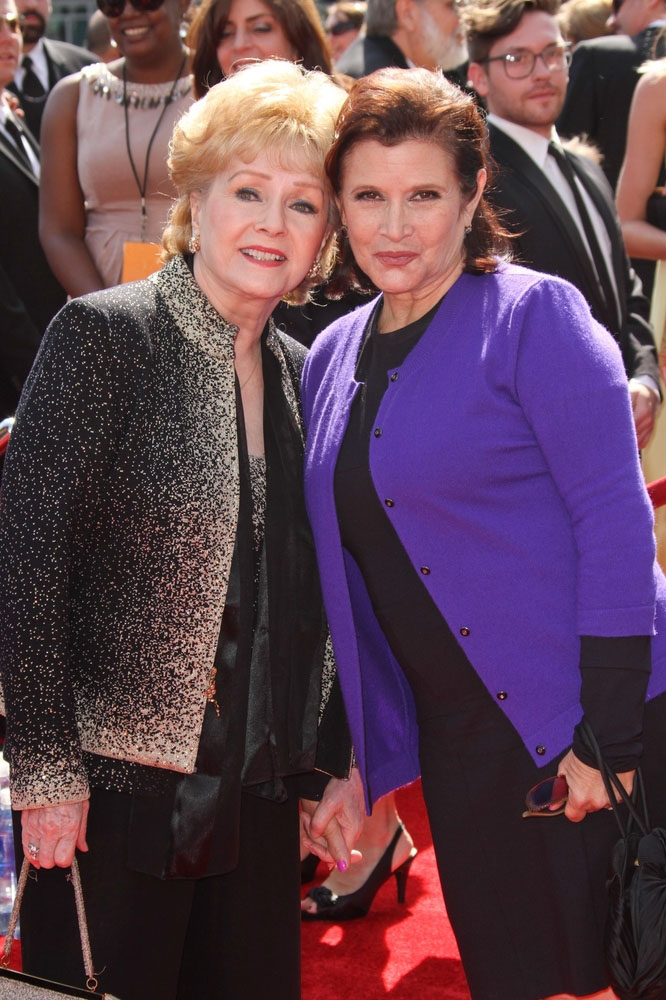 photos credit: WENN, FameFlynet, Getty, Debbie Reynolds and PRPhotos