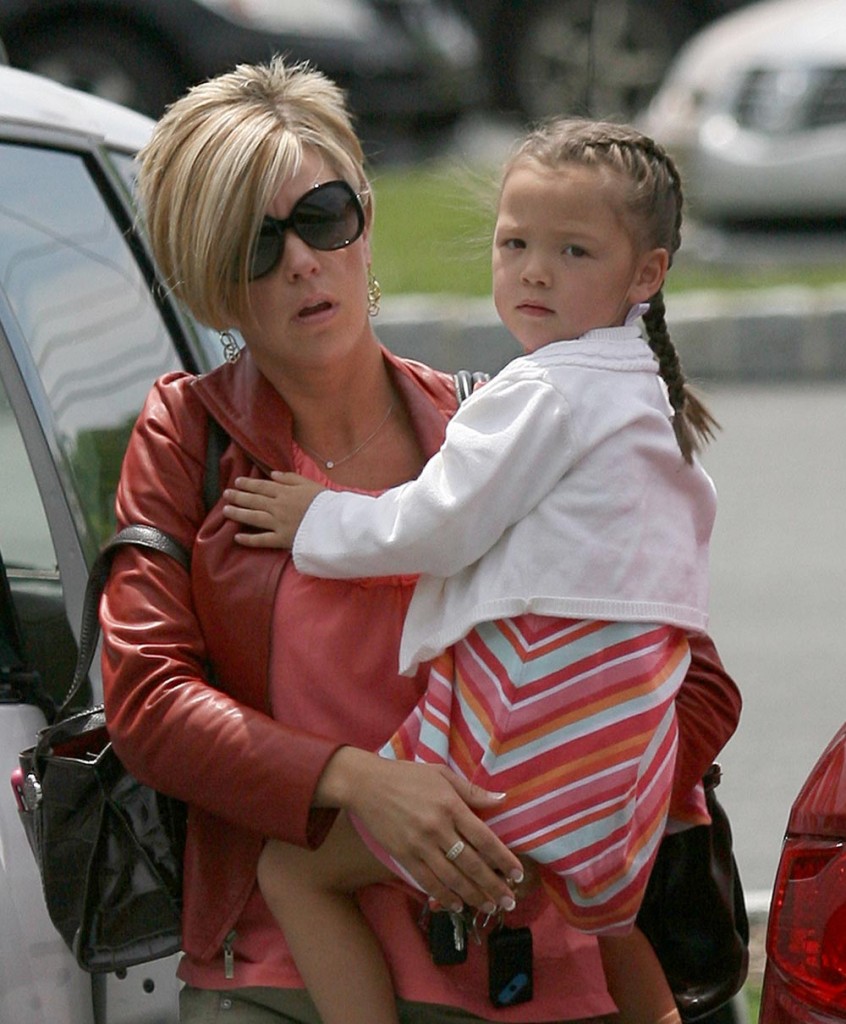 US Weekly is sticking with their lucrative formula of covering the rift in reality stars Kate and Jon Gosselin's marriage. They started with exclusive insider information and photo evidence that Jon was cheating on Kate with a 23 year-old teacher from his parents' hometown. Now the tide is turning to focus on Kate, her relationship with her bodyguard, and her controlling ways. US features an interview in their upcoming issue with an ex employee of the mother of eight. The former nanny details the crazy demands that Kate made of her staffers, including supposedly firing one woman for washing her hands in the kitchen instead of the bathroom:
Baby nurse Angela Krall, who watched the sextuplets as infants for more than a year, tells Us that the short-fused Kate fired 40 nurses and nurse's aides in the three months before she was hired. A 2005 AP story reported that a pre-TV Gosselin had petitioned the state to extend payments for Krall, whose fees were first paid by Medicaid (Jon was unemployed; Medicaid provides limited assistance to premature babies). "Kate Gosselin said she feels society has a responsibility to help with the children, since modern medicine promotes the use of fertility drugs, which can lead to multiple births," the AP reported.

While Kate praised Krall in the same story, Krall reveals that Kate posted "demeaning" signs in every room detailing rules, and fired one woman on the spot for washing her hands in the kitchen instead of the bathroom. "Kate flipped," says Krall. "She thought it was cross-contamination."

That level of perfectionism also tore her apart from her father, Kenton Kreider, a pastor, after he gave her cribs donated by his parishioners. "They didn't match and Kate rejected them," says a family source. "Things like that caused a rift." Krall, who says all six babies ended up with matching cribs, tells Us Kate "thought they were owed stuff. The money factor was huge."

Indeed, a now-famous Gosselin has spent 21 out of the last 30 days on the road at paid speaking engagements; after she made news last week admitting that she might leave Jon, she continued on her book tour for five days as her husband tended to the kids.

For more on Kate's obsession with her own celebrity and freebies, what she's really like as a mom, and her rude behavior to locals, pick up the newest issue of Us Weekly, on newsstands today.
[From US Weekly]
I read the story about Kate rejecting hand-me-downs on the website Gosselins Without Pity and it's possible that's where US got this news as well. Kate was said to be too proud to accept anything that wasn't new and this made her father embarrassed when he had to go back to his parish and tell people their donations weren't wanted.
This all sounds over the top, though. Who fires 40 people in three months, that's outrageous. This story is likely exaggerated for effect, but it just makes it sound like it's untrue. Kate is bitchy and controlling on camera and she's probably very bossy with her staff. Whether she actually fired someone for washing their hands in the kitchen is up to question, though. It's likely she had several other issues with the woman and the thing with the hand washing was just the last straw.
If she was struggling before she got the reality show deal I don't blame her for wanting help from Medicaid as US mentions, but to then turn around and reject donations because the stuff isn't brand new is just haughty. It sounds like Kate is giving Octomom a run for the money when it comes to "most hated mom of multiples." All that will change when Suleman gets her own reality show, though.
Thanks to CoverAwards for this US Weekly cover. Here's Kate Gosselin and her daughter Alexis on 5/18, Jon Gosselin is shown riding an ATV on 5/19/09. His alleged mistress Deanna Hummel is shown on 5/18/09. Credit: INFphoto.com