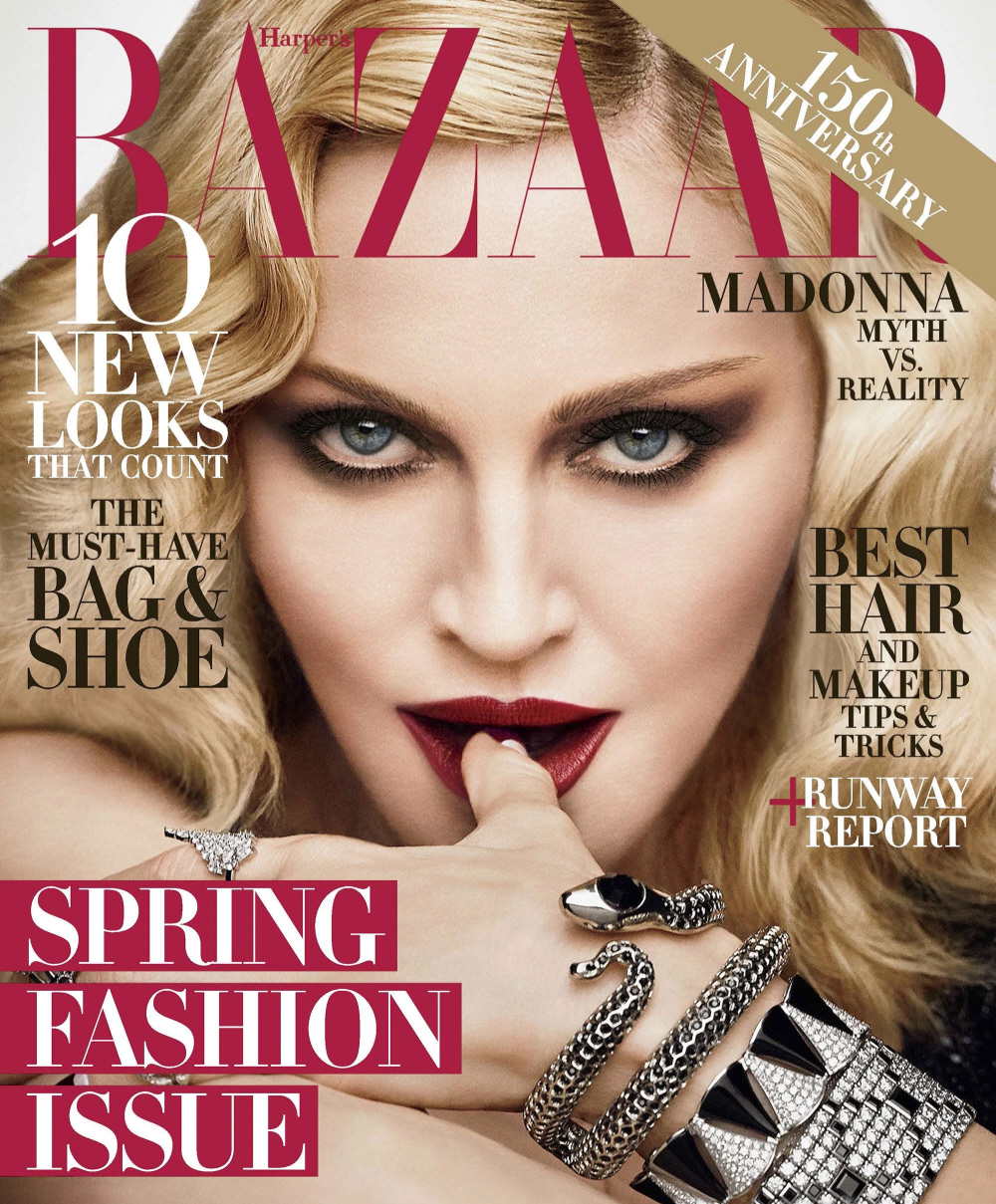 Madonna covers the February issue of Harper's Bazaar (US) and the cover shot absolutely looks like a cartoon. OMG. While it's no secret that Madonna has had a great deal of work over the past decade, her most recent facial adjustments have left her looking… odd. Not necessarily bad, but she definitely has weird angles and I kind of think Bazaar was being really mean by coming in this close to her face, and for using this particular shot as their cover. Rude! As for the interview… I find myself enjoying Madonna's interviews these days, which comes as a surprise to me because Madge's print interviews used to annoy the sh-t out of me. She's been talking a lot about politics, Donald Trump, sexism and more, and this interview is no different – you can read the full piece here. Some highlights:
Madonna has always felt oppressed: "I've always felt oppressed. I know a lot of people would go, 'Oh, that's ridiculous for you to say that. You're a successful white, wealthy pop star,' but I've had the sh-t kicked out of me for my entire career, and a large part of that is because I'm female and also because I refuse to live a conventional life. I've created a very unconventional family. I have lovers who are three decades younger than me. This makes people very uncomfortable. I feel like everything I do makes people feel really uncomfortable."

Whether she was surprised by Trump's victory: "On election night I was sitting at a table with my agent, who is also one of my very best friends, and we were truly praying. We were praying. She was on her computer. She's friends with someone who was working on Hillary [Clinton]'s campaign and was getting blow-by-blow reports, and at one point she was like, "It's not looking good." It was just like watching a horror show. And then she was reading from the Quran, and I was reading from the Zohar. We were doing everything: lighting candles, meditating, praying, offering our lives to God forever, if only. I went to sleep, and since that night, I wake up every morning and it's like when you break up with somebody who has really broken your heart. You wake up and for a second you're just you, and then you go, "Oh, the person I love more than anything has just broken my heart, and I'm devastated and I'm broken and I have nothing. I'm lost." That's how I feel every morning. I wake up and I go, "Wait a second. Donald Trump is the president. It's not a bad dream. It really happened." It's like being dumped by a lover and also being stuck in a nightmare.

Her plans for the Trump administration: "I feel like I'm already doing it to a certain degree anyway and have been doing it. But I have to get way more vocal and become a little bit less mysterious. What I find really astonishing is how quiet everybody is in my industry. I mean, nobody in the entertainment business except for maybe a handful of people ever speak out about what's going on. Nobody takes a political stance or expresses an opinion… They want to maintain a neutral position so they can maintain their popularity. I mean, if you have an opinion and people disagree with you, you might not get a job. You might be blacklisted. You might have fewer followers on Instagram. There are any number of things that would be detrimental to your career. Everyone's really afraid. Because it doesn't affect their daily life yet, no one's doing anything about it.

Why she keeps working: "Wanting to inspire people. Wanting to touch people's hearts to get them to look at life in a different way. To be a part of evolution, because, for me, it's either you're part of creation or you're part of destruction. It's inexplicable; it's like breathing, and I can't imagine not doing it. That is one of the arguments I would get into with my ex-husband, who used to say to me, "But why do you have to do this again? Why do you have to make another record? Why do you have to go on tour? Why do you have to make a movie?" And I'm like, "Why do I have to explain myself?" I feel like that's a very sexist thing to say. Does somebody ask Steven Spielberg why he's still making movies? Hasn't he had enough success? Hasn't he made enough money? Hasn't he made a name for himself? Did somebody go to Pablo Picasso and say, "Okay, you're 80 years old. Haven't you painted enough paintings?" No. I'm so tired of that question. I just don't understand it. I'll stop doing everything that I do when I don't want to do it anymore. I'll stop when I run out of ideas. I'll stop when you f–king kill me. How about that?
At first, I was also like "STFU with your oppressed feelings, Madonna," but I sort of understand what she's saying. She's not making a comparison and she's not saying that she's somehow more oppressed than anyone else. She's just saying that she too has been oppressed by sexism and ageism. Which, yes, happens to every woman, even rich white women (traditionally the least oppressed sub-group of women). I also love the personal story of her argument with Guy Ritchie about why she still creates, why she still wants to contribute, and how it's sexist to ask those questions. I guess I like Madonna now? Huh.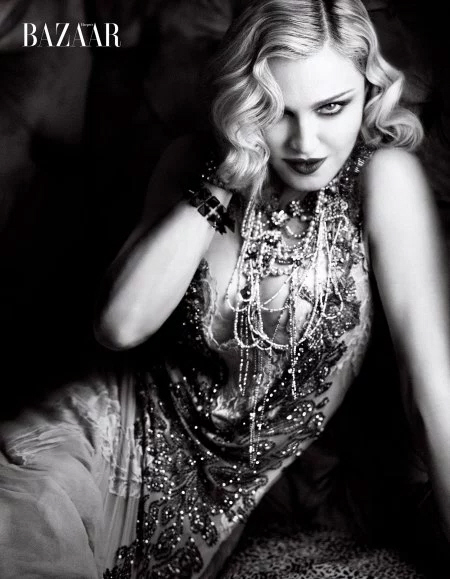 Photos courtesy of Luigi & Iango/Harper's Bazaar.