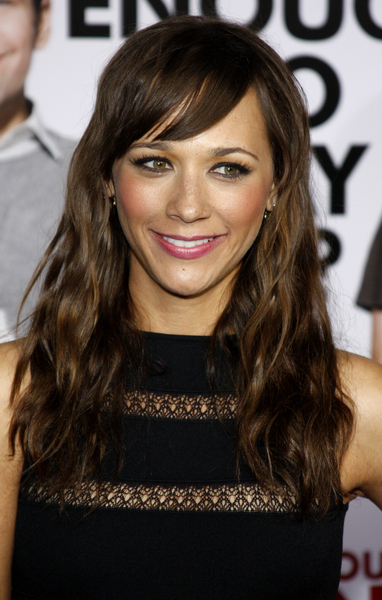 The weirdest thing happened when I was reading next week's National Enquirer. The tabloid has two separate stories about Hollywood actresses getting it on with Obama administration dudes. The first story is about Rashida Jones (star of The Office and Parks and Recreation), who is dating one of President Obama's speechwriters, a guy named Jon Favreau. To those of us who follow this crap religiously, Favreau's name rang a bell. He's known for several things – he's one of Obama's best, brightest and most favorite speechwriters, and he had a minor scandal during the end of last year's primaries when photos were released of him drunkenly groping a Hillary Clinton cut-out. He looks like a frat boy, but he's supposed to be a damn good writer.
According to the Enquirer, Rashida had been "miserable" after her split with John Krasinski. For a while, Favreau had a girlfriend, but as soon as mutual friends informed Rashida that Favreau was single, she moved in for the kill. The Enquirer is painting Rashida as some kind of desperate woman, which I doubt is the case:
Gorgeous actress Rashida Jones has gone from an "Office" romance to a White House love affair – with President Obama's dashing young speechwriter!

And her new man, Jon Favreau, has made her forget all about former boyfriend and co-star John Krasinski, who quickly moved on to a relationship with "The Devil Wears Prada" star Emily Blunt after his and Rashida's breakup, say pals.

"For Rashida, her romance with Jon couldn't have come at a better time," a longtime friend told the Enquirer.

"She was miserable after breaking up with John. And it really hurt for her to see him dive into a love affair with Emily soon afterward."

The 33-year-old actress 0 now on the new NBC comedy "Parks and Recreation" – and Favreau, 27, had their official Beltway "coming out" as a couple at the recent White House Correspondents Dinner in D.C.

The pair was later scene cuddling in the wee hours of the morning at an intimate after-party, and they've also been spotted getting cozy on a couch at a trendy Georgetown-area bar.

"Rashida is just crazy about Jon, said the source. "She not only finds him handsome, but smart and witty."

Rashida, the daughter of legendary music producer Quincy Jones, first met Jon through mutual friends at a political fundraising function, but he was dating someone else at the time, says the friend.

"So when a pal clued her in that he'd recently broken up with his girlfriend, Rashida made her move."

Now the couple is trying to make a long-distance relationship work – he works in Washington, D.C. and she's based in Hollywood.

But "Rashida is already making plans to spend time with him on the East Coast this summer," added the friend.
[From The National Enquirer, print edition, June 1 2009]
Here's the thing – it's not like there aren't pretty girls in Washington. Granted, they're usually sleep-deprived and covered in ink, but they're good people, and they put out. At some point, Favreau is going to go with what's at hand… and perhaps Rashida will too, once the novelty of sleeping with someone who has the president's ear wears off. Maybe I just don't see a long-distance Hollywood-to-Washington relationship working in the long-term.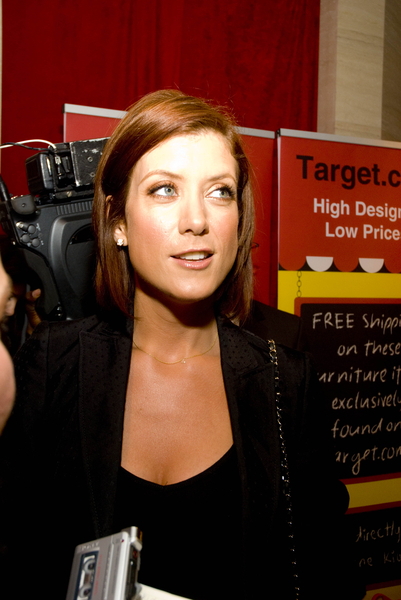 Kate Walsh's situation is a bit different. At least, the Enquirer is painting Kate with less desperation and more cougar-hood. Kate went to the White House Correspondent's Dinner with an administration official, too, the spokesperson for the Department of Homeland Security. But Kate knows it's just a rebound fling, and she's just using this poor public servant for sex. Atta girl!
Kate Walsh is shaking off the divorce blues with a rebound romance, sources say.

The "Private Practice" star stole the spotlight from the president and first lady at the annual White House Correspondents dinner when she went public with her new beau, Department of Homeland Security [deputy assistant secretary for public affairs] stud Sean Smith.

"Kate wants to prove, most of all to her ex, that she can still land a hot, successful man," a pal told the Enquirer. "She's ready for love again."

Kate was an early Obama supporter, and she's been "phone friends" with Sean for months, said the source.

"When Kate scored two tickets to the Correspondents Dinner on May 9, she asked Sean to be her date," said the pal.

"They were all over each other, and Sean sent flowers afterward. They've seen each other twice since then, and he calls her every day."

"Sean is just the kind of guy she needs… Kate learned her lesson the first time out. She's not rushing into anything," the source said. "She wants to enjoy dating and being single."
[From The National Enquirer, print edition, June 1 2009]
See, that's how you fool around with a public servant (not that I would know, cough, cough). Love 'em and leave 'em. When I first started reading the stories, and before I had gotten to names of these guys, I just had my fingers crossed that President Obama's body man Reggie Love wasn't one of these guys. Reggie Love is my favorite. He's a Duke graduate, NCAA champion, and absolutely gorgeous. He and Obama famously played basketball every day there's an election, and there are a lot of anxious women out there hoping that Reggie will bring the love to them. The Huffington Post recently ran a best-of slideshow about Reggie and Obama's "bromance", and it's just lovely.
Here are photos of Reggie Love – he didn't hook up with anyone that we know of, he's just hot. Jon Favreau is shown working on his computer. (It's hard to find pics of him due to the fact that he has the same name as the actor. I also had a hard time finding photos of Sean Smith.) Credit: WENN.com. Photos of Rashida Jones and Kate Walsh credit: PRPhotos