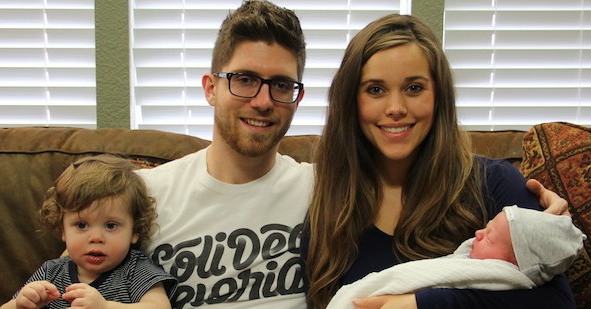 Jessa Duggar-Seewald gave birth last week. I didn't write about it mostly because there was a ton of other crap going on, and because I was waiting to hear the name. Jessa and Ben welcomed their first child back in 2015, and they named that poor baby Spurgeon. Which… my God, that name still horrifies me a little bit. I think it's because I'm obsessed with the nicknames little kids are given, and I literally can't think of anything decent for "Spurgeon." I mean, do they call him SPUR? Ugh. Anyway, Jessa and Ben finally announced the name for their second child. I honestly don't hate it.
Baby Seewald has a name! Jessa (Duggar) Seewald and her husband Ben announced Monday that they will be calling their week-old second son Henry Wilberforce. The newest addition to the family is named after William Wilberforce, a politician and philanthropist who was instrumental in putting an end to the slave trade.

The couple decided on Henry mainly because Jessa "really like it…We just thought it was cute, but also there was another great man of God name Matthew Henry who lived before Wilberforce and he wrote a lot of great commentaries," Ben said in the video.

The Counting On stars exclusively announced the birth of her second baby boy to PEOPLE on Feb. 6, revealing that he was born at 4:26 a.m., weighing 8 lbs. and 11 oz. and measuring 21¾ in. long.

"Mom and baby are both doing well," said the happy couple. "We are so thankful to God for this precious new gift of life and are excited to be a family of four!"

Jessa, 24, and Ben, 21, who have been married since November 2014, are also the proud parents to their first son, Spurgeon, 15 months. On Wednesday, the couple shared the first photo of the new family of four along with a short video clip of baby Seewald.

"We are so excited to introduce our little baby boy to the world," Jessa said. "I think it's really awesome that we have two little boys so close together in age. I know they're going to be best friends and love growing up and doing everything together, so I'm looking forward to seeing that. I know Ben's probably going to have them out in the backyard playing football in the next couple of years!"
I'm also a little bit grateful that Jessa had another boy. While it's pretty awful to be a guy or a girl in that family, the guys have it much better off. Bringing up a daughter in that cult must be a terrifying ordeal. Anyway, as for the name… Henry is a good name. Wilberforce is… well, the kid's going to be grateful that it's just his middle name.
Header photo courtesy of the Duggars' Facebook.