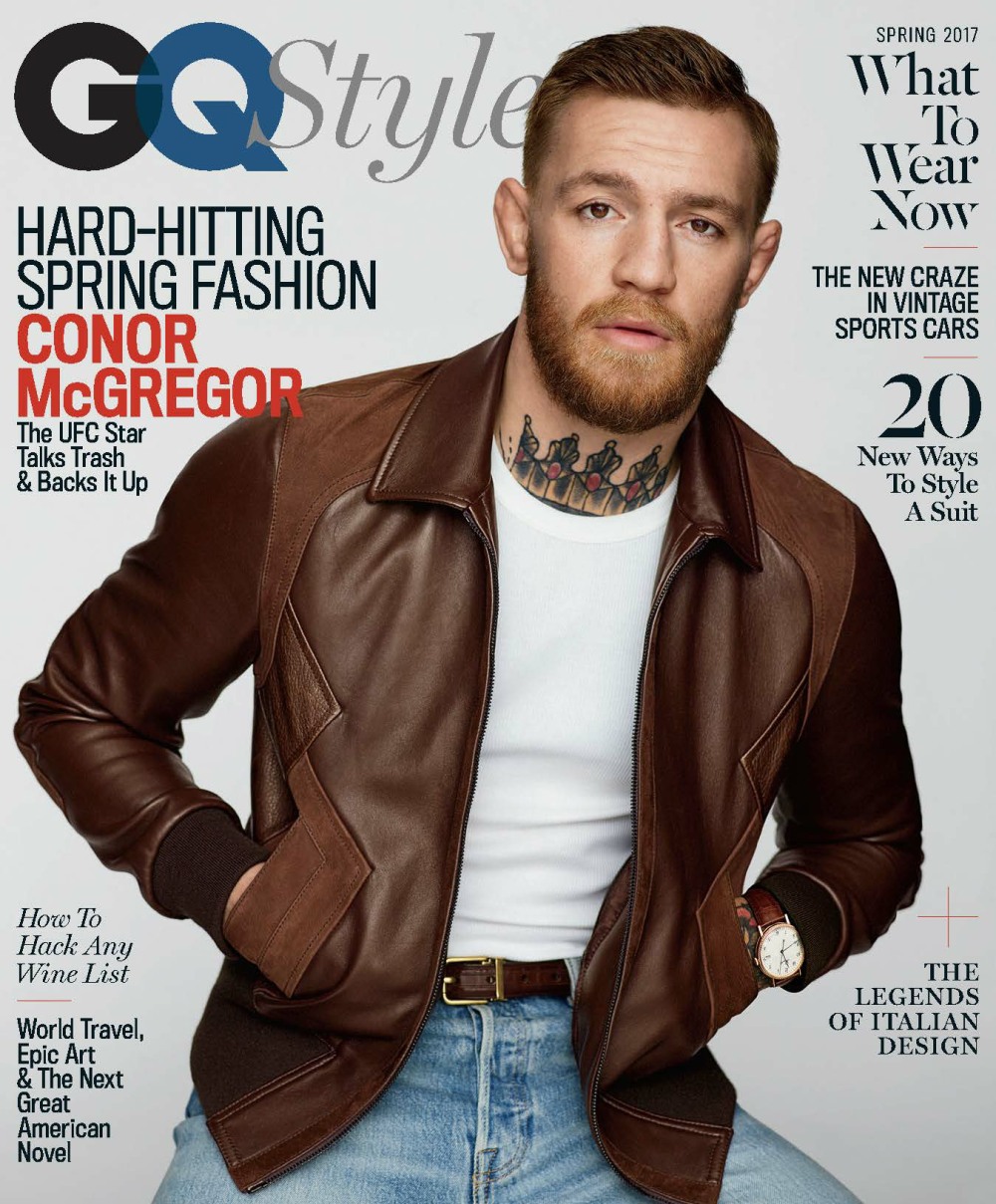 I won't pretend to not know who Conor McGregor is. McGregor is a UFC fighter, and arguably the biggest "property" of the UFC. He's a champion, he's Irish, he's beloved by many people who love UFC. He loves to trash-talk and he loves a good beef. I think he fancies himself an old-school showman, like Mohammed Ali. Conor is surprisingly famous around the world, and it's not surprising that GQ Style chose him as their new cover subject. What did surprise me was that Conor used the platform of the GQ Style interview to advocate for being politically inactive. Like, he doesn't think people should protest Donald Trump because everyone should be self-sufficient… or something. It's not very well-thought-out. Some highlights:
Seeing protesters in the streets of NYC after the election: "I feel like you're in charge of your own situation. When you start blaming others for your situation, like I see all these people screaming at these politicians." McGregor was in New York to fight Eddie Alvarez right after the election and the streets were full of anti-Trump protestors: "And I was like, 'It's the wrong mind-set!'"

His thoughts on fellow UFC fighters trying to organize a union: "I saw this union thing they tried to do––they reminded me of the people that march about the politicians. It's you gotta do it. You're in control of yourself…. People like to blame others. I think a person should just look at their own situation, look around them, find out what they wish to do, and seek and go and do that. And that's it… Like all these fighters: 'This union is gonna save us!' What do you mean, it's gonna save you, exactly? …I just think it's a crazy thing to spend energy on… standing on a f–king picket…I don't know."

He wants more money: "Four point two billion dollars [what the UFC reportedly sold for this summer]. I want to negotiate what I'm worth. I want to put my analytics forward, man-to-man, and to be like, 'This is what I'm owed now. Pay me.' And then we can talk." For now, he envisions this as a "fatter check," but "potentially, down the road, an equity, interest or something. I'm just letting them know I want something else."

He's been spending some downtime in California: "This is a $2 million trip for me. One week, 2 million. I'm finished. Maybe I'll search for Khloé [Kardashian's] big fat ass––she's been floating around Malibu. I don't give a f–k about them [the Kardashians]. I just like to see them in the flesh… just see what the big fat asses on them look like." Although, McGregor makes it clear that he doesn't simply wish to admire the sisters from a distance: "Admire? Never. What's the saying? Never put the p-ssy on a pedestal, my friend. I just want to see it. I want to see them."
"Never put the p-ssy on a pedestal, my friend" is something I imagine Ted Bundy would have said. It's something bros say to each other, but it's not something that should go in a national magazine. I tend to think that sentiment is connected to how he felt about about the protests following Trump's electoral win – he believes the protests were just women and weaker, lesser men whining about sh-t, as opposed to actual legitimate discord about the state of civilization. As for what he says about wanting to make more money and yet being opposed to unionization… good luck with that. You know how football players, basketball players, hockey players and baseball players make a crazy amount of money these days? The players came together and formed unions.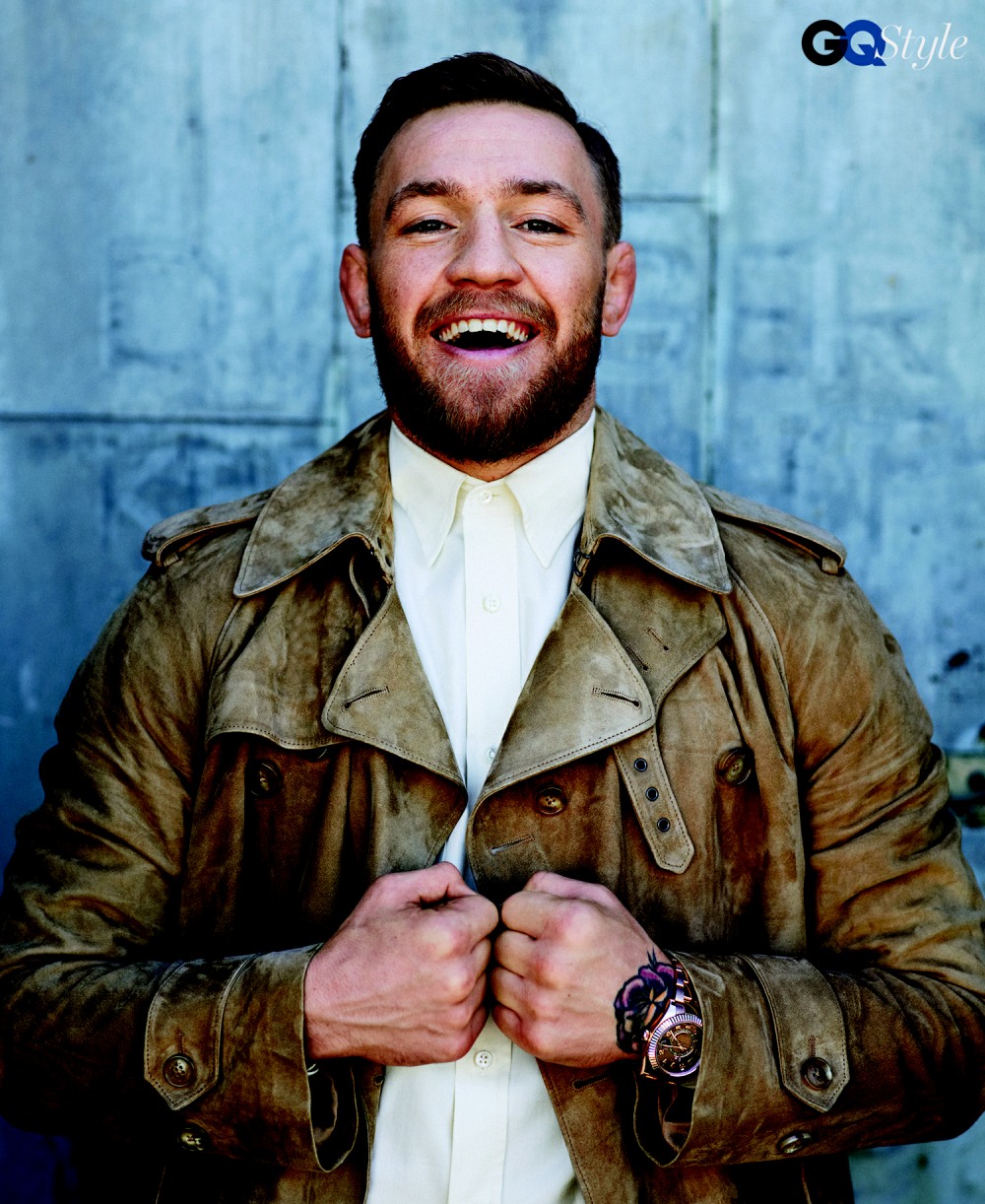 Photos courtesy of Thomas Whiteside exclusively for GQ Style.