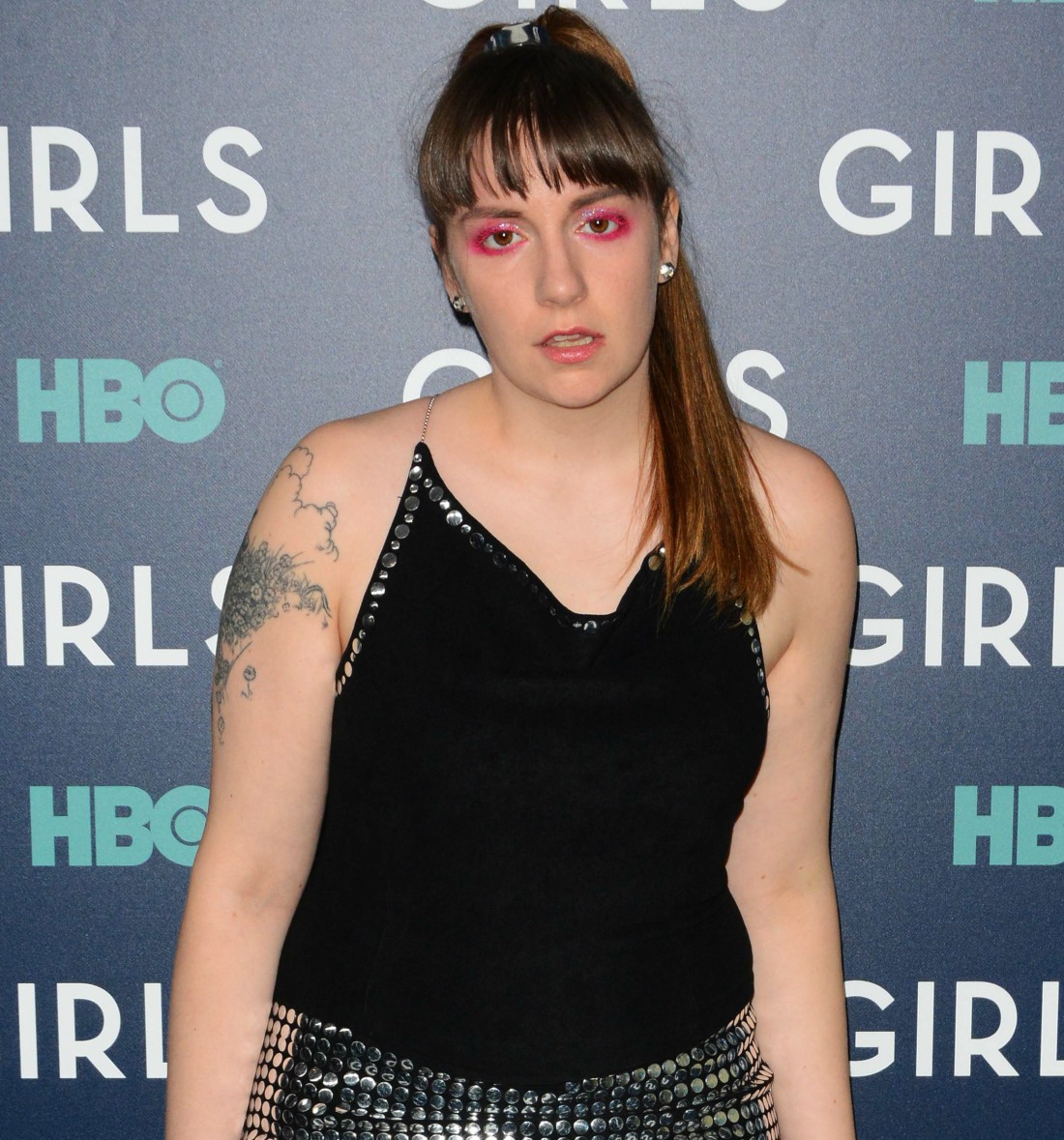 Oddly, I've spent the last few months defending Lena Dunham on various issues. I want to assure everyone that Lena still annoys the ever-loving f–k out of me and I'm really looking forward to the time when she's less visible as a celebrity. That being said, she's not always wrong, and I go case-by-case when defending her. Sometimes she is treated unfairly. And sometimes she needs to be told that she's acting like one of the biggest a–holes in the world. Anyway, Lena's promoting the final season of Girls, and she gave a lengthy interview to Rolling Stone about many different things (politics, Taylor Swift, hugging burly Teamsters). You can read the full piece here. Some highlights:
She's always been annoying: "I've always annoyed people. I was the girl in third grade where everybody was like, 'This girl is so annoying – like, leave.'"

The changing narrative about what 'Girls' was really about: "People never gave us the benefit of the doubt that the show was actually a self-aware commentary on privileged white womanhood. When a guy plays an antihero, nobody's like, 'I think Bryan Cranston's really promoting drug use.'"

Being "blamed" for Hillary Clinton's loss: "It's amazing. I'm like, "Why don't we check in with Russia, you guys?" I think it tends to come more from the right wing, although I'm not sure. Now it's so hard to know what's coming from where, because stories get published on Breitbart and two days later they're in Newsweek and you're like, "What the f–k is happening right now?" No one is more studied in the art of the right wing planting a story and liberals eating each other alive over it than I am. I see it every single day, but I'm not gonna stand there screaming about it, 'cause that makes you a bad sport. And also it's boring and I'm not interested in it. But do people want me to go, "I don't think I'm really good for this. I'm gonna bow out"? I wouldn't see any use for celebrity if I wasn't fighting rabidly for what I thought was right."

People need someone to blame: "I backed Hillary Clinton when a lot of people in my age group were on the Bernie train, so I was getting sh-t from the right for being a "libtard" – and getting sh-t from young people for supporting what they saw as a corporate candidate. It was painful when people were like, "Hillary lost because Lena Dunham is such a bad example of liberalism." But everyone's scared and upset, and they need someone to blame. It's easier to blame me than it is to, like, blame George Clooney for not giving enough speeches or whatever. You could go around pointing fingers in every f–king direction in Hollywood if you wanted to. If I'm gonna be the punching bag for that, I know where my heart is and I know why I felt like I needed to campaign for her. I know what those experiences on the road meant to me with other women, the connections that I made – and I just have to hold on to that."

How Taylor Swift took heat for not speaking up about politics: "I just think everyone has to do it their way. When I was lesser known, I was like, "Who could not share their opinion?" Then I found out that when you talk about politics, people straight up tweet you the floor plan of your house and say they're coming to your house. You have to f–king watch it because people are nuts.
Lena goes on to say that she admires the hell out of Taylor because Tay "understands the vicissitudes of the cycle, and she just keeps making her work." Yeah, whatever. I understand Lena's defense of Taylor, which is basically like "I wouldn't wish these crazy right-wing trolls on anybody" and "it's everyone's right to STFU about tricky political issues," both of which are valid enough arguments. But I tend to think it's all connected in Taylor's case: her work, her silence on political issues, her deep-as-a-puddle feminism. It's all a product, it's all The Taylor Swift Show. She won't step out and take a stand on any issue besides "Taylor Swift is the most popular girl in the squad and she's always the victim of big, bad men!" That's why Tay wasn't engaged in politics – to be engaged in something outside of The Taylor Swift Show would have been antithetical to The Taylor Swift Show.
Also: is anyone buying her new argument that Girls was always big-C COMMENTARY on white privilege? No, Lena. We aren't buying that.
Photos courtesy of Getty, Fame/Flynet and WENN.