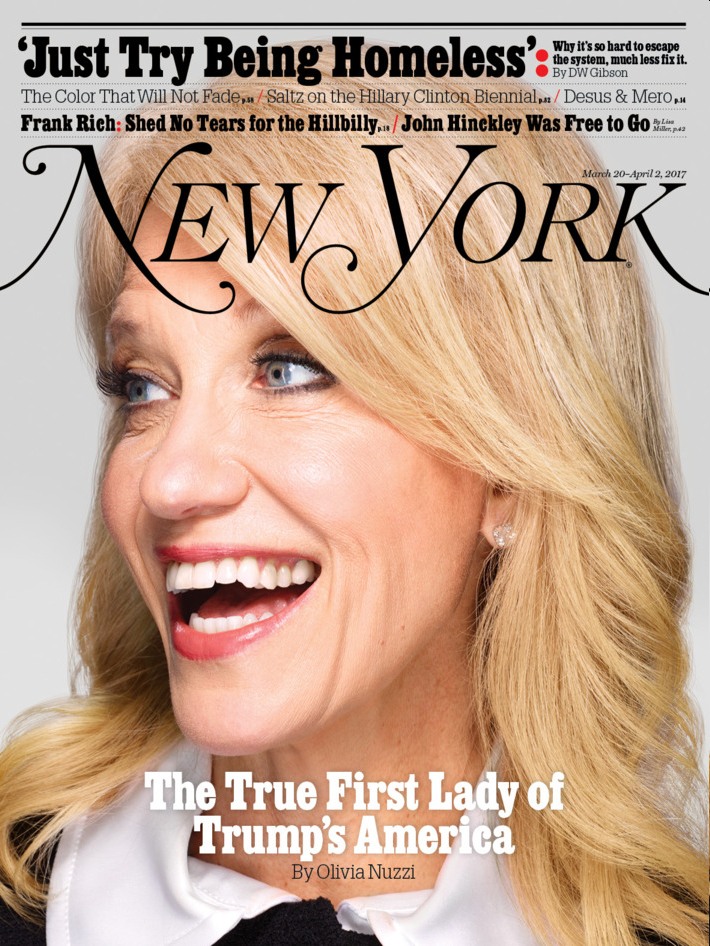 It's not surprising to me that Kellyanne Conway would want to appear on the cover of New York Magazine, or on the cover of any magazine for that matter. What's surprising is that NY Mag wanted this. We're not even 100 days into this fascist regime and media outlets have already begun to flat-out ignore or refuse to book Conway. She's a liar, a master of the art of unhinged double-speak, a fascist mouthpiece who would be more at home working for Vladimir Putin (which, hey, she's probably doing anyway). I don't mean to suggest that Conway is a true-believer in Trumpism. She is not. She's in this for herself. She says outrageous things because she wants to be a star. She feeds on it and that's her own thing. So why give her the platform, NY Mag? Now, all that being said, this profile is well-written, in that it's a Portrait of What Fascism Looks Like From the Inside. You can read the full piece here. Some highlights:
Her Secret Service protection name is Blueberry: She got the protection, Conway said, after she was sent a suspicious white substance. And then there were the threats. "Most of them are online," she remarked, "and most of them are very explicit and graphic, and they're sometimes people who have a history of following through but for whatever reason weren't prosecuted."

Welp: At the airport, she said, "all I wanted to do was get coffee and pee. I definitely can't get coffee if I don't pee — trust me, I gave vaginal birth four times." But who wants to bring a guard into a public restroom? "Oh my God, there's no privacy! It's crazy, it really is crazy." And it can get complicated. "I have two friends, who both — well, one is Ann Coulter. She started dating her security guard probably ten years ago because she couldn't see anybody else."

She has Oval Office walk-in privileges: "When I want to talk to him, I go talk to him. Eighty-five percent of what I discuss with him will never be revealed. It's like any other boss–C-suite-employee relationship. I don't need to talk to him through the TV. I just go in and talk to him."

What she said before the Mike Flynn debacle: "Anybody who pretends I'm not smart or not credible, it's like, 'Excuse me, I've spoken 1.2 million words on TV, okay?' You wanna focus on two here and two there, it's on you, you're a f–king miserable person, P.S., just whoever you are."

Steve Bannon says there is no Trump-Whisperer: "I do think it was a little overplayed when she was quote-unquote the Trump whisperer. There's no Trump whisperer. There's just not. It doesn't function like that. He doesn't absorb information like that. Everybody that's looked at as a Trump whisperer? It's always meant to demean him."

She lies so casually: When the White House learned Bannon would appear on the cover of Time, Conway told me, people were "running around the West Wing" frantically trying to figure out what to do. "Like, who's ever out there for me? Or even Sean? It's like, you can't be in every photo and then wonder why you're an object of media fascination. And then because you're in every photo, people are like, 'Oh, those who aren't in the photo must be — ' " She trailed off. "How about if we're the ones working? How about the five computers on my desk?" (There was only one computer on her desk.) "Everybody draws the wrong conclusions, I think."

On the Women's Marches: "I don't object to other people marching at all — you know, my friends were there. But I'd rather do than march; I'd rather act than talk."

She's anti-choice, but squeamish: She says she would never judge a woman for getting an abortion and does not dispute, in an interview, my suggestion that she wouldn't want to see Roe v. Wade overturned. She is, she explained, "sympathetic" to any woman who makes the decision to terminate a pregnancy. "Do I know anybody who ever got an abortion? Well, of course I do. I've driven them there. I've helped pay." (She later said she couldn't recall the exact details. She had been a teenager, she said.) "You know, when you're young, you're thinking about the person, not the issue. We were younger, and I was focused on her, not on the larger public policy." What she disagrees with is what she characterizes as the liberal position of wanting abortion to be accessible to "anyone, anytime, anywhere." She added that "one goal" she has is "to make us culturally — not politically — culturally more sensitive to the value of life."
I got a bad headache from the whole piece, partly because she's such an a–hole and partly because… I wish the piece wasn't so "Kellyanne Isn't Your Cartoon Villain." The piece is well-written and thoughtful and it gives a great perspective into Conway's life. But it does normalize her and attempts to make her a three-dimensional personality as opposed to the person liberals love to hate or the person Republicans love. And that attempt to give her added dimension is unnecessary – why do we need a long-read, real-journalism equivalent of Jimmy Fallon's fluffing Donald Trump's hair? These people don't deserve to be humanized. They are monsters. They are literally destroying America.
Cover courtesy of NY Mag, additional photo by Getty.