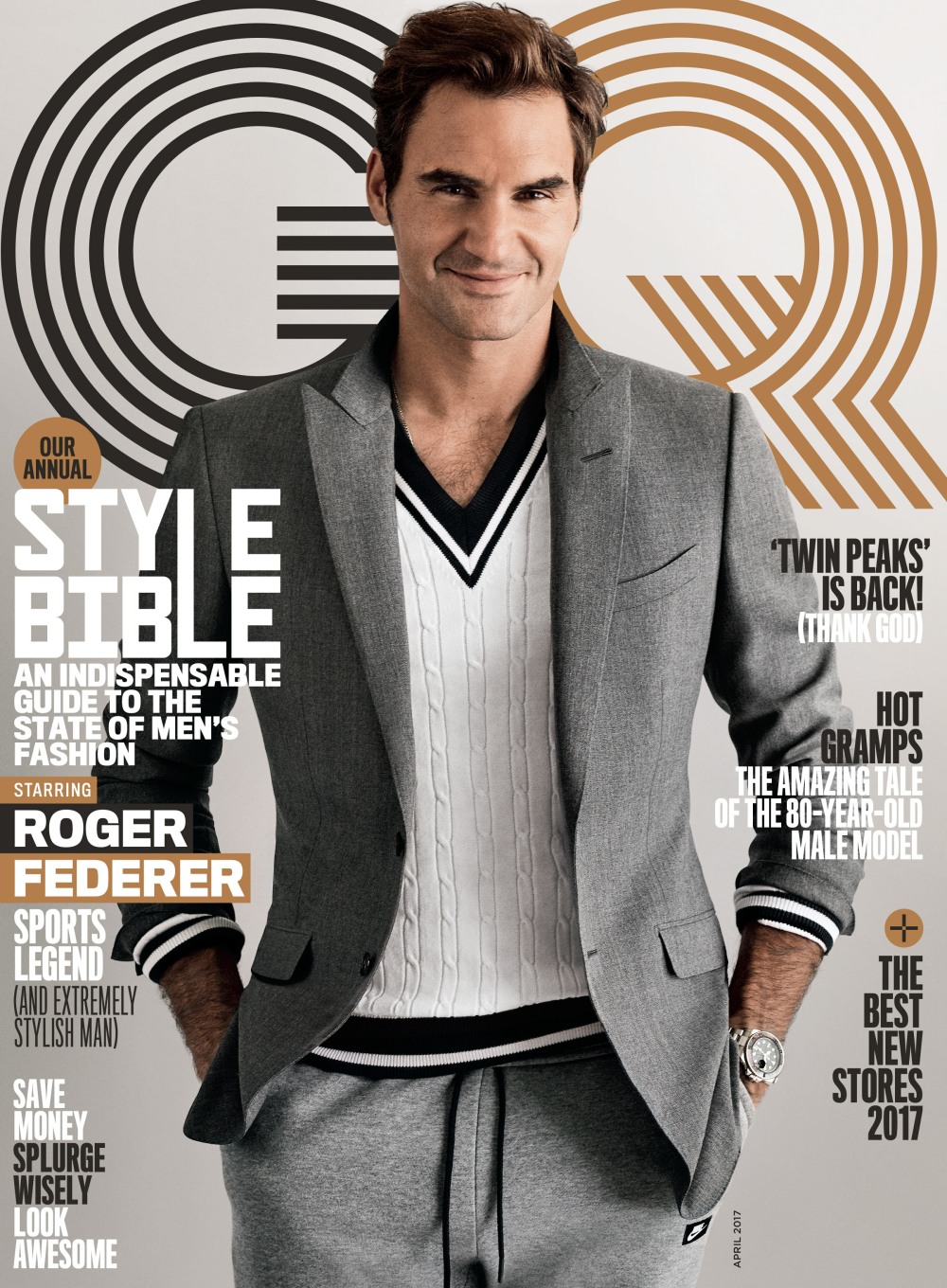 Roger Federer is having a hell of a comeback. Federer's 2016 was pretty rough, when he messed up his knee, had surgery and basically had to miss more than half the year. While Federer has had physical issues before, he'd never taken that much time off the ATP tour. The 35-year-old arrived in Melbourne for the Australian Open looking and feeling fresher, and he seemed to have made his peace with the fact that he wasn't going to win any big prizes, but he still wanted to play just for the joy of playing. Then he won the Aussie Open, beating Rafa Nadal, and picking up his historic 18th Slam title. Then he just won the Indian Wells title on Sunday, beating his friend (and the actual #1 Swiss player in the world) Stan Wawrinka. And so… Federer's comeback is happening. People are already wondering if there's a real chance he could be #1 in the world yet again. And no comeback is complete without a sexy, suave GQ cover profile. This issue comes out nationwide on March 28, but they released the profile online – go here to read. Some highlights:
When he knows he should retire: "Let's say I have a tournament. I ask myself, how happy am I to be leaving home? Because it'd be so nice to stay. So am I happy to pack my bags, and walk out the door, and put them in the car, and get in the car, look to the house and say, Okay let's do this––am I happy in that moment? Or do I wish I could stay longer… Every time it's been: I'm happy to go. I'm still doing the right thing in my heart. It's a test."

What it was like to win another Australian Open title: "Winning Australia, it solves so many problems. I think a lot of people were hoping that I'd win. It seems like a lot of them were super happy." Federer describes himself as feeling "very humble" in the last moments of the Australian Open, before the finish was decided. "Even then I thought it could still be turned around by him [Nadal], I could still lose it," he says. Despite Federer's other big wins––the 2009 French open when he clinched the Career Grand Slam and tied Pete Sampras's record of 14 Slam titles or when he beat Andy Roddick at Wimbledon a few weeks later––he admits that the Australian open "feels very different. You have a better perspective when you're older. You're more at peac. Sometimes you want it more because you know time isn't on your side."

His life as the #GOAT: "Tennis brought me these things," he says emphatically, referring to pretty much everything around him. "That's why I'm so thankful to tennis. It broadened my horizon. If I hadn't been a tennis player, I'd probably be living life in Basel, doing some sort of job. I'd have a smaller perspective."

Playing Peter Sampras in the fourth round of Wimbledon in 2001. "I was 19 years old. I realized, Oh My God. There's so much more to tennis than just practice in a cold hall somewhere in Switzerland. This is what tennis could be about," he says reflecting on the match. "I realized, I want to be back on the court one day, I'd love to compete with these guys on a regular basis, I'd rather play on the bigger court than on the smaller courts… And all of a sudden it started to make sense. Why you're doing weights. Why you're running. Why you arrive early at a tournament. Why you try to sleep well at night. We just started to understand the importance of every single detail. Because it makes a difference."

On his 17-year relationship with his wife Mirka: "Here we are, 17 years later, and we did it all together."
The whole piece is absolutely worth a read, even if you're just a casual tennis fan. Even if you don't care about tennis or sports, it's still a good read as well, because Roger Federer is more than (arguably?) the greatest men's tennis player of all time. He's a celebrity, he's a style icon, he's a loving husband and father and he's just an all-around cool guy. He's a rock star. He loved La La Land except for the ending. He watched Lion the night before the Aussie Open final and he cried and cried. He's afraid of horses. He loves to laugh and be a normal person. He loves movies. He writes thank-you notes to everybody. He's also incredibly sexy.
WHY IS THIS PHOTO SO FUNNY??? And why am I so turned-on as well? Like, he's really sexy but I'm laughing too.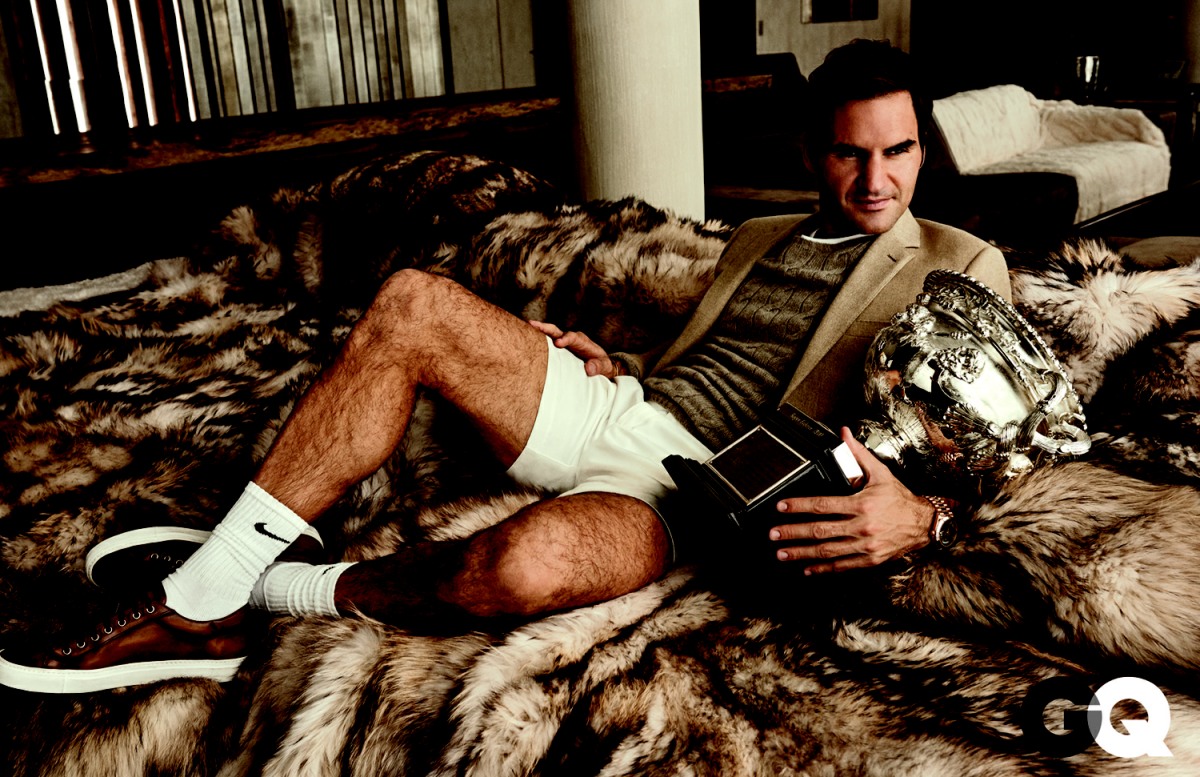 Photos courtesy of Craig McDean/GQ.