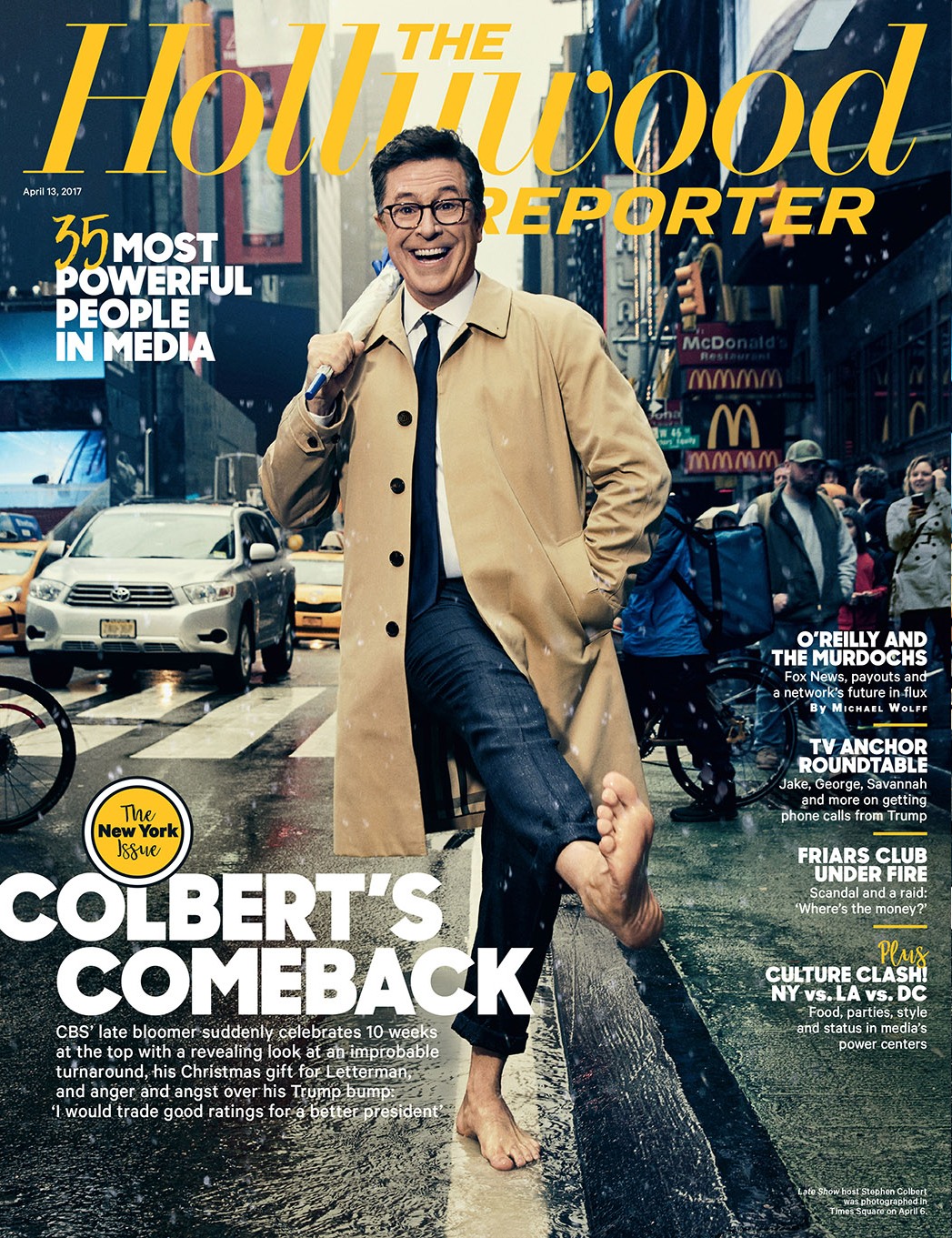 Stephen Colbert is doing better these days. He's certainly doing better right now than he was the last time he was on the cover of The Hollywood Reporter, which was last summer. That was when Colbert was barely 11 months into hosting The Late Show, his ratings had plummeted and there were widespread rumors that he would be pushed out within the year. Colbert spent the last half of 2016 leaning into political coverage and political comedy, plus they brought in some new people (like a new showrunner) and suddenly The Late Show is beating the Tonight Show on a regular basis. So is this THR cover a victory lap? Not really, but you can tell that Colbert feels somewhat vindicated, and he feels like he's found his voice on The Late Show at long last. You can read the full piece here. Some highlights:
His live coverage on Election Night: "We had a framework for four different shows that night: Hillary wins, and we know it; looks like Hillary's going to win, but we don't know it; Trump wins, possibly, but it'll be a long time before we know because the path is so narrow and Alaska is going to have to come in and who knows. Then the fourth one is that Trump wins, and we know it. We just said: "Well, don't even write that fourth one. Because I'm not saying it can't happen, but let's just say if it does happen, I'm going to be speaking to an audience that are like villagers who've been dragged into the soccer stadium in Chile to watch people be executed." It's going to be the darkest room you could possibly [imagine]. And I said (knocks on his desk), "Knock on wood we won't have to do that." I said, "Look, man, we're really going to be in trouble if he wins, because we have no plan, and then we will be forced to just be raw. We'll find out who the f— we are."

What election night felt like: "The election felt a little bit like somebody dying because you suddenly have an unreal feeling. It's unreal and yet absolutely as real as possible at the same time. You feel very raw and very base, very awake and dreaming at the same time. We're about 20 minutes into the show — we did an [80-minute] show — and there's an hour more with no material, and I'm just talking to people who are catnip to trolls because they're seeing us publicly upset. We had no commercial breaks. I'm like, "I'll just start talking and see what happens." And Chris and I were like, "OK, so that's the show now. The show is me absolutely not hiding at all how I feel about this and just raw." That was what that night was for us. I wouldn't wish it on anybody. (Laughs.) Hardest f—ing thing I ever did.

He doesn't owe Donald Trump a thank-you note: "No. I would trade good ratings for a better president. How about that? The interesting thing is that when we were prepping all that time, we weren't waiting for Donald Trump. We were waiting for something that everybody cared about. Do you know what I mean? Donald Trump is epoch-making; he changes everything. And so we were ready for something that galvanized people's attention and changed their priorities. The thank-you note is to my staff for being ready — that's the thank-you note. Because if it's not Donald Trump, it's something else. There will be something else that we care about, hopefully happy, possibly tragic. But we're ready to talk about what just happened, whenever it happens now. And that's what we've learned. And so my thank-you note is not to Donald Trump. He can go with God.

His thoughts on what will happen to Bill O'Reilly: "I haven't the slightest idea. I spoke about it on the show [only] because Trump weighed in, because I really have zero interest in talking about Bill O'Reilly. I did more than my share of that over the years. I enjoy having Bill on the show and listening to him, with his own particular professional form of bloviating. I mean, he's really good at it. I've got to admire it as a broadcaster — the words keep coming out. But if Trump hadn't weighed in, I would never have said a word. I have been absolutely monastic in my discipline not to talk about him since I got here because I really don't care that much.
Sometimes I forget that Colbert is a Southern boy at heart and then he says something like "He can go with God." That's so Southern! I would probably say it as, "He needs to have a relationship with Jesus" or maybe "bless his baby heart." Those are all Southernisms for "Donald Trump can go f–k himself." As for the rest of it… I like what he says about exposing the raw emotion and just letting that be the thing, the voice of his comedy. I also love this: "I would trade good ratings for a better president." Yep. As much as I love what SNL is doing these days, I would much rather have a good president and a crappy SNL. I would be willing to jettison Stephen Colbert and every other late night host for another eight years of Barack Obama.
PS… Colbert did this interview more than a week ago, before O'Reilly was fired yesterday. Colbert did a bit about it last night on his show: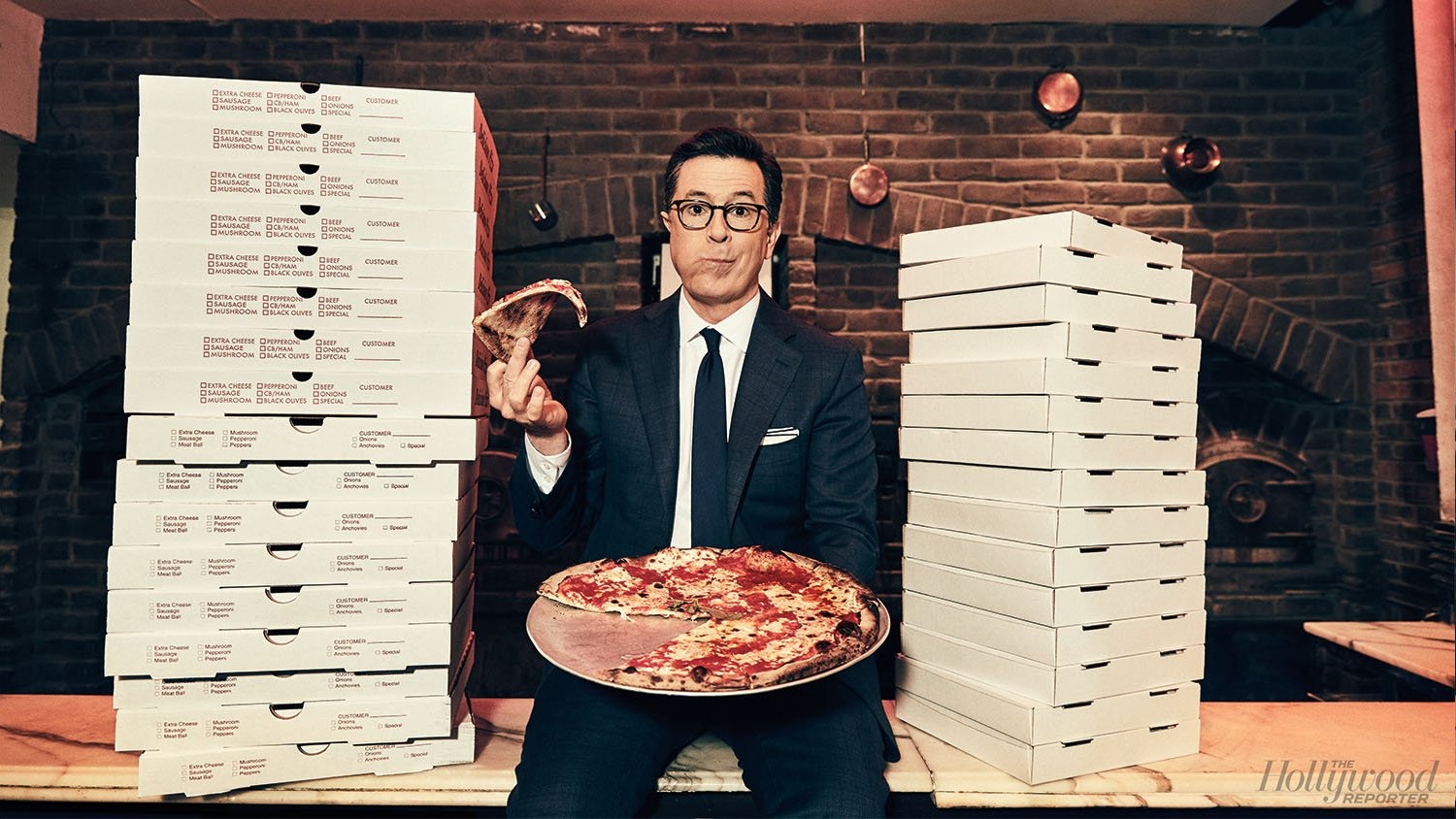 Photos courtesy of The Hollywood Reporter.