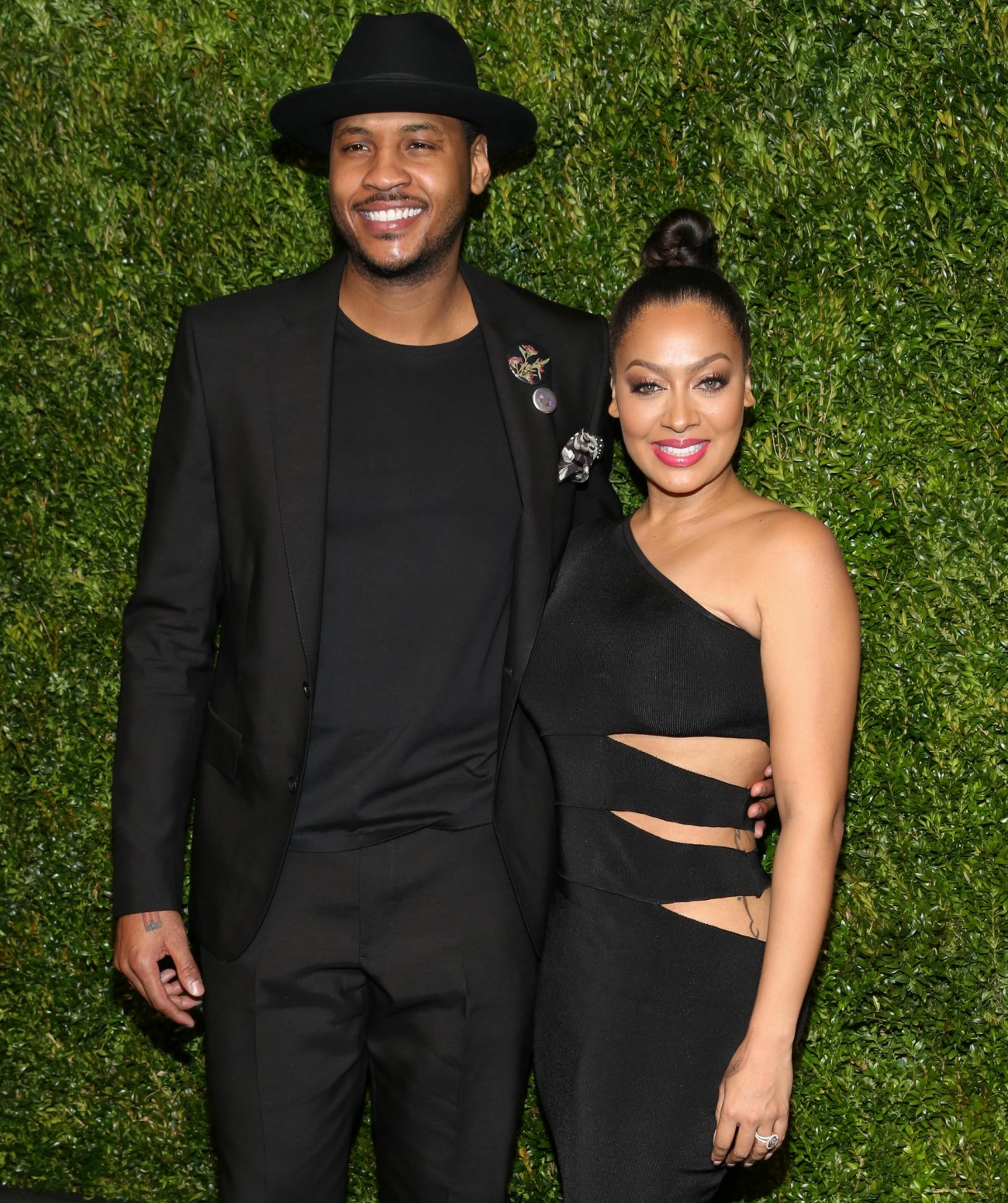 In retrospect, of course I feel dumb for believing that Carmelo and LaLa Anthony would split up because Carmelo is about to be traded. Of course that's not the make-or-break moment of their marriage. Just hours after TMZ broke the story of Melo and LaLa's separation – a separation first attributed to the very real chance that Melo is about to be traded from the Knicks – TMZ then reported that, oh right, Carmelo has been fooling around and maybe/probably got a stripper pregnant. Now Page Six has an exclusive claiming that Carmelo ALWAYS cheated and that LaLa had to put up with a lot of sh-t in their marriage.
Carmelo Anthony has been dogged by cheating rumors for years and sources say he'd justify it to his friends by saying, "La La is married, I'm not." Multiple sources tell Page Six that Melo would often flirt or hook up with women while he was on the road with the Knicks during his nearly seven-year marriage to La La. One source said, "Melo's tagline was, 'She's married, I'm not.' That's how he would justify it. His attitude is that all professional athletes do it, and many of them do. La La has put up with a lot. She knew it was going on, but I guess this time she's had enough."

A rep for Melo declined to comment on allegations of his cheating or the report that he impregnated a stripper who works at a New York gentlemen's club over six months ago. The dancer allegedly is demanding money for medical bills and other baby expenses. A source close to Melo added, "The stripper pregnancy rumor is not true. Yes he's not been perfect, but the baby with a stripper isn't true."

Other sources say La La and Carmelo currently have no plans to file for divorce. One told Page Six, "They've been living separately for several months. They've broken up in the past, they split three years ago, gave it some time and then got back together. They're hoping the same works again."

In the light of the new allegations that Carmelo impregnated a stripper, as reported by TMZ, a source close to his wife said, "La La doesn't want to deal with all of these rumors … she doesn't want to focus on any of it at the moment … She'll deal with it when it all comes down. The cheating rumors have always been out there and the majority will talk about the rumors over and over. She's waiting on his team to respond and decide how to handle the rumors."

A complicating factor is that La La's career is really taking off just when Carmelo's really struggling with his. She's starring in 50 Cent's "Power" and last week she wrapped her latest movie, "Emergency Furlough" with Whoopi Goldberg and Anna Paquin. She's also hosting a Mother's Day special on VH1. The source continued, "Carmelo's career problems, on the other hand, don't put him in a good mental place," adding, "There's also the uncertainty about their future — Carmelo is likely to be leaving New York but who knows for where. They want to see how that shakes out before figuring out what to do."

Of the couple, who have a 10-year-old son, Kiyan, the source said, "La La thinks Melo is a great dad. But the fact is, they're better when they're not together."
Yeah, this got messy real fast, right? That being said, it sounds like it's been a quiet sh-tstorm for several months now and someone (who?) leaked the info about the separation and the pregnant stripper yesterday. It feels like that information was probably part of the story about Carmelo leaving the Knicks too, like everything is interconnected and I don't know exactly how it's going to end. Much like LaLa, I'm going to wait to see what Carmelo does. As for LaLa's wait-and-see thing… if he's been unfaithful this whole time, and if he's knocking up strippers… girl, it's time to move on. Sad.
Here are some photos of LaLa out in New York on Tuesday, without her ring.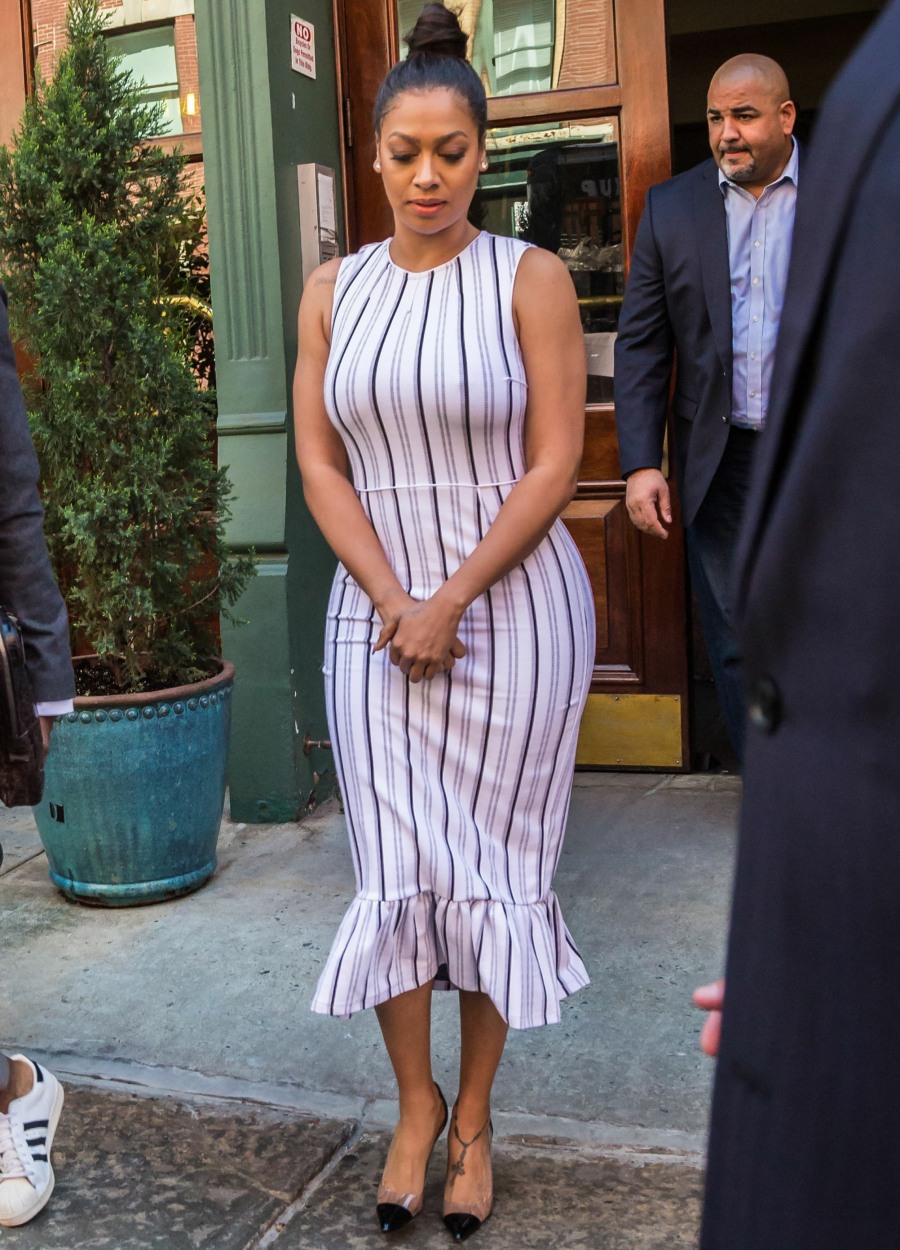 Photos courtesy of Fame/Flynet.