Surprise! @carrieunderwood came out and rocked the anthem in Nashville. #StanleyCup pic.twitter.com/HQJ8Z9TJC2

— NHL (@NHL) April 18, 2017
It's always sweet to see a spouse support their partner in their professional endeavors, right? Take, for example, singer Carrie Underwood. Not only was the country crooner present to see her hubby, Mike Fisher, take to the ice in a playoff game between his Nashville Predators and the Chicago Blackhawks, she also surprised the home crowd with a lovely rendition of the National Anthem to kick off the game.
The 34-year-old singer has been vocally supportive of her hubby, who is captain of the NHL squad, and has used her social media accounts to cheer the Predators onto the Stanley Cup Playoffs. She's been dubbed the team's good luck charm, going so far as to paint her fingers and toes with the team's colors.
On Monday night, Carrie donned a #12 jersey (Mike's number, obviously) and also rocked a Preds hat, which she modeled on Instagram.
After the announcer at Nashville's Bridgestone Arena said, "Please rise and welcome seven-time Grammy winner and longtime Nashville Predators fan Carrie Underwood," the singer received a thunderous ovation from the amped-up crowd. The reception was so overwhelming, you can see Carrie say "Whoa" before launching into an American Idol-worthy performance. After singing the anthem, Carrie joined the crowd in the team's traditional towel wave. She later tweeted, "This @PredsNHL crowd is INSANE!!!!!!!!!!!!!"
This @PredsNHL crowd is INSANE!!!!!!!!!!!!!

— Carrie Underwood (@carrieunderwood) April 18, 2017
Lending to the theory that Carrie is the team's good luck charm, Nashville defeated Chicago in overtime and the Blackhawks are down 3-0. If Nashville moves forward, they will most likely face the St. Louis Blues, who are currently 3-0 against the Minnesota Wild. Carrie may need to stock up on some more nail polish.
Carrie is like the anti-Jessica Simpson, isn't she? I think it's awesome that she's so supportive of Mike. Of course, live hockey, especially during the playoffs, is super exciting. It wouldn't take much to get me to the rink. I grew up a Tampa Bay Lightning fan, so I've got no horse in this race anymore. I guess, go, Nashville!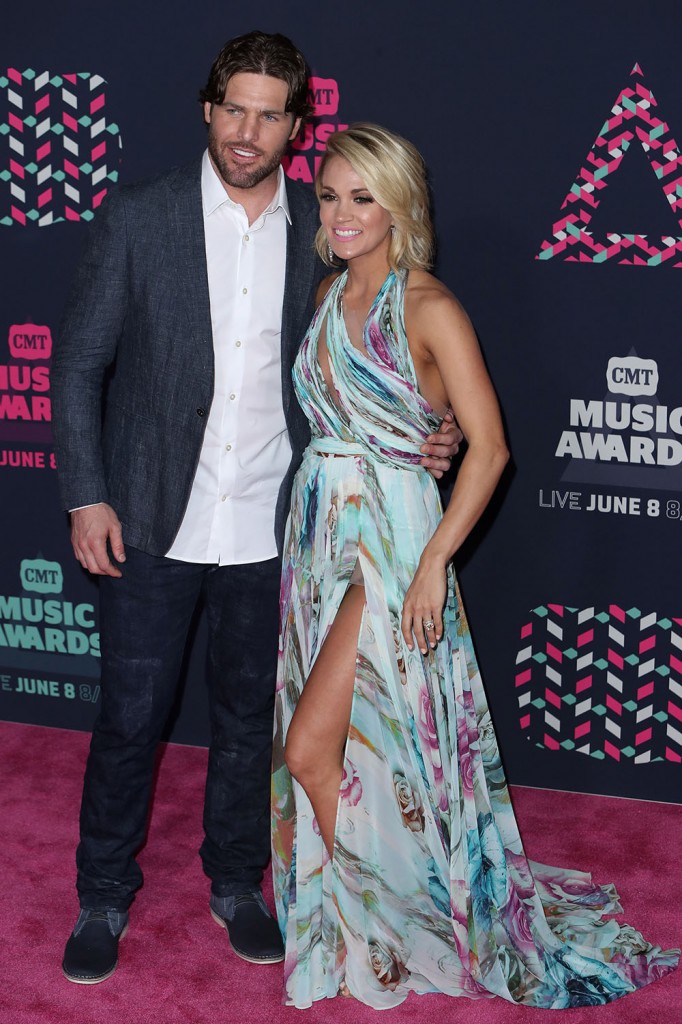 Photos: Getty Images, WENN.com, Fame Flynet