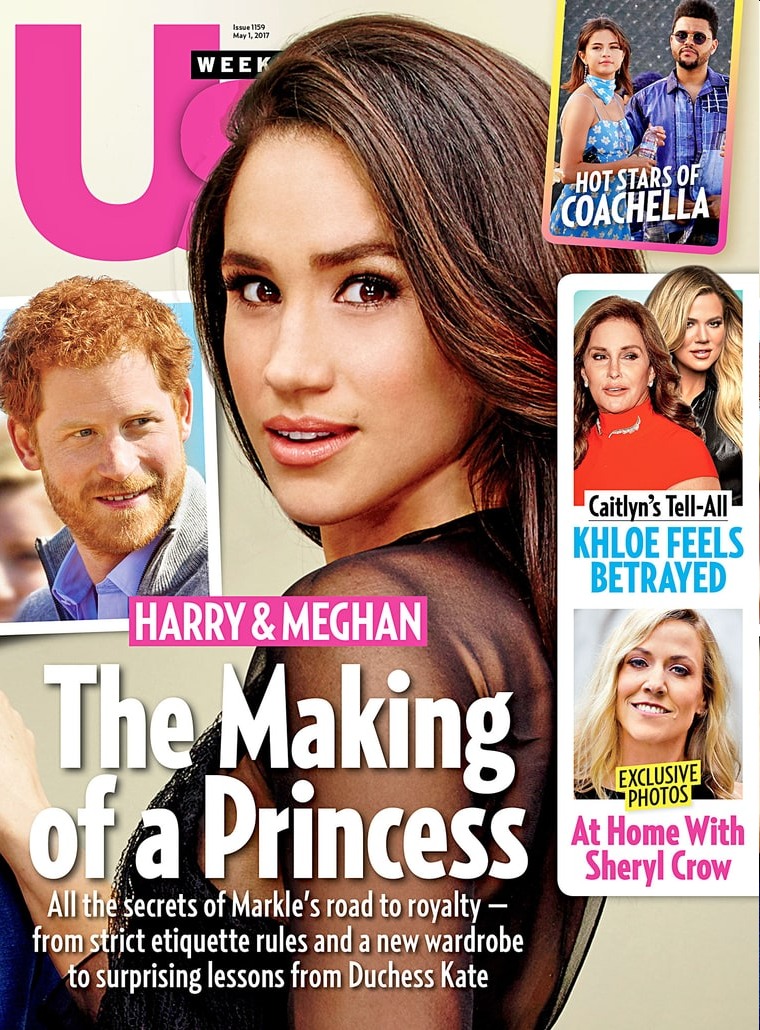 Oooh, I like this Us Weekly cover! "The Making of a Princess" is very catchy. I imagine when all is said and done, thinkpieces will be written with similar titles, like The Making of an American Princess, or The American Duchess, something like that. Anyway, Meghan is happening and the engagement announcement should be happening any day now. My money's still on "sometime in June," but who knows? It could be earlier. So Us Weekly's cover story is all about how Meghan and Harry are on the marriage track, full-throttle.
For most commoners, getting through the private gates of Kensington Palace requires two forms of ID and a written invitation. Visitors to the sprawling London complex that houses dozens of royals, including Prince William, Duchess Kate and Prince Harry, undergo a thorough security check and "follow strict protocol," says a frequent guest. But on any given day, one mere mortal simply breezes past the guards. Harry's girlfriend Meghan Markle "is waved right through," a source shares in the new issue of Us Weekly. "Harry has made it clear she's to be treated like everyone else who lives there."

Consider it step one in her royal transformation. With Harry's pals expecting him to propose to the Toronto-based actress by fall, she's begun readying herself for life in The Firm, the cheeky name the royals have coined for their family. The 35-year-old divorcée already has a direct line to Harry's most trusted aides. The 32-year-old prince's private secretary, Edward Lane Fox, and communications secretary, Jason Knauf, are on call to answer the L.A. native's queries, says a Harry source. "There have been many times where Meghan's been unsure of protocol," says the source, "and having access to Harry's aides has been a godsend."

A close bond with his brother and sister-in-law has also proved invaluable. An insider says William, 34, and Kate, 35, have given the Suits actress tips on handling life in the royal spotlight. "She's very much been accepted into the family," says the insider. "They are so happy to see Harry happy."

For Harry, "this is a love he's never felt before," says a source. "He's met someone who understands him on a deeper level and they just connect." Soon, predicts the source, they could be legally bonded. "Everything is still as exciting as the day they met," says the insider. "They talk about the future all the time and they see themselves together."
"They are so happy to see Harry happy." That's not really a ringing endorsement, and I find it funny that even with unnamed sources, no one in Camp Cambridge can really find something nice to say about Meghan. Camp Cambridge is always like "Harry's happiness is what's important." As for Meghan having access to Harry's team… I believe it. Something similar happened with Kate during The Waity Years – after their big breakup in 2007, Kate was brought into the royal fold for some princess lessons. Later, after she got the ring, they tried to make it sound like she was getting princess lessons for the first time, but Kate had access to William's staff before then, and she was specifically given advice about security and media. That being said, I tend to believe that Meghan is probably getting for-real princess lessons right now, just because… she's American, this relationship is moving so fast, and she'll be a duchess within the next year.
Here are some photos of Harry this morning at the launch of the 2017 London Marathon Expo.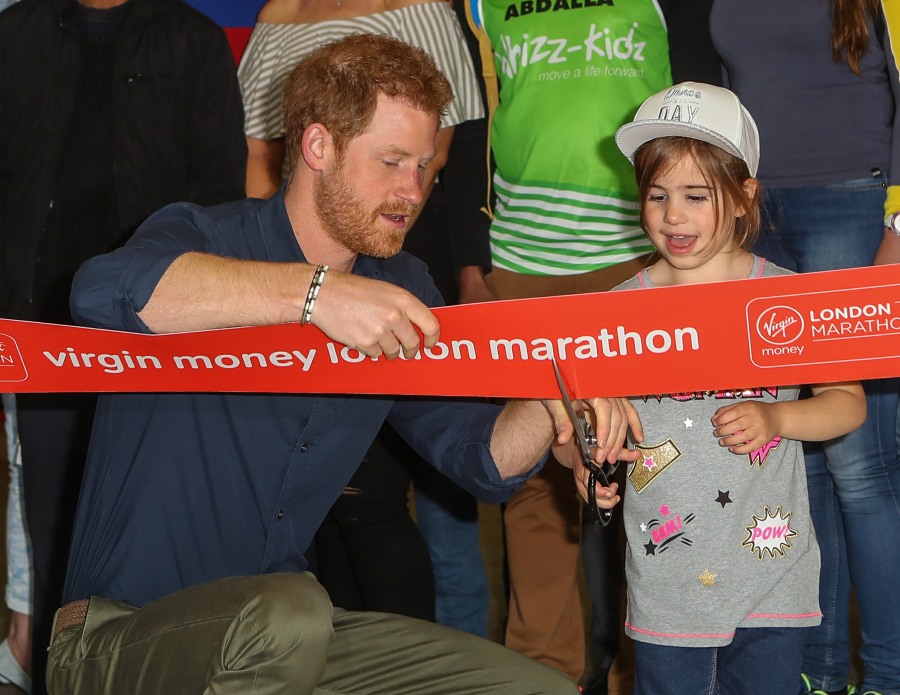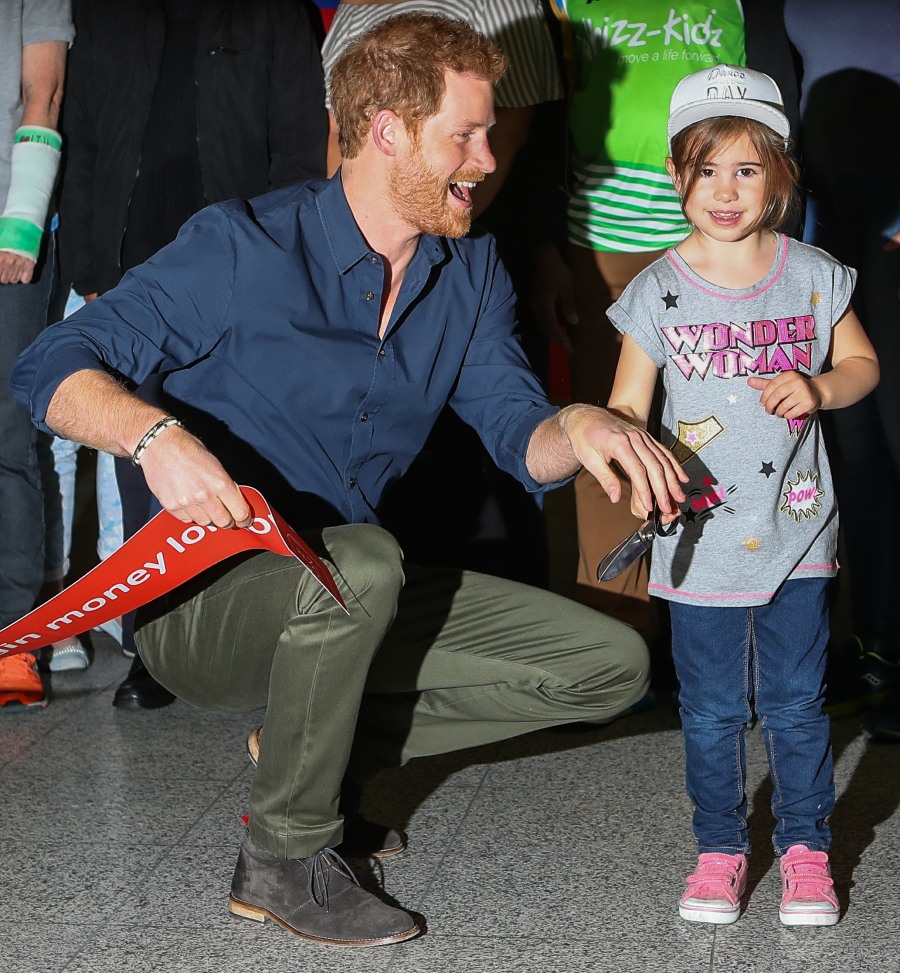 Cover courtesy of Us Weekly.