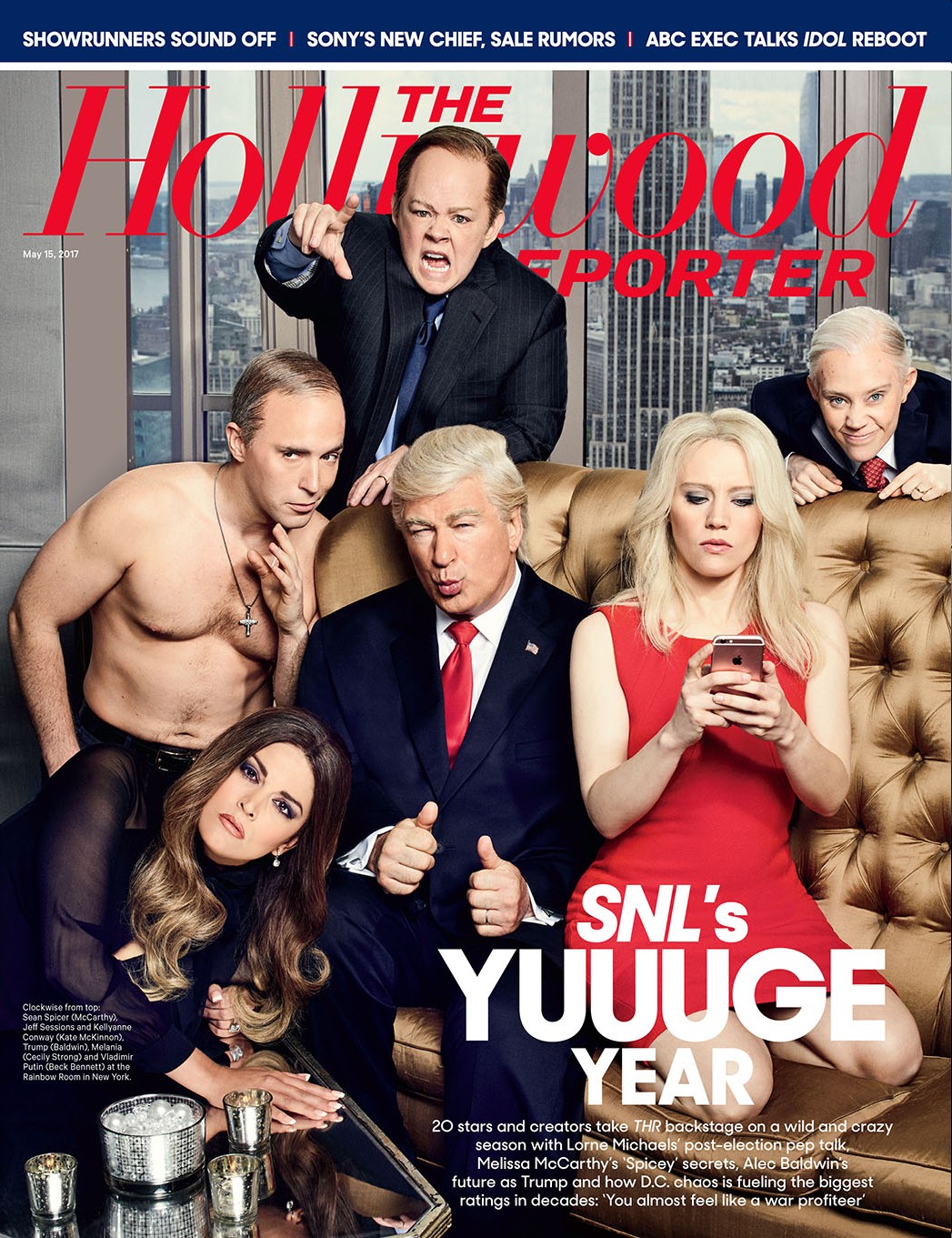 The cast of Saturday Night Live covers the latest issue of The Hollywood Reporter. Only… not. This isn't really about the cast, it's about how their political skits have created SNL's best season, and they're doing it with special guest stars who aren't even real cast members, like Alec Baldwin and Melissa McCarthy. THR does the piece as one of those "oral history" dialogues, like everything is done in quotes from the extensive interviews with cast members, producers and writers and more. You can read the full piece here (it's an enjoyable read). Some highlights:
Alec Baldwin on his Trump impression having some big fans: "I'm not going to name names, but a cabinet member walked up to me at a restaurant in Manhattan — Manhattan, that's a hint — and he goes, 'I gotta tell you something. This thing you're doing is good, it's really good,.' He goes, 'I'll get fired if anybody quoted me saying this, but that's exactly what he's like when you do it.' "

Lorne Michaels on getting Baldwin to play Trump: "The idea came out of a conversation with Tina Fey at some point during the summer. She said, "Well, the person that should really play [Trump] is Alec." And I went, "Yeah!" A light went on.

Baldwin on playing Trump: "They give you all the resources you need to watch and look at Trump in different tableaux: Trump somewhat off the record, Trump caught by a camera, not just Trump making a speech. But I watch and watch and I still don't know what I'm going to do. Then I get out and all I remember is, "Just try to make him unhappy." There are many people who do Trump now, and they have different Trumps. They have kind of a "balls-of-his-feet-light Trump" or what I like to call "Gene Kelly Trump." But my Trump is "Miserable Trump." No matter what. He wins, he loses, he's miserable.

Beck Bennett on playing Putin: "When I was put in that sketch, it was like, "Oh, Beck can play Putin. It's, like, two lines." I don't think anybody thought Putin was going to play the part that he did in the election then. What I remember is that when we first did it, I had a suit on. Then the second time they cut to me in that sketch, the suit was miraculously off, and that got a big reaction. That's how we found the take on that impression: [Putin's] very comfortable, literally, in his own skin, and he loves just having fun playing with these American politicians. I also remember being concerned about taking my shirt off."

Colin Jost on the Trump phenomenon: "I always think it's so funny when people talk about the idea that we somehow introduced him to America or that our show or Jimmy Fallon has humanized him. [Trump's] been on the cover of every tabloid consistently for 30 years. When he hosted last season, the worry was, 'Would he have burned out by the time he even came to host?' That was Lorne's concern more than the concern of, 'How will this help him?'…Politics right now is probably the closest we've come to a full-blown national phenomenon as anything in a long time, and anytime people are paying more attention to politics, it's good for our show. But you almost feel like a war profiteer at times because we've benefited from a situation that's so tough."
There's a lot of stuff about Kate McKinnon and how she felt about playing Kellyanne Conway and Hillary Clinton, plus Cecily Strong playing Melania. Basically, Lorne really encouraged everyone to dive deep into the Trump Administration and not just have everything be about Trump the guy, but to focus on everyone around Trump. And yes, Colin Jost is right… they are sort of like war profiteers.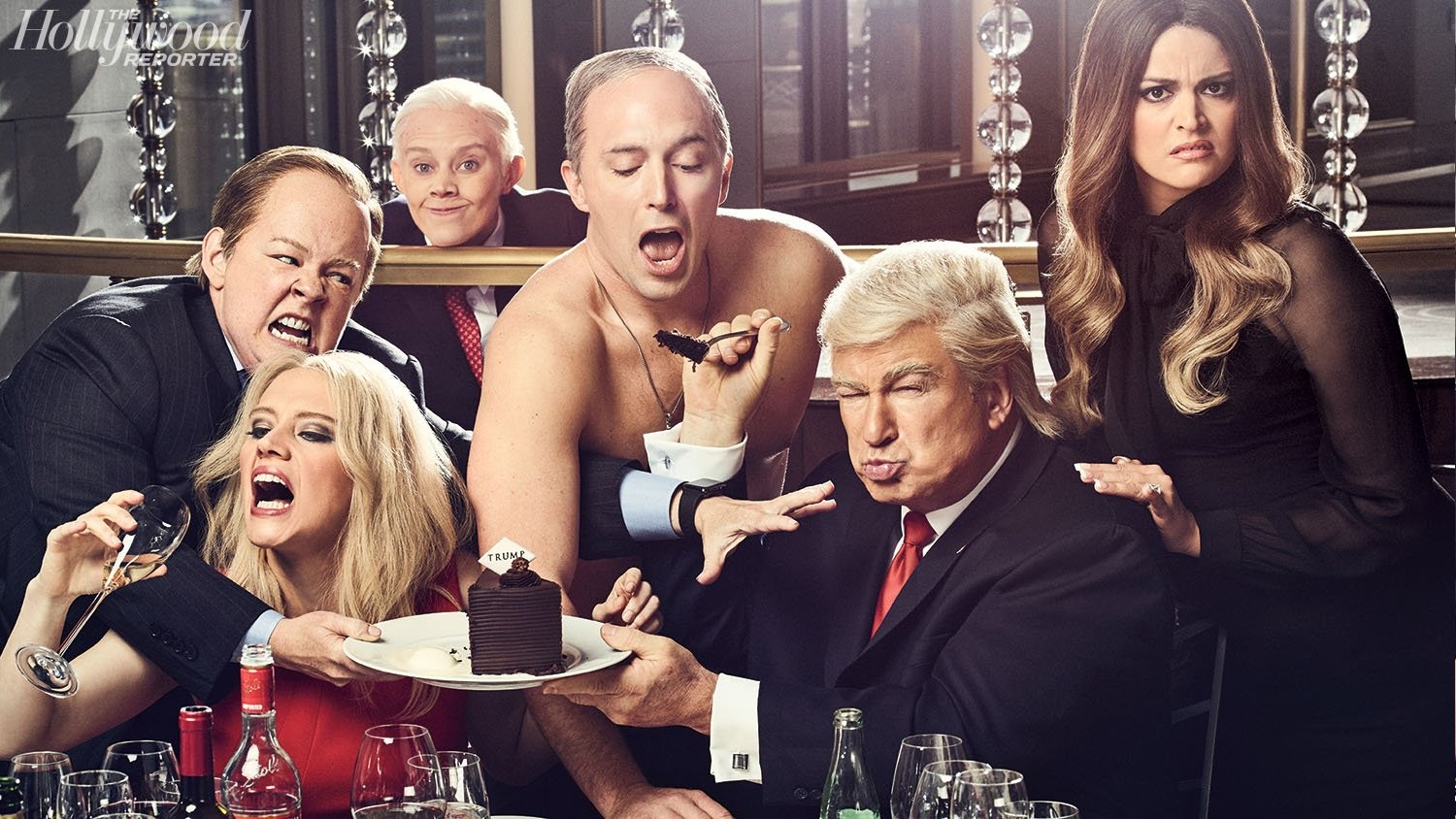 Photos courtesy of The Hollywood Reporter.