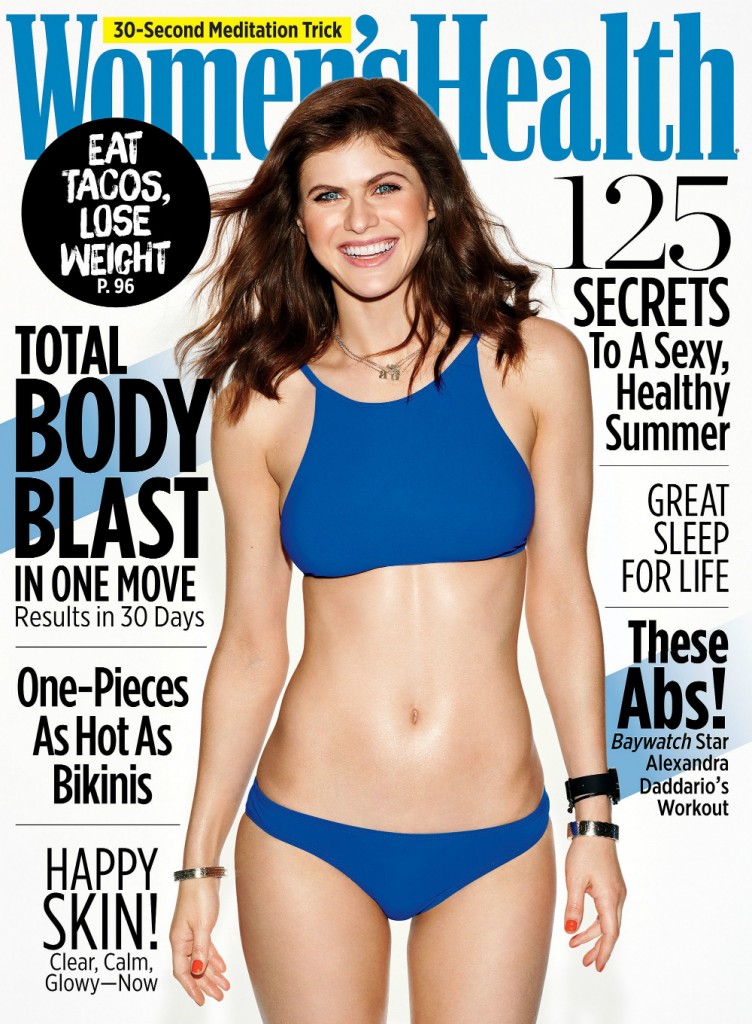 The final promotional push for Baywatch is upon us at the film opens next week. It feels like we've been talking about this movie forever. Fortunately some of the women from the movie are moving into the spotlight. Granted they are talking about how to fit into a bathing suit but, it's Baywatch – other than Dwayne Johnson's presidential bid, what else were they going to talk about? Alexandra Daddario plays Zac Efron's love interest in the film. From a purely visual standpoint, they look beautiful together, I hope they have chemistry on film. To coincide with the movie's release, Alexandra is Women's Health's June cover model. The crux of the article is Alexandra's relationship to bikinis. Instead of losing weight, Alexandra sought to put on weight for the film by increasing her muscle strength. Alexandra has relied on yoga for years, as much for her mental health as her physical, so when it came to re-sculpting her figure, she turned to weight training and a trainer whose goal was to add "visual lines of definition" to her body. Okay?
While filming Baywatch, Alexandra Daddario was basically in a swimsuit all day every day.

"Really, I've never done anything where I've thought about my body as much," the actress, 31, tells Women's Health in the June issue. "You are literally in a bikini the entire day. I even wore a swimsuit when I auditioned with Zac [Efron]!"

To prep for the role, Daddario actually wanted to gain weight in the form muscle mass, which meant switching up her exercise routine.

"My normal workout routine, pre-Baywatch, was a lot of hot yoga," she told the mag. "I feel like it helps with anxiety, it helps with sleep, it was sort of more of a mental thing. For Baywatch, I started doing weight training, which I had never done before, and I saw a huge difference. It was kind of amazing, the transformation I went through."

Daddario began training with Patrick Murphy, who also trains Efron, for four to five-day-a-week hour-long, high-intensity workout sessions that utilized free weights, sliders, TRX straps, resistant bands and BOSU balls. (While she continues to work with Murphy, since filming wrapped she only trains with him twice a week.)
I have to imagine that part of anyone's Baywatch contract was to meet some outrageous body ideal to run around the beaches. As it said in the article, her trainer Patrick Murphy also trains Zac Efron and as Alexandra told Women's Health, "Zac's body is insane." I assume that was what she was going for because she also said, "For the first time in my life, I have real abs!" And yet, I searched everywhere for a shot of her with a less "defined" figure and I was hard pressed to find her looking anything less than incredible. But it's not about me, it's about Alexandra and how happy she is with her results. Lord knows, despite what Hollywood is selling, feeling good about yourself is better than looking good.
So what does she plan to do with her newly formed abs? Not show them off at the beach. Alexandra said, "I'm so pale, I wear cover-ups and bring lots of sunscreen." Alexandra's dating life is a bit static as well, but that is by her own design. She said she does date, "but I'm really nervous around boys. I get very tentative." What happened to the "how do you like me now" attitude from her last interview? The one place she does feel comfortable is on "yoga dates," though. She said she sweats a lot, which might gross her dates out but if they stick with it to the end, she knows she's got a keeper. I know she's being playful but I do hope she has a few other litmus tests than just how well they can plug their nose.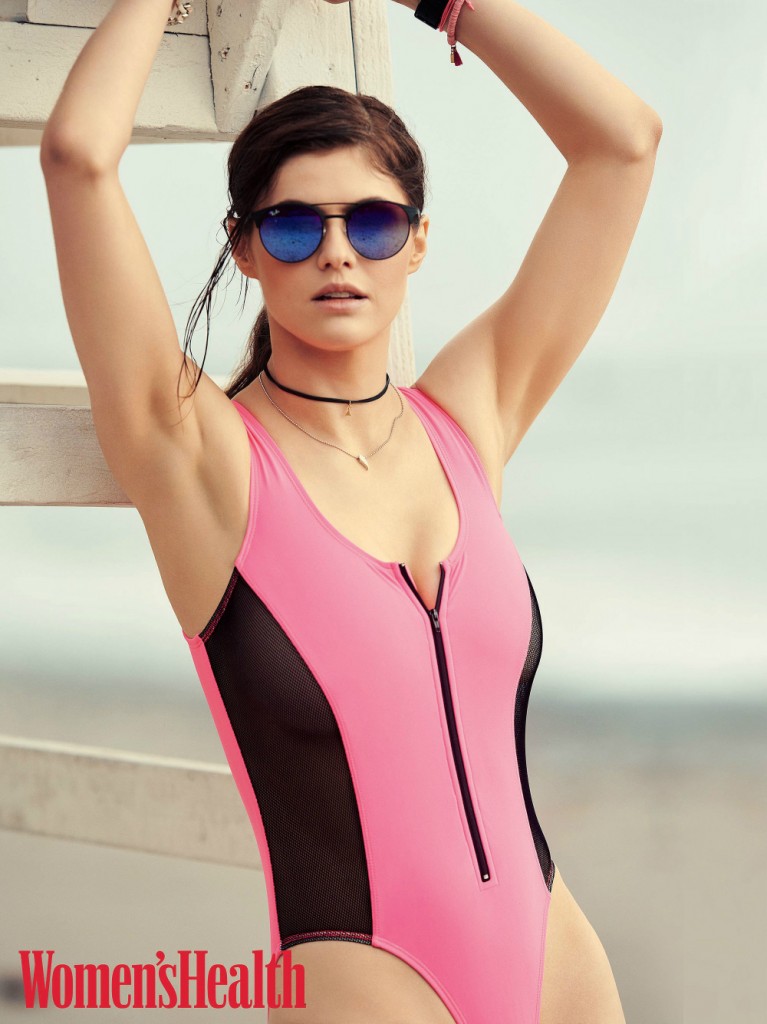 Here are some Baywatch premiere shots:
Photo credit: Women's Day and Getty Images