I wanted to cover this because people who don't know the background may assume that this is a gold-digging, petty move by Steve Harvey's second ex wife, Mary. As someone who has heard Mary's side of the story through YouTube videos she posted (and since deleted, but here are links to copies) about six years ago, I think it was a long time coming and I hope she gets a decent settlement. I can't overstate how measured, well-spoken and matter-of-fact Mary came across when she described how Steve set out to deceive her in their divorce and leave her penniless. When Mary tried to divorce Steve after he cheated on her with a string of women (including his current wife, Marjorie) he convinced her to hire a lawyer who was working for him, gave her less than $1,000 a month in alimony despite the fact that he was a millionaire, and he made sure he had sole custody of their son together, turning the boy against his mom and leaving Mary homeless. Mary was with Steve when he was driving to standup gigs and living out of his car, and she was instrumental in helping him make it big. In stories about his past he's erased her and made it sound like he did it all on his own. Also, Steve sued Mary after she told her side of the story on YouTube.
Anyway, Mary has filed a lawsuit against Steve for $60 million, but it sounds like she did it with the help of a friend, not a lawyer, because it's rambling (according to TMZ). Given the details we're hearing about it, and the amount of power and influence Steve has, I don't think she'll be successful in even getting a settlement. Here's the news from TMZ:
Steve Harvey has caused his second ex-wife much more than mental anguish … according to a new lawsuit she's filed he damaged her "soul" and now owes her $60 MILLION.

Mary Harvey and Steve's infamously bitter divorce was finalized back in 2005, but according to docs filed Wednesday … Mary's still feeling a slew of ill-effects from their battle. She says she's been suicidal and self-medicates to cope with their nasty breakup.

The suit is rambling at times, but Mary's main point is she's emotionally and physically destroyed after losing her son, her businesses, and the joy of Mother's Days. As she puts it, "All was loss Mary L. Harvey was dead."

She's suing Steve for child endangerment, torture, conspiracy against rights, kidnapping, murder, breach of contract and intentional infliction of emotional distress.

Worth noting … the document was not filed by a lawyer, but rather a woman who tells us she is Mary's "civil rights activist."

We've reached out to Steve's camp. No word back.

Update: Steve's attorney Brandon Williams tells TMZ, "Mr. Harvey vehemently denies any allegations set forth in the lawsuit. The Complaint is meritless, frivolous and the allegations are completely false. We will vigorously defend/counterclaim against the Complaint."
Again, a lot of people will read this and think it's a money grab, which is understandable. It's been six years since I saw Mary's videos and I still remember how impressed I was by the amount of composure she showed when she explained how thoroughly Steve set out to destroy her. (Here's another link to her videos: parts one, two and three.) What's more is that he was the one cheating on her with multiple women, including Marjorie, his current wife, who would regularly call Steve at home. I don't have a lot of hope that Mary will be successful but at the very least she's bringing awareness to what a manipulative POS Steve Harvey is.
Harvey and his current wife, Marjorie, with whom he was cheating on Mary: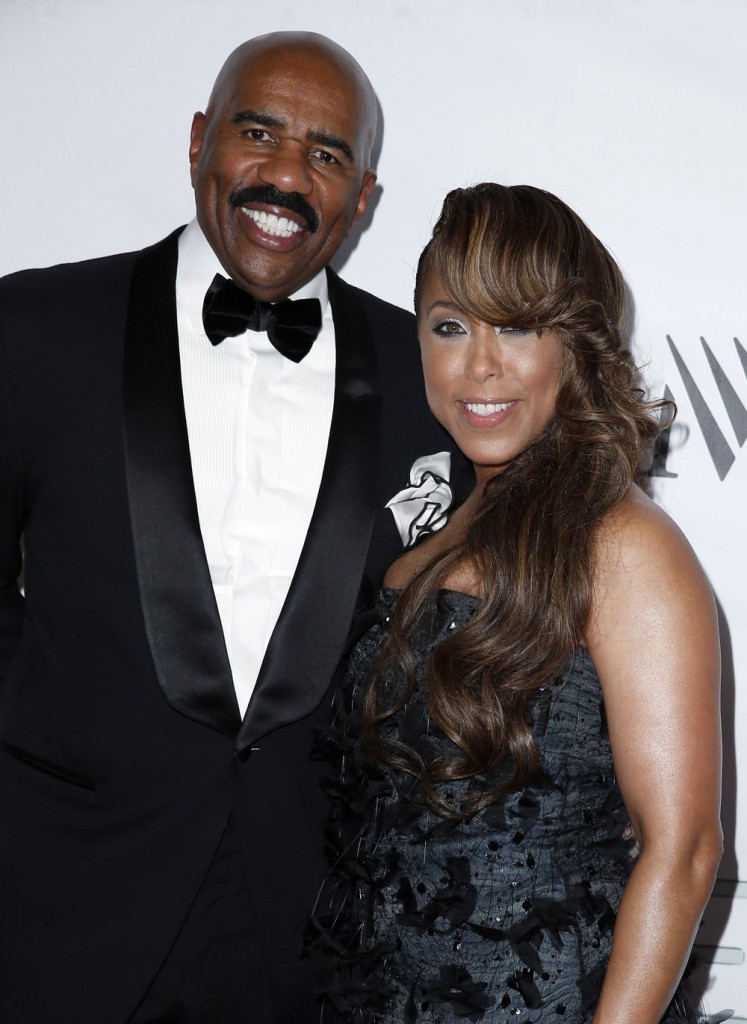 Photos credit: WENN and Getty