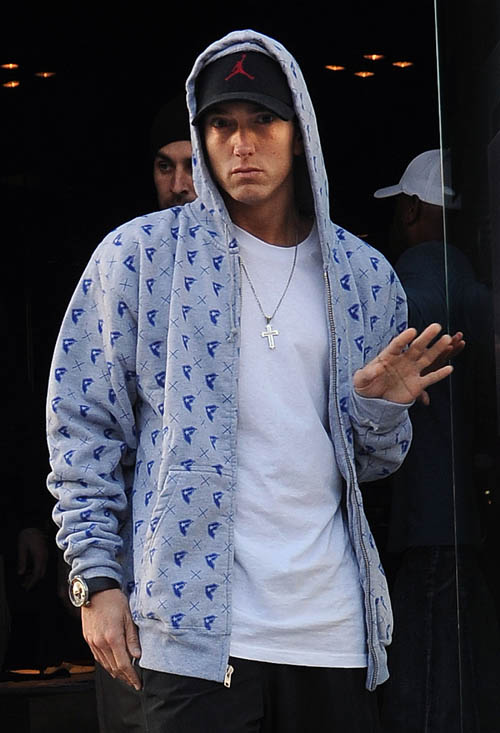 While Eminem was having Sacha Baron Cohen's crotch land in his face in a planned stunt on the MTV Movie Awards, someone was back at his hotel room stealing his stuff. It's hard to tell if Eminem was truly offended at the stunt, which an MTV writer confirmed was rehearsed with him as it was shown, if he left the show as a publicity stunt or a little of both. Whatever happened, he was sure to have been sincerely upset when he returned to his room to find that it was ransacked and tens of thousands worth of his stuff, including a $60k necklace, was gone:
The Michigan-born rapper had thousands of dollars worth of items stolen from his L.A. hotel room on Sunday night, including a $60K diamond necklace and his personal laptop.

Thankfully, Em's new album, "Relapse," debuted at No. 1 on the Billboard Top 200 Albums chart – selling a whopping 608,000 copies in its first week – so he'll have the funds to recover what he lost.

But he couldn't have been happy about the live concert launch of "DJ Hero" on Monday night in L.A., either. There, the hip-hopper met with tepid reactions following a performance with Jay-Z.

"When Eminem rapped with Jay, the crowd loved it," said one eyewitness. "But when he continued on his own and did songs off his new album, the energy just died. People were pumped to see him, but he wasn't interacting with his fans. His performance was mechanical, without a lot of personality, and people were pretty disappointed."
[From NY Daily News]
I have very little sympathy for Eminem. I saw him in an interview on German television and he made a thinly veiled homophobic comment and came across as a jerk. If someone stole his stuff that really sucks for him, but my heart doesn't bleed for the guy. It's surprising to hear that he's not getting much of a response from the crowd when he's performing, though. The Daily News goes on to report that Eminem went off stage on Monday waiting for people to call for an encore. When the crowd thinned out instead he just left. I like his music and he's definitely talented, but his big ego always seems to get in the way. He's obviously not the only music artist with that problem. Maybe Kanye will be ranting in all caps about how his stuff got stolen next.
Eminem is shown out shopping on 6/1/09. Credit: Fame Pictures