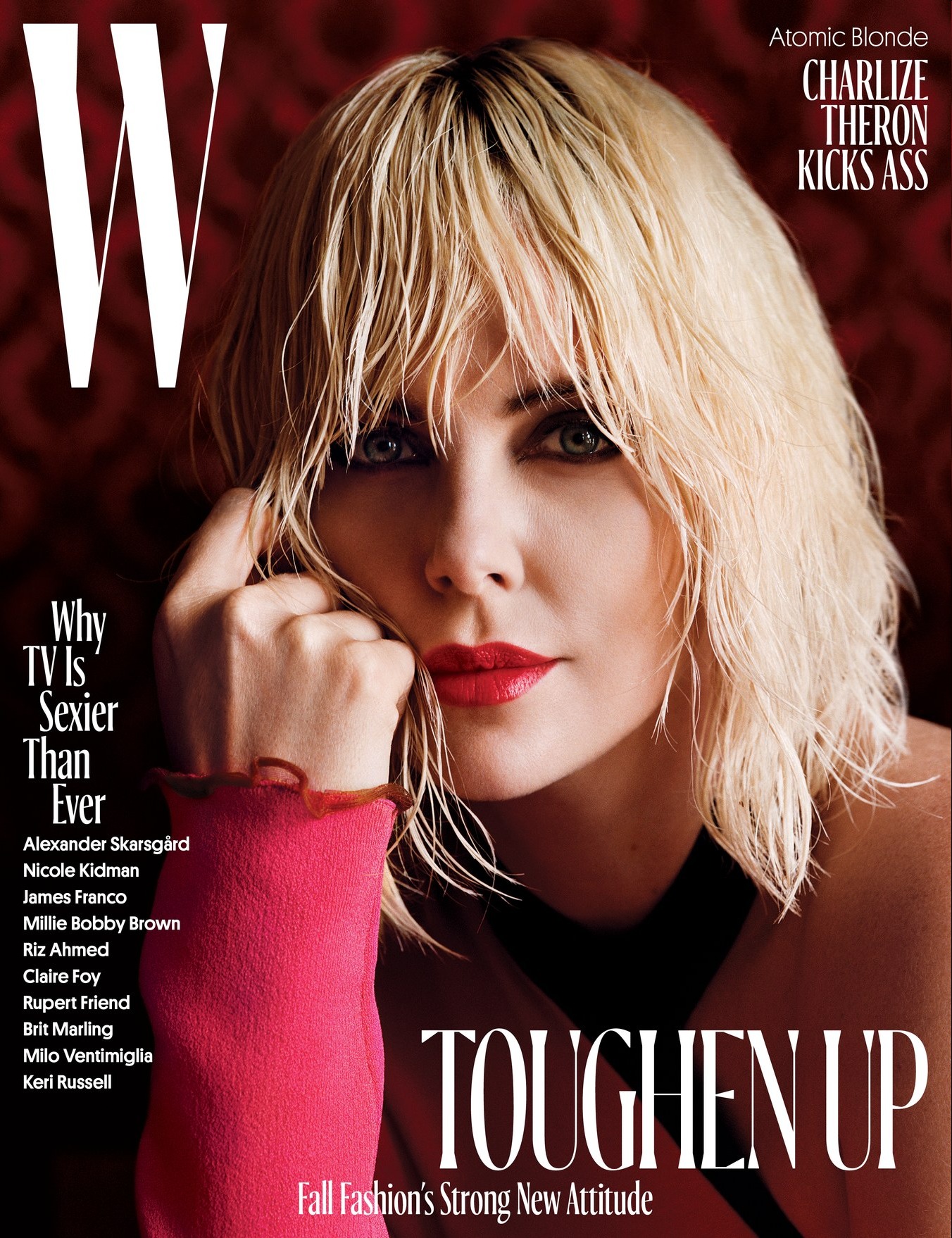 Charlize Theron covers the latest issue of W Magazine, and I'm trying to figure out who she reminds me of in this editorial. I think it's Kristen Stewart, specifically K-Stew circa Cannes 2016, when she had that terrible half-blonde hair. It's not a good look on most women, and it's downright painful on Charlize. I'll say it: what's up with the bangs?? Good God. Anyway, Charlize is chatting about her new film, Atomic Blonde, where she plays an ass-kicking assassin named Lorraine. It's heavy on the stylized action, which is right in Charlize's wheelhouse. I'm actually looking forward to it. You can read Charlize's W interview here. Some highlights:
Why she took the role in Atomic Blonde. "I didn't just want to play a girly spy who depends on her flirty ways. It would be so boring to just be 'the girl' and wait for the guys to come in when there's a fight. Instead, I thought about Atomic Blonde the way I imagine men think about parts in action films. I was intrigued and challenged."

Whether she likes action films: "I really like them. One of my first memories is of watching Die Hard and just loving it. Maybe something's wrong with me.

She punched Teri Hatcher in the face for-real: "Yes! 2 Days in the Valley. Rotten Tomatoes gave it number 17 on the list of 20 Greatest Fight Scenes Ever. The fight was between me and Teri Hatcher. I hit her really bad. [W: Did you knock out her teeth?] No. But I think she was bruised. And because it was Teri Hatcher, who was a star, and I was this bleached-blonde-Amazonian, catsuit-wearing nobody who was punching her in the face, I was like a wild animal. Back then I didn't know how to hone in my energy and I was knocking over lights. I had no concept of a set. I connected right with Teri Hatcher's face. I felt terrible about it. I had no money and sent her some cheap beer the next day. Sorry, Teri."

Staging the action sequences: "…It's like dance, and I grew up taking ballet. I love discipline. I function really well within the parameters of discipline and knowing what to do. For instance, you have to throw yourself into ballet 100 percent, and that was really good for me as a young girl. But other than Teri Hatcher, I had only connected my fist with a girl's face once in my entire life, so I had to do a lot of training for this film.

The other woman she punched: "I was working in Milan as a model, and this girl got very aggressive with me at a bar. She pushed me and started talking smack, and that was it. My body just took over, and I thought, I didn't just do that, did I? It was not badass like Lorraine at all. With Lorraine, we talked a lot about, 'What would it be like if a girl was really fighting these big guys?' David Leitch was so specific about knowing that a girl would never punch with her wrist, or her wrist would break. She would use her elbows. Or her knees. He designed the fights around what my strengths would be. And we made sure that we showed the impact of the hits that she took. We wanted the audience to feel the pain."

Whether she would be a good spy in real life: "No. I think I would just hide. I'd be really good at hiding. [Laughs] But I would fight. I would try, you know? To fight to the death you have to have a certain personality. Someone who lives like Lorraine cannot be superhealthy and dream of unicorns. She's haunted."

She called Mark Wahlberg a girl: "I'm a great driver. I grew up on a farm. When I did The Italian Job, Mark Wahlberg, my costar, would do one 360 and start puking. I was like, 'What's up, girl?' [Laughs] And also, I'm really, really good at cleaning—at laundry! I love coming back from a trip and opening my suitcase and doing laundry at 4:30 a.m. because I'm so jet-lagged. I dig that. I can't help myself: I'll walk into my kitchen, and be 20 minutes late because I'm cleaning and I can't stop. The worst is when I'm making a film and I don't get enough cleaning out of my system. It kind of builds up, and I'll be in my trailer with my toothbrush cleaning the filthy corners. They'll say, 'We're ready for you, Charlize,' and I'm like, 'I'm going to be right there! Just need to get some more corners.'
I wish I found it relaxing to clean or wash things, but it just doesn't work for me. Now, I love folding laundry – that really does relax me, but cleaning things? No. As for Charlize talking about all of the ladies she's punched in her life… I'll admit it, I sort of laughed at the Teri Hatcher story. Poor Teri Hatcher! Punched in the face by a novice actress who would become big-deal Charlize Theron. Is it true that if a woman tried to punch a guy in the face, her wrist would break? That seems like an overstatement – some women would break or sprain their wrist, some wouldn't.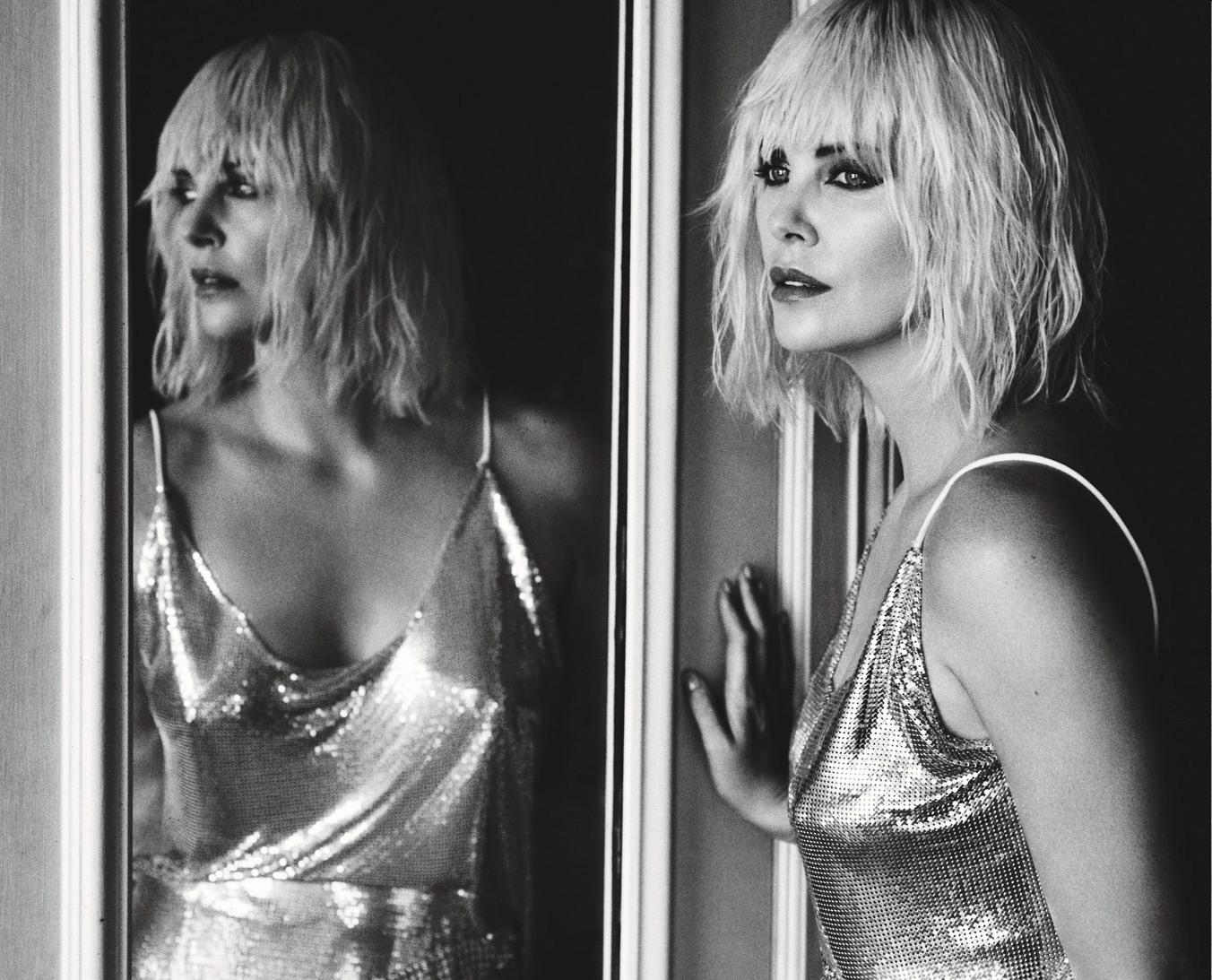 Photos courtesy of Alasdair McLellan/W Magazine.