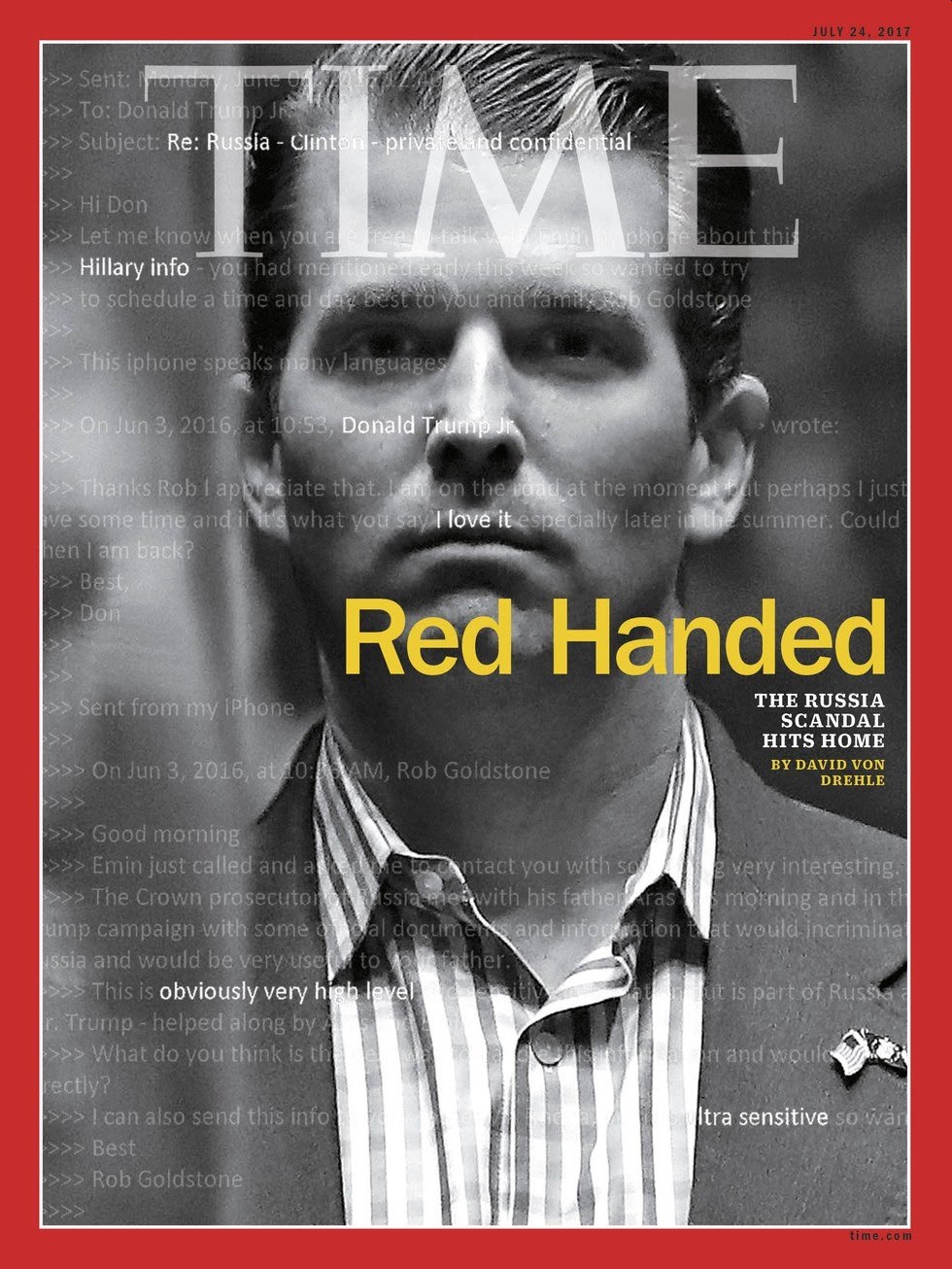 This is a Time Magazine cover worthy of hanging up at a Trump golf club. I love this cover and I love that "I love it" is highlighted and overlaid on Donald Trump Jr.'s face, giving him a little Hitler mustache of treason. Obviously, the Don Jr. part of the scandal is still at a boiling point. There's a ton of information and analysis in and around the controversy/treason. Here are some pieces I've been thinking about.
One, Chris Hayes examined whether Don Jr.'s sketchy Russian meeting also included phone calls. It's pretty clear that there was at least one phone call, right?
Politico's profile of Don Jr. They did a profile of him which I guess is supposed to be slightly sympathetic, in that it's difficult to imagine going through life with the name Donald Trump Jr. and NOT ending up a total jackass. You can read the piece here.
The latest "conspiracy." There's some question about how shady Kremlin lawyer Natalia Veselnitskaya even came to America to meet with Don Jr. at Trump Tower – go here to read more. The conservatives are trying to cry "OBAMA DID IT!" It's seriously ridiculous.
Don't forget about Precious Jared! Jared Kushner was at the same meeting with Don Jr. and Paul Manafort. Precious Jared also has about a million other entanglements with and around Russia, Russian banks, and shady Russian operatives. Precious Jared also still has a security clearance and the president's ear. Now Emperor Bigly's lawyers want to "wall off Jared Kushner from discussing the Russia investigation with his father-in-law, according to sources with direct knowledge of the discussions…The team contends that it isn't out to get Kushner, but just wants to protect the president because his son-in-law is so wrapped up in the investigation. He had three meetings with Russians that special counsel Bob Mueller is sure to investigate."
Photos courtesy of Getty, cover courtesy of Time.