The Mother of the World, Beyonce, posted these photos to her social media on Friday. Bey and Jay-Z actually had a date night without the twins on Thursday night, so the paparazzi snapped some pics of the two of them out and about – go here to see. I was pleased to see that Beyonce looks like a woman who gave birth one month ago, as in… she hasn't lost the baby weight. Very few women lose the baby weight in the first month, and the conversation about "losing the baby weight" is rather gross pregnancy-shaming/weight-shaming anyway. I would have been happy enough to simply talk about Beyonce without talking about her weight or anything like that. Unfortunately, Beyonce seems to want us to talk about her weight.
Back in the not-so-distant past, Beyonce's first pregnancy featured a lot of speculation about pillows and bumps that seemed to "fold" when she sat down. After Blue Ivy was born, Beyonce seemed to "snap back" to her old body pretty quickly, which is easy to do when you just detach the pillow. In those early months of 2012, Beyonce spoke to People Magazine about how she was back in the gym, working out three or four times a week soon after Blue was born. Beyonce's trainer even said that Bey was actually working out five times a week, doing high-impact exercise, soon after giving birth. None of it seemed… authentic. Like, I believed Beyonce was working out like crazy. I just didn't believe that a woman who had just recently given birth could work out with that intensity. So what do you make of this new story of Beyonce's post-twins body?
A source close to Beyoncé tells PEOPLE the mother of three hasn't hit the gym in the month since delivering twins — despite the trim figure she showed off on Thursday and Friday.

"Beyoncé hasn't started to work out yet," the source says. "She is all about recovering."

The 35-year-old "Crazy in Love" singer shocked fans on Friday when she shared the first photo of one-month-old twins Rumi and Sir Carter to Instagram. But aside from the pic being the first time the Beyhive caught a glimpse of the newest members of her and husband JAY-Z's family, it was also the first time Beyoncé showed off her post-baby body. Wearing a flowing Palomo Spain ensemble in the shot, which was styled in a similar theme to the the stunning maternity photo she used to announce her pregnancy in February, Beyoncé showed off her trim stomach, which had many online feeling "jealous."

She followed the pic up hours later by posting a series of selfies taken in her $400,000-a-month Malibu rental — dressed in a form-fitting, corset-like mini skirt with a long-sleeved white top. Beyoncé paired the entire look with a fur bag and sky-high block heels, which accentuated her famously toned gams.
Again, go back and look at the un-Photoshopped photos of Bey and Jay's date night. She still has a belly and her body still looks like she recently gave birth. I don't get why Beyonce needs us to look at all of these corseted, Photoshopped and "angled" photos of her postpartum body. What's the point? Is the point to make other women feel bad about not looking Photoshop-perfect immediately after giving birth? Is this supposed to be aspirational?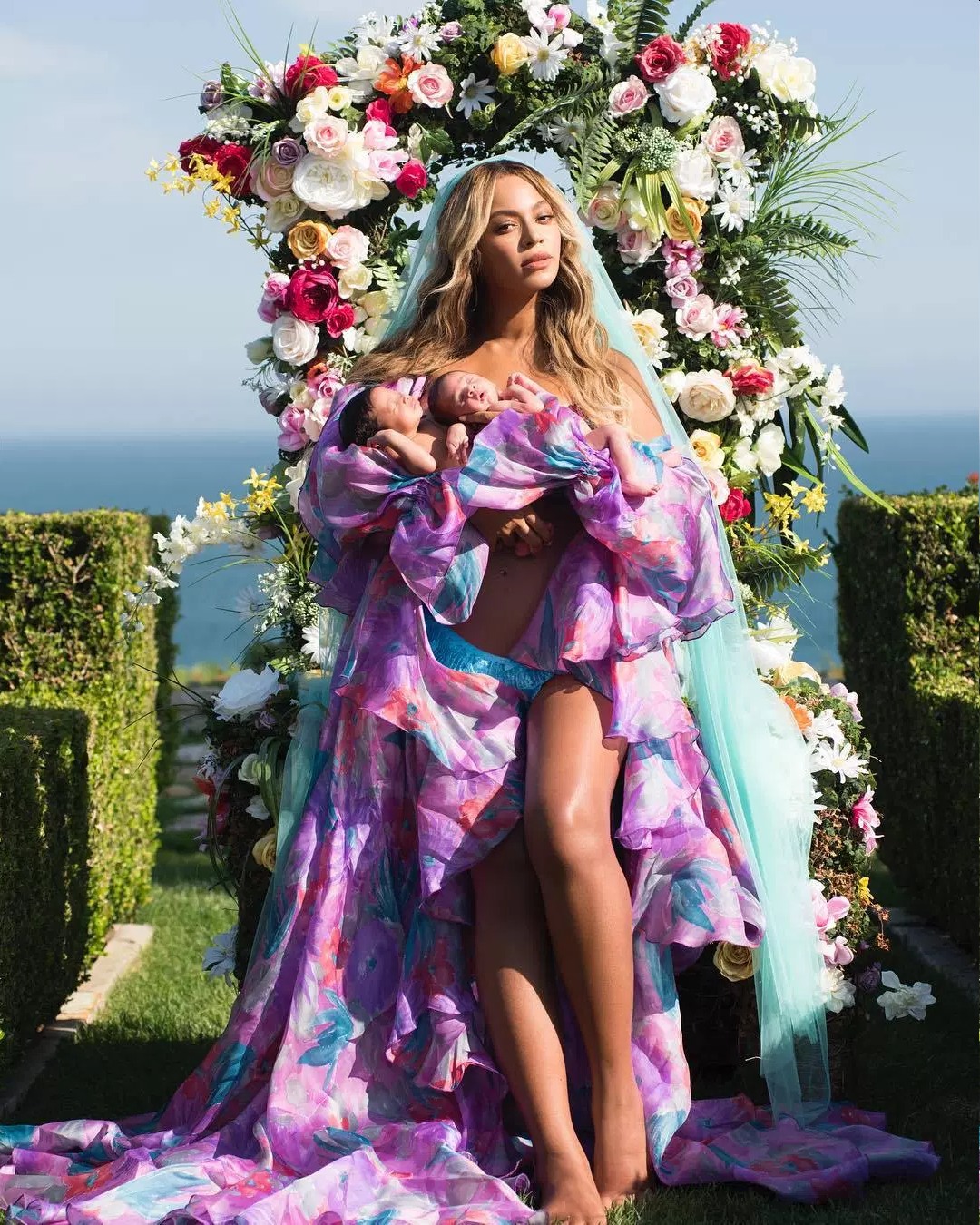 Photos courtesy of Beyonce's Instagram.