Because I rarely (and I do mean rarely) wear makeup, I really don't pay attention the beauty/makeup blogger industry. I realize that a lot of people watch makeup tutorials on YouTube, and they have favorite makeup bloggers, personalities, tutors and whatever you want to call them. I'm saying this all as a way to explain why the name "Jeffree Star" meant nothing to me when I first tried to figure out this story yesterday. Jeffree Star runs his own cosmetics line, does his own tutorials and is very big into that whole makeup lifestyle or whatever (I really don't even know how to describe it). You can see his Instagram here – he has a big social media presence and following. Within a certain makeup-loving-specific demographic, Jeffree Star is a big deal, and his reviews of products can make or break a new product line. He's also a controversial figure with a years-long history of sexism and racism. The receipts are in this long-ass video from another beauty YouTuber who literally had all the receipts. Here's another good primer on Star's history of racism, based on his feud with Kat Von D.
So what does any of this have to do with anything? Ugh. Alright, so Kim Kardashian has a beauty line now. She has, like, contouring kits and powders and foundation and please don't ask me anything further. She was trying to show off her latest products in an Instagram Story on Monday, and apparently, she was doing a terrible job of "swatching," i.e., sampling the product on her skin. Jeffree Star started tweeting about Kim's terrible swatching.
Umm… Kim what is going on with those new swatches?? 🍵 Looks like chalk 😒 pic.twitter.com/yCTZg2UhZu

— Jeffree Star (@JeffreeStar) August 14, 2017
Kim then posted another video where she said people were stressing her out about the bad-swatching, then Kim addressed her fans, who were apparently trashing Jeffree Star. This is what she said on Monday:
"And guys I see that my fans are totally hating on someone like Jeffree Star for being honest about my struggle swatches. But because of his remarks I'm learning from the best, like from Mario, how to swatch properly. I see you being so petty bringing up things in his past where he was you know, negative, but he's also apologised for those things and I get the serious deal if you say racial things but I do believe in people changing and people that apologise I will give them the benefit of the doubt and accept that people change and move on. I know better than anyone that I hate when people bring up my past or mistakes I've made in the past, so let him live.

"I welcome honest comments about my products and because of it I'm swatching better now. So everyone get off his ass and let's not be so negative, we're all in this together, there's room for all of us. Love you Jeffrey. I wanna make one last thing clear, I do not defend people that are racist and I'm very against it, but if someone claims that they have changed I would love to give them the benefit of the doubt and I pray to God that they do change, for the sake of my children and my friends, so I wanna give him the benefit of the doubt, but I do not support people that are racist and that's why I so appreciate that he apologised and was really honest about the things he said in the past. So just enough, just don't bring it up anymore is all I'm trying to say. People want to forget the negative things they did in the past and I do too."
After that, Twitter went wild on her, because I guess people already knew who Jeffree Star is and they knew about his history of racist bulls–t? So, Kim was called names and everyone was like "chica, don't speak for black people ever again, that apology wasn't yours to accept." So then on Tuesday, Kim had to do another Instagram story where she apologized for shrugging off Jeffree's problematic past statements:
"Hey guys so I really wanted to apologise to you guys and my fans for defending a situation yesterday that I didn't know enough about. I just feel a bit naive, and I do really want to apologise for feeling like I had the right to say 'get over it' in a situation that involves racism. I just don't really feel like I have the right to speak on that, and I really really am sorry from the bottom of my heart. I have always been about positivity and I've never been a negative person, so my whole thing was like 'hey guys I don't want to see negativity in my timeline or my mentions, let's just move forward, let's like be positive and move past this'. Now I realise that I was a bit naive in saying that."

"I'm not going against my fans in any way, I just was saying let's get the negativity off my timeline. But you know I'm sorry. So I really am sorry and I just want to move forward and be positive. My last message is that I do believe that people and born to love, and born with love, and that they are taught to hate. So I have always had hopes that people can change and that people can learn to be better and do better, and learn to find that love again. So never give up hope, that is my message for the day, and that is always what I have been trying to say. I believe in people changing, I believe in people just being better and you know I'll never give that up, I just want people to be positive."
You guys… I understand why everyone is yelling at Kim and yelling at and about Jeffree Star, but can I also say something? While Jeffree Star absolutely deserved to be canceled and his half-assed apologies aren't Kim's to accept, I also think… most people probably don't know who he is in general? Do I think Kim was wrong for telling people of color to get over it, "it" being racism and Star's repeated use of the n-word? Sure. Do I think Kim needs to be called out for culturally appropriating blackness and then abandoning actual victims of racism? Sure. But my God… all of this because Kim can't swatch.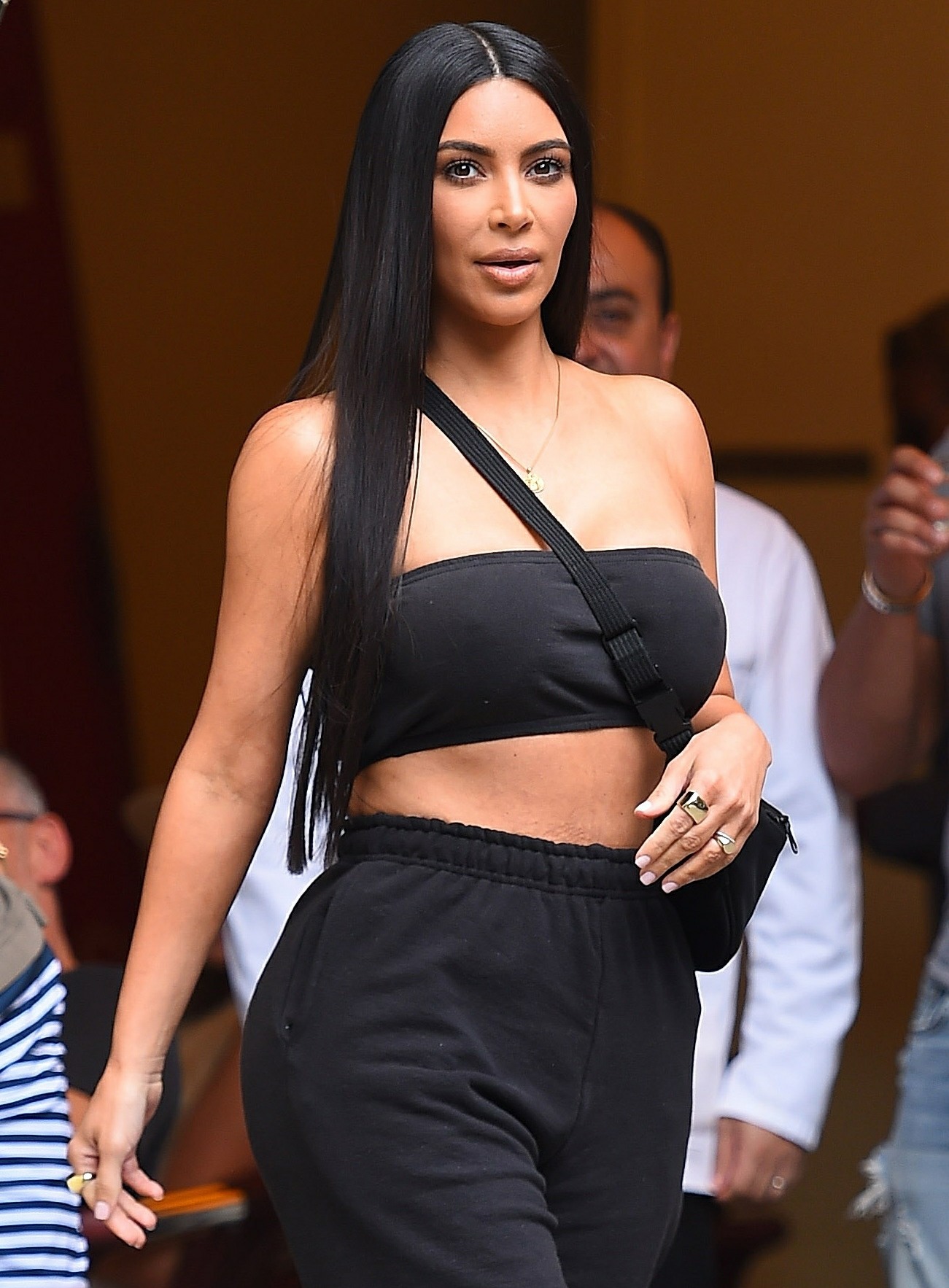 Photos courtesy of Backgrid and Instagram.