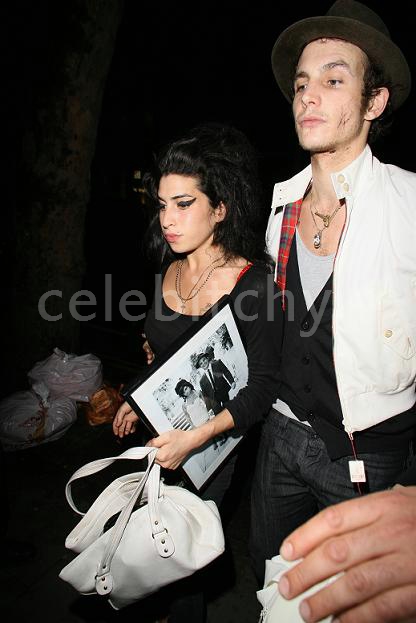 Amy Winehouse and got into a massive – and physical – fight with her husband, Blake Fielder-Civil on Friday morning, and there's bloody, graphic pictures – and a host of witnesses – to prove it. The pair dropped out of rehab for the second time a few days ago and have been holed up in a posh Soho hotel in London. Late Thursday night, Amy left the hotel, ran across the street, and casually "hugged" a girl. The girl slipped Amy a package that we're all assuming contained drugs. Keep in mind she has about 100 paparazzi following her all the time, so it's not like she could do something like that and think it would go unnoticed. A few hours later, screaming was heard from their room, and after a while Amy ran out. She was bloody, and bruised, with scrapes and swollen knuckles. Her clothing was torn and bloody in places – even her shoes. She ran to the elevator, where Blake followed her. Even though there was someone else in the elevator, he screamed at her as she cowered in the corner. When they got to the lobby Amy jetted out of the hotel and flagged down some random driver, who drove her a few miles and dropped her off at a convenience store. Blake chased the car and then wandered through the streets of London calling for her at four in the morning. Eventually he reached her on her cell phone, and the two reconnected and went back to the hotel together – but not before the press got some crystal clear photos of the mess.
"Bloody and battered after ripping into each other during a drug-fuelled row, this is Amy Winehouse, the cream of Britain's young singing talent, and her junkie husband Blake Fielder-Civil. Stumbling around the streets of London at 4.45am, the pair bore the wounds of an almighty row which spiralled wildly out of control. ..The fight in the early hours of yesterday left 23-year-old Miss Winehouse with blood staining her pink ballet shoes and the knees of her jeans. Purple bruises could be seen on the side of her neck and her knuckles were swollen. But her 24-year-old husband appeared to have come off a lot worse – with cuts and scratches on both cheeks and around his neck.

"…The singer returned to her hotel room and within hours other guests complained of raised voices, clattering furniture and screaming. Shortly afterwards, the concierge was called. Miss Winehouse, who has a history of self-harming, had asked for medical assistance to patch up cuts on her arm. At around 2.30am, said guests, the fight sounded like it had restarted – then Miss Winehouse was seen sprinting down the corridor to the lift, pursued by her badly bleeding husband.

"The couple then dashed into the street. An eyewitness said: 'Just after 3am, Amy came sprinting out and down the road. She was in a real state of panic. Blake was running after her, but couldn't catch up. Amy was so hell-bent on getting away from him that she ran into the middle of the street and flagged down a random car that happened to be full of girls. She was saying, 'Quickly, I have to get in, I have to get away, please help me'. Her voice was breaking, you could tell she was scared. The car drove off at speed and ended up about a mile away at Charing Cross station. Amy got out and went into a 24-hour shop to buy cigarettes. She was looking completely out of her head. Blake ran after the car for a while. He spent the next half hour or so wandering around in a daze with blood over his face, looking in doorways for her, shouting her name out. Eventually, he got through to her on the mobile. There were a lot of tears and shouting, but they calmed down and met up at around 4am and slowly walked back to the hotel arm-in-arm. They got back at 4.45am.'"
[From the Daily Mail]
You can view some of the more graphic pictures of their fight on the Daily Mail's website. It really is clear that Amy's life is spiraling out of control. Sometimes it seems like she almost wants it to, because she's so public and dramatic about it. Why get your drugs publicly when paparazzi are camped outside your hotel room when you're probably able to get them delivered to the room? Why drink at pubs all the time when you can drink at home? I'm sure her problems are more than real, but it seems like she wants them to play out in a public setting. Apparently the pair's parents arranged another meeting (intervention) within a few hours of their fight. She and Blake left the hotel – a little cleaned up – with Amy carrying a picture of their wedding. Hopefully on their way back to rehab –separately.
Picture note by JayBird: Header image of Amy and Blake leaving their hotel after their fight. Splash captions the picture: "Amy Winehouse leaves by the back door of her hotel in a blacked-out car and books into a new hotel. Her husband shows the cuts on his face from the big fight they allegedly had the night before. Amy is carrying the picture of her wedding under her arm so they must have made up." Thanks to Splash Photos for the image.