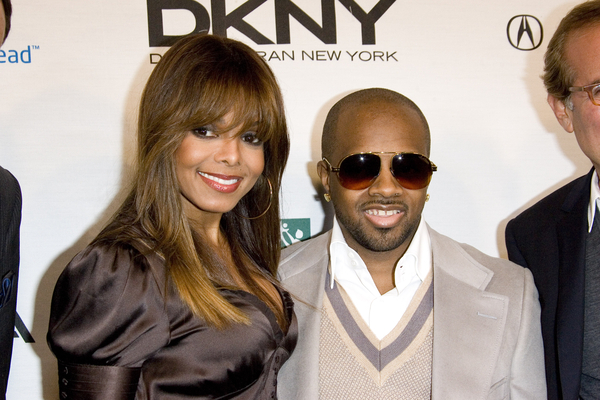 Did Janet Jackson and Jermaine Dupri get married?
The 41-year-old is thought to have wed the music producer in front of friends and family on Saturday afternoon.

A source had earlier told MediaTakeOut.com: "Janet wants very much to keep the event private. So don't expect anything over the top. It will be small – only have close friends and family – and definitely no one from the media will be invited."

The couple have been dating since 2001 and Dupri, 34, worked with Jackson on two of her albums.
Jermaine Dupri is denying he secretly married janet Jackson in a ceremony Saturday – which he would, wouldn't he? It's meant to be a secret.
But Dupri says, "When Janet and I get married, everybody will know. It's not something I want to keep a secret. I'm going to promote it like a party."
Aw, that's sweet.
Janet Jackson has married twice before in secret, to James DeBarge and Rene Elizondo Jr, so I don't believe a word of Dupri's denials. Actually, one of Janet's previous marriages was annulled, so she got married once and the second time, er, had a faux ceremony? Anyway, two secret wedding things.
Her breast exposure at the Superbowl also topped a list of celebrity scandals compiled by Entertainment Weekly.
JANET JACKSON's infamous breast-baring wardrobe malfunction at the 2004 Super Bowl has topped a list of celebrity scandals. The singer was performing a duet with Justin Timberlake during half-time at the American football final when she accidentally flashed a breast. Second on the list, compiled by editors at American magazine Entertainment Weekly, is Mel Gibson's anti-Semitic outburst during his July 2006 drink-driving arrest. At three is the 1992 U.S. TV appearance by Irish singer Sinead O'Connor, who infamously tore up a picture of the late Pope John Paul II during a performance on Saturday Night Live. The top five is rounded out by Hugh Grant's 1995 arrest for engaging in "lewd conduct" with prostitute Divine Brown in Los Angeles, and Michael Jackson dangling his son Prince Michael II over a hotel balcony in Berlin, Germany in 2002.
You know what's missing from the scandal list? Madonna. Wasn't she scandal queen? Remember before she had children, and just got in hot water over their controversial fathering/adopting, she released two albums titled Erotica and Bedtime Stories (no sign of the three little pigs here, which is really about getting eaten by a wolf and not children's fare at all…).
Anyway, she also released the Sex book, made a music video featuring S&M, masturbated on stage with an Puerto Ricon flag (much ruder than a nipple slip, I think) and fellated a vodka bottle on her Truth or Dare film.
Get in line Janet Jackson. Actually, somewhere ahead of you, wouldn't there be you brother Michael's child molestation charges? Much more controversial than a bit of nipple.