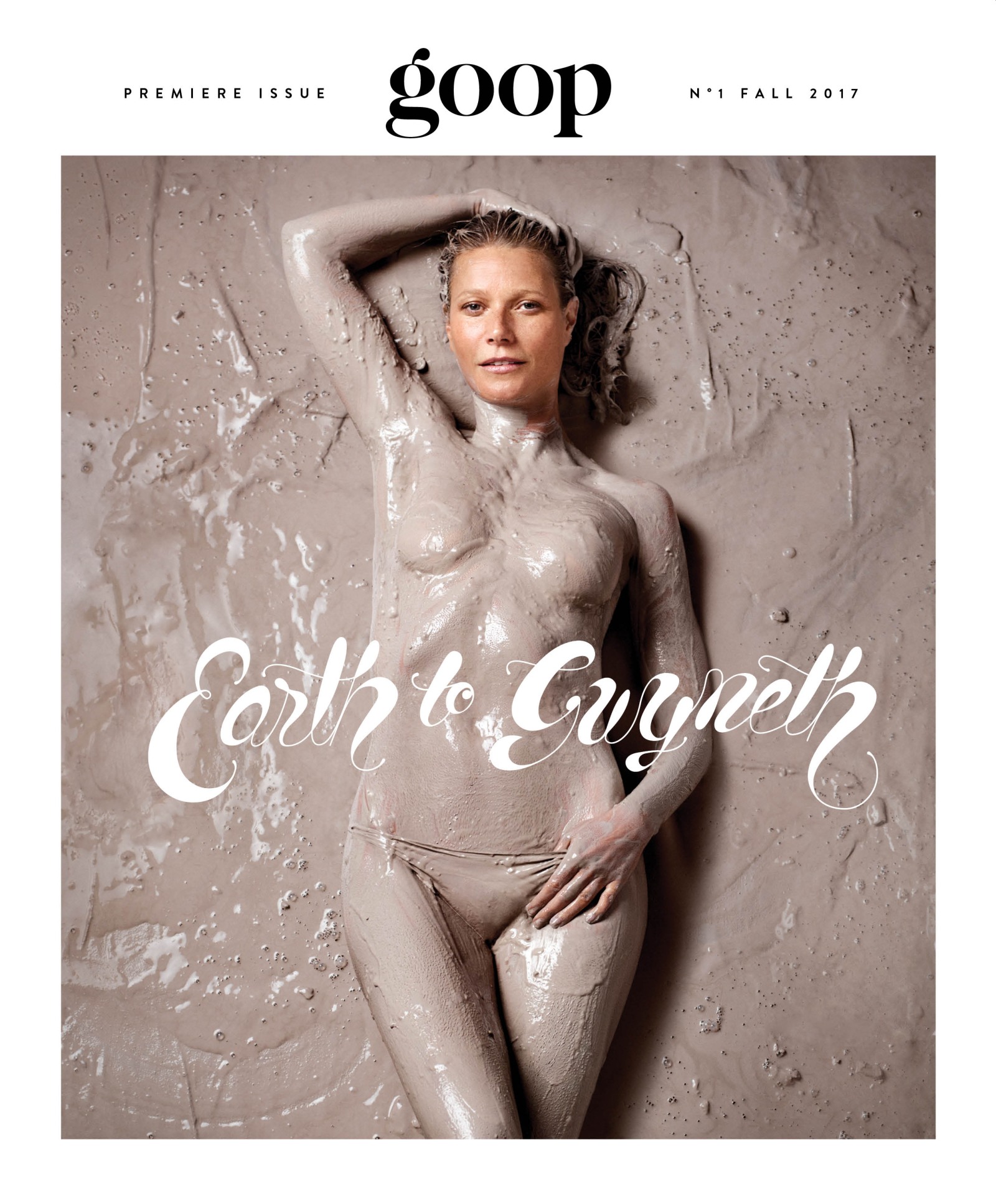 We knew this was coming, but I didn't realize it would be so muddy. The inaugural issue of Goop Magazine is here, and of course our fair, dumb Gwyneth Paltrow is the cover girl. Gwyneth went "au naturale" on the cover, minus a bikini bottom which was probably made from organic, cruelty-free panda fur silk. Gwyneth actually had the mud imported from France, because American peasant was not good enough for Dame Goop. And in case anyone was wondering… yes, I still strongly believe that she got bolt-ons several years back. I actually think this cover proves that.
Anyway, Goop Magazine is just like goop.com, only you can actually, physically flip through tangible pages as you roll your eyes at Gwyneth's bulls–t. The magazine is quarterly, and it covers everything that goop.com covers – jade vadge eggs, extreme diets masquerading as "cleanses," fake science, designer clothes and many articles which will appeal to the gullible, wealthy white women in your life. This is the mission statement of Goop Magazine:
At goop, more than anything else, we define wellness as a state of curiosity and what that curiosity might lead to. If you have tuned into yourself enough to ask why you feel a certain way or how you might change a particular aspect of your life, you are participating in the wellness movement… Wellness is the space in which to ponder the existence of a mind-body connection, to wonder if food really can be medicine, to imagine that a better relationship is possible. It's about being the architect of how you want your life to unfold, in whatever way is right for you.
I actually believe that science can explain almost everything in our world while also believing that there is something mysterious, magical and unknowable about the world. There's room for science and mysticism, there's room for Western medicine and the healing power of good vibes, prayers and positive thinking. But let's be clear: Gwyneth isn't saying that. To Gwyneth and the Goop team, everything is a conspiracy that can be explained with thousands of dollars' worth of goop-branded "vitamin" supplements and a shaman's psychic's predictions of what kind of diet an Antebellum ghost would eat. To Gwyneth, EVERYTHING is a mystery and nothing has ever been explained scientifically.
Here are some highlights from Gwyneth's essay or whatever:
Her first cleanse: "I remember standing in a hippie health-food store in Greenwich Village and I saw a little paperback book describing a 'master cleanse,' and I was like, 'What's that?' I remember the next day [after I finished the cleanse] I was like, 'Oh, wow, I just did this cleanse, and I feel so much better. I can have a beer and a cigarette now, right?'"

She's "healed" by walking barefoot: "For me, when I take my shoes off and walk in the grass, it's so healing. It's hard to find scientific evidence for the idea that 'I feel good.' But by trying, you get so much juice out of life."

Her recommendation for bee-sting treatments: "The doctor stings you [with a live bee] like it's an acupuncture needle. I had it done on my cesarean scar… I had some buckling in the scar, and it really evened it out."

Her father's cancer was eye-opening: "I was sort of pushing this can of processed protein food directly into his stomach. And I remember thinking, 'Really? Is this really healing? There's a bunch of chemicals in this.' It was the first time I contemplated [the idea] that you could have autonomy over your own health."

She's not a perfectionist: "You can only be a perfectionist if you think, erroneously, that there's a finish line in life. I try to succeed and fail all the time in all kinds of ways."
I wonder how old she was when she did her first "cleanse"? From what I remember, Gwyneth was always on a diet, even when she was in her early 20s and newly famous. She's always been one of those compulsive dieters, always looking for the latest and most trendy way to starve herself or pretend that she has some kind of food allergy or sensitivity. What's startling is that she's now built an entire industry around that. And now she has a magazine devoted to it. Shady.
Cover courtesy of Conde Nast, Goop Magazine. Additional photo courtesy of Getty.