Kanye West And Justin Timberlake Compete

Kanye West likes to name-drop. Apparently he and Justin Timberlake are like the Michael Jackson and Prince of the new millennium. I'm not sure which one is Michael Jackson and which one is Prince.
"My biggest inspiration and biggest competition is Justin Timberlake," West told hip-hop magazine XXL.

"He is the only other person that gets an across-the-board response and respect both on black radio and white radio."

West says he and Timberlake are on a different level to everyone else and has compared their healthy rivalry to Prince and Michael Jackson's chart battle in the 80s.

He added: "If Justin hadn't come out and killed the game, I can't say that my album, singles and videos would be on the same level that they're on. We push each other. I look at me and Justin like Prince and Michael Jackson in their day."
Likening yourself to Michael Jackson? Or, come to think of it, Prince? This is not a good career move. I believe he is a little crazy, the way he leapt on stage and told the MTV Europe Awards that his video cost $1million and if he lost in the best video category, they'd lost credibility. Of course, he had already lost and the winner was already up on stage accepting his award. Maybe Kanye should have just thanked his mum and walked away. Anyway, being a little crazy makes you like Michael Jackson, doesn't it?
Of course, he could be calling himself the new Michael Jackson because he sells out stadiums and is African-American. In some countries he is just U2's support act, which most ticketholders missed as they were at the bar, as is traditional in all beer loving cultures. In the U.K. he is still number one on the singles charts.
Well, the Fiddy Cent vs Kanye West fued seems to have ended in a bar. Obviously they are at home in beer loving cultures.
The two rappers formerly bitter rivals made peace over vodka shots at New York's 40/40 Club recently.

Kanye and 50 were also joined by fellow hip-hop stars Jay-Z, Sean Combs and T.I. A clubber told the New York Post newspaper: They all strolled through the club like the rap Rat Pack. Everyone was going crazy around them. Kanye and Fiddy put their differences behind them and had a drink together at the bar.
50 cent recently vowed to quit music if Kanye outsold him, when their albums were released on Spetember 11, he'd quit music. No word on whether the 'vow' is being downgraded to a 'stupid-thing-I-said-that-I-didn't-mean', but we'll see in a month or so.
Picture note by Celebitchy: 50 Cent is shown below on 12/8/06 at Spike TV's 2006 Video Game Awards. Kanye West is shown in the header on 6/28/07 after his show in London. Justin Timberlake is looking annoyed at the Shrek premiere in London on 6/11/07. Pictures from PRPhotos.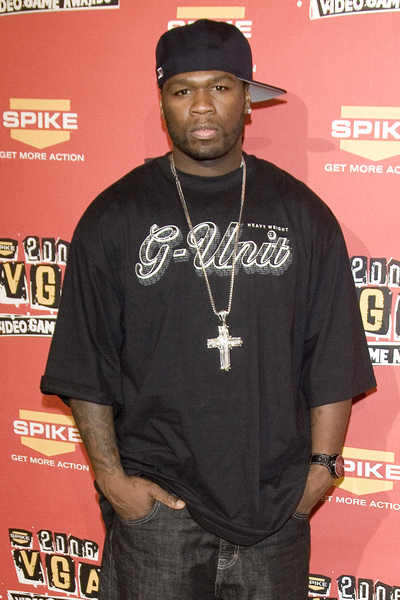 Written by Helen

Posted in 50 Cent, Justin Timberlake, Kanye West, Music

- Mariah Carey lip synced on American Idol [CDAN]
- Colin Firth is looking good [Lainey Gossip]
- Internet celebrity charged with murder! [D-Listed]
- What is Paz Vega wearing? [Go Fug Yourself]
- New bachelors on The Bachelorette [Reality Tea]
- Goodbye to The Office [Pajiba]
- Bachelor Sean's fiance cheats on him [Evil Beet]
- Britney Spears out with her man [Popsugar]
- Nina Dobrev works it [Popoholic]
- Cindy Crawford needs to lay off the 'tox [Celebslam]
- Who said it: Carrie Bradshaw or The Dalai Lama? [Buzzfeed]
Pages: 1 2