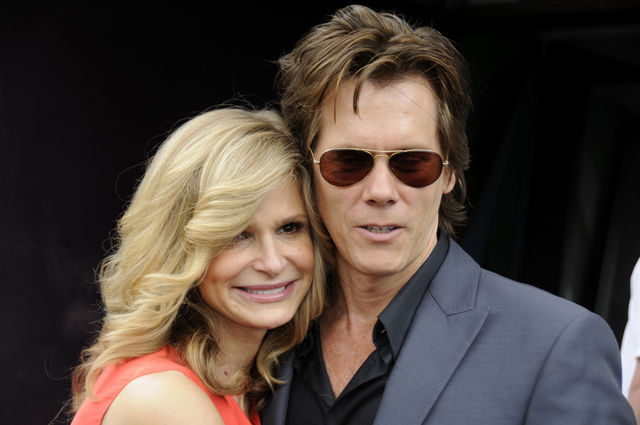 Kyra Sedgwick and Kevin Bacon are one of Hollywood's most stable and likable couples. You hardly hear anything about them because there's not much to gossip about – they seem to have a loving relationship and a happy family. They've been married for over 20 years and have two children, Travis, 19, and Sosie, 17.
Unfortunately Kyra and Kevin got quite a bit of press late last year when the Bernie Madoff Ponzi scheme came to light. They were among thousands of other high net worth individuals who were bilked in Madoff's massive investment scam.
In January, Kevin talked about losing his investments in general terms, and seemed to suggest that he and Kyra were financially wiped out. He said "There are a lot of things I'm grateful for: my health, my family, my career, my family's health. Things could be worse." He added that he was looking for a job and needed "to work, for obvious reasons." It was known that he and Kyra had some real estate, but it was thought that they weren't left with much.
Now Kyra has broken her silence on the issue, and she maintains that they weren't financially ruined, but admits they did lose "hard earned money":
Kyra Sedgwick and her actor-husband, Kevin Bacon, managed to stay out of the gossip pages until they were among the many victims of the massive Ponzi scheme run by financier Bernard Madoff.

"I think the interesting thing about it was that I always thought, `We're so boring. We should be in the tabloids more. C'mon honey, let's have a scandal,'" the 43-year-old actress said.

"Well, it wasn't the truth that we were destroyed," Sedgwick said in a recent conference call from New York. "And I think when you say `no comment,' that's, of course, where they're going to go, because it's fun and it grabs headlines and people will be more interested."

"It's been really unpleasant and makes you feel really vulnerable. But the fact of the matter is that we did not lose everything," she said. "We lost hard-earned money that we worked very hard for that was what we thought in a safe place. It's painful but a lot of people lost a lot more. And we have a lot of things to be grateful for in our life, and we never ever forget that."
[From AP via Huffington Post]
I like how Kevin and Kyra put things in perspective and seem genuinely grateful for the good things they've received in life. They seem like good people who deserve to have a comfortable and happy life. It looks like they've found it, even as they lost some material things along the way.
Kyra Sedgwick is shown getting her star on the Hollywood Walk of Fame on 6/8/09. Credit: WENN.com