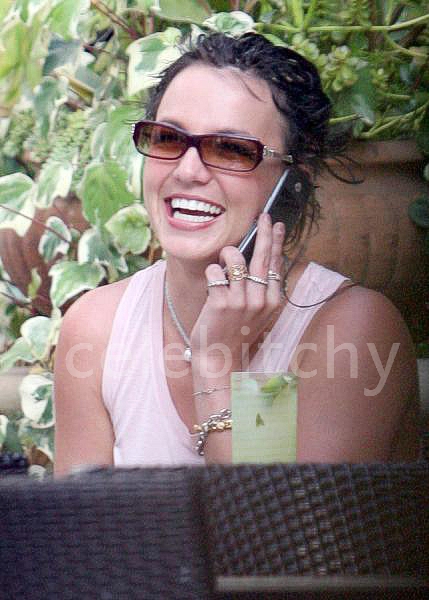 Apparently Britney Spears wayward behavior is starting to catch up with her in a much bigger way than possibly losing custody of her kids – though that's big enough. Britney is currently under active investigation for child abuse by the Los Angeles County Department of Children and Family services. That's hardcore. Britney has done a lot of stupid things publicly, which can only make a person wonder what she does behind the privacy of closed doors. Not only is she stupid, but on her best day she's a negligent parent, and she's got a hugely ridiculously sense of entitlement. MSNBC actually broke into their newscast at 2:30 EST to announce the investigation. They're citing some of the unsubstantiated rumors about Britney trying to whiten her kids teeth with Crest white strips, giving them caffeine, leaving them in soiled diapers until someone else come to change them, and keeping the boys up late so that they'll sleep late and won't wake her in the morning.
"TMZ has learned Britney Spears is being investigated for possible child abuse.

"An unscheduled hearing was held today at L.A. County Superior Court. Present — Britney's lawyer, Dennis Wasser, K-Fed's attorney, Mark Vincent Kaplan and a lawyer from the Los Angeles County Counsel who is assigned to the dependency court.

"We do not know the specifics of the allegations but we're told the L.A. County Department of Children and Family Services is conducting an active investigation.

"A hearing in the custody case has been scheduled for September 4, which will be a follow up to today's appearance.

"A rep for Britney did not immediately return our request for comment."
[From TMZ.com]
I would imagine that the charges are fairly serious if they warranted an unscheduled hearing. Courts are packed and don't have time to fritter away unless there's some possible merit to the accusations. One would hope the Spears isn't actually abusive, though she certainly seems unfit. Either way, I hope her kids end up in a better environment. I understand people's feelings that that would be horribly traumatic for her, and I'm sure it would be, probably indescribably so. But what matters more than Britney's feeling of trauma is the welfare of her kids. Some of her past mistakes were stupid, but probably mistakes. But she seems to be in a whole other crazy place these days, and her kids shouldn't have to be victims of that, especially at such formative years. Check back here – we'll keep updating if any news comes in about the result of the trial.
Update: MSNBC is reporting that the allegations that triggered the court hearing are that Spears has given/is giving alcohol to sons Sean Preston and Jayden James. These allegations go hand in hand with accusations that Spears keeps the boys up late – she is said to give them alcohol in their drinks so that they'll be quiet and sleepy. MSNBC had a legal analyst (whose name I didn't get) who said that the white strips and the caffeine won't hold any legal weight, at least in terms of abuse (though it might in terms of custody) but that giving babies alcohol is obviously "a pretty serious charge." My mom did something similar to keep my sister and me quiet and calm – no she didn't give us alcohol in our bottles (she wasn't that nice a mom) instead we weren't allowed caffeine or sugar. Maybe instead of giving the kids coffee and soda in their bottles and all the sugary crap she feeds them, and then adding alcohol to make them sleepy, Britney could just not do any of those things, and the kids would be fine.
Picture note by JayBird: Here's K-Fed's lawyer, Mark Vincent Kaplan, after their last court appearance on August 14th.. Header image of Britney enjoying a mojito on August 9th. Images thanks to WENN.