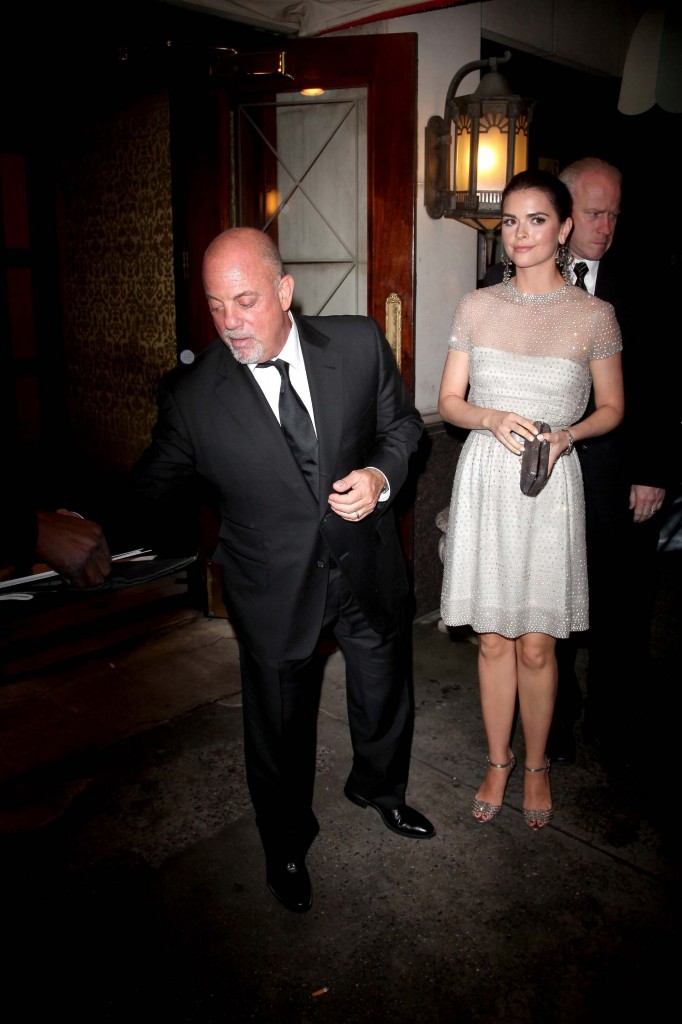 Damn it! The National Enquirer got it right yesterday about Billy Joel and Katie Lee. The couple announced their formal split to the New York Daily News in a joint statement. They say that they're totally separating, they still remain friends, and they still have "admiration and respect for each other." The NYDN article then goes through three unnamed sources for theories on why the couple split. First theory: Katie was fooling around with Israeli designer Yigal Azrouel. Added bonus for this theory is that the alleged affair was the main reason given in the National Enquirer's report, which turned out to be amazingly prescient. Second theory: Age difference and different interests. She's a young city girl, he's a 60-year-old with an affection for his boats. Third theory: Billy was screwing around on Katie just as much as she was screwing around on him, and they both decided to call it a day. Can I get a little bit of Columns A, B and C?
Looks like the third time isn't the charm for the Piano Man. Billy Joel and his latest wife, Katie Lee, are splitting up, the couple confirmed to the Daily News on Wednesday.

"After nearly five years of marriage, Billy and Katie have decided to separate," reps for the pair said in a joint statement.

"This decision is the result of much thought and consideration. Billy and Katie remain caring friends, with admiration and respect for each other."

Rumors have swirled for months that Joel's third marriage was on the rocks. Various reports have linked Lee, a 27-year-old chef and author, with Yigal Azrouel, a dashing 36-year-old Israeli-born fashion designer who has frequently escorted her to events.

Sources reported seeing them dirty dancing in Miami in January and have claimed that in unguarded moments Azrouel referred to Lee as "my girlfriend."

Reps for the Joels insisted that Azrouel was just a friend and that Billy, 60, was happy to skip the parties, fashion shows and fundraisers that his younger wife enjoyed.

"Their decision to separate was absolutely unrelated to Yigal," Joel's spokeswoman, Claire Mercuri said.

"It was really the age difference that caught up with them," said a friend of the couple. "They grew apart. She is very career-oriented. She loves going out. She loves the city. When Billy isn't touring, he'd rather be on Long Island with his motorcycles and boats."

Still, the friend added, "I can't imagine the stories about Yigal helped."

One ally of Lee said, "Billy is no one to talk. It wasn't like he was a monk when he was on tour."

But a longtime pal of Joel insisted "he's always remained faithful to Katie. When he was touring with Elton John, he flew home almost every night. He rarely stayed in a hotel room. When would he have done this supposed fooling around?"

In recent weeks, Joel has been living on Long Island, where he owns mansions in Sag Harbor and Sagaponack. Lee is said to have stayed at the couple's Manhattan townhouse, not far from Azrouel's boutique.

While one pal denied talk of a big blow-up last week, both have retained lawyers.
Joel is believed to have a prenuptial agreement to protect the millions his many hits have made him.

Besides their New York properties, he owns a mansion in Miami Beach. Recent reports had him buying Lee a restaurant in Sag Harbor but Mercuri said he was looking at the space "only as real estate investment."

He and Lee married in October of 2004. His nine-year marriage to model Christie Brinkley, the mother of their daughter Alexa, ended in 1994. His nine-year marriage to Elizabeth Weber ended in 1982.

Lee's rep, Ken Sunshine, declined to comment beyond the couple's statement.

"Billy's doing fine," Mercuri said. "He's looking forward to resuming his Face2Face Tour with Elton John."
[From The New York Daily News]
Nice little promotion there at the end, kind of like "Oh, another marriage down the tubes, but wait, you should come see him play with Elton John!" That actually sounds like a great concert, and I wish they were coming some place close to me. As far as theories behind the split, et cetera, I don't really have some hardcore opinion. As I said yesterday, I wasn't invested in this relationship at all – she seemed like a gold-digging child-bride, and he was plenty old enough to know better. It's a wash.
In another Billy Joel-related note, Gwyneth Paltrow referred to Billy as "William Joel" is her last Goopy newsletter. Goop was describing some cookies Katie Lee made for a dinner party, and Goop referred to the couple as "the lovely Katie Lee Joel and her husband William…" Since it seemed like Billy was already going to be sending out his spokesperson for all of the separation stuff, the guy also dropped this comment into US Weekly: "No one calls him William." I bet that gets Goop's panties in a wad.
Header photo is from 5/4/09. Other photos are from 2007. Credit: WENN.com