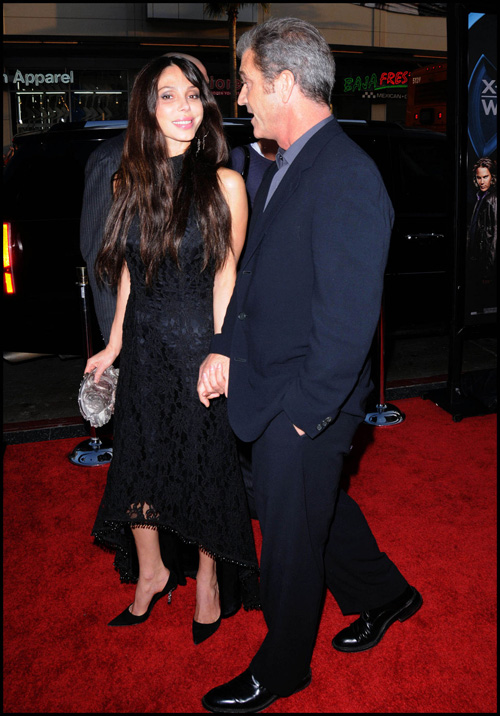 Mel Gibson isn't taking it to heart that the baby Oksana Grigorieva is carrying might not be his – although I'm sure that as soon as that baby is born, a little DNA test will be performed. While he's waiting for verification (and really, Oksana is a smart enough gold-digger to get pregnant by the rich guy, give her credit), Mel isn't going to stop treating his girlfriend like she needs to be treated. Basically, he's treating her like the only way he can show her that he loves her is by buying her presents. The bigger the present, the bigger the love. Different people have different ways of describing this – "cupboard love" or perhaps even "prostitution". All I know is that not only did Mel buy Oksana a $2.4 million home several weeks ago, but he's now "pampering" the hell out of her. Diamonds, cars, and a $10,000 monthly allowance. Wow. I'm kind of jealous of this hooker:
Mel Gibson isn't ready to marry his pregnant girlfriend Oksana Grigorieva, so he's spoiling her instead.

In addition to the $2.4 million love nest that Mel, 53, recently purchased for her in Sherman Oaks, CA, an insider reveals that he's also bought Oksana, 39, a baby-friendly Mercedes SUV, a 3-carat diamond commitment ring and an allowance of more than $10,000 a month for clothes, food and other necessities.

"Mel might marry her one day, but until he does, he's going to pamper her," the insider says. "He's also hiring a nanny when their baby is born."
[From In Touch Weekly, print edition, July 6 2009]
He's hiring a nanny… because Oksana has such an exciting music career ahead of her, what with her first single in which she strangled a half-dozen cats. Do you think that Mel knows he's got to keep the money flowing for a girl like Oksana? Or do you think he's really that "romantic"?
Photo credit: WENN.com