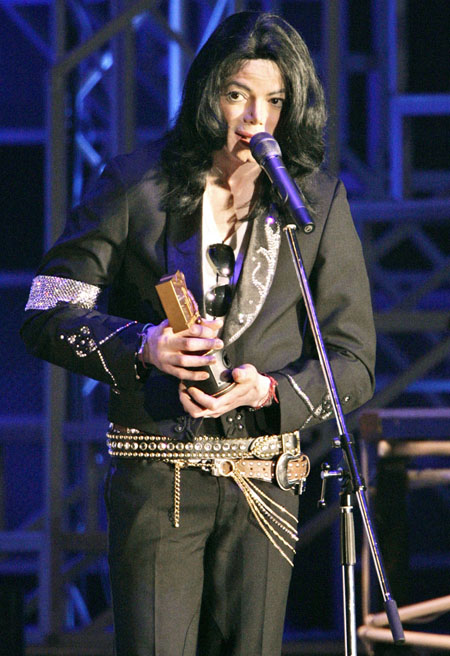 The medical and legal issues in the Michael Jackson case keep getting more and more complex. I think a lot of people suspected we'd learn a lot of freaky/weird/bizarre stuff about Jackson after his death, but that hasn't really been the case. First off, most of that stuff was already rumored – and it doesn't seem like there was a lot of truly shocking stuff left. But most of what we've learned has been surprisingly sad. Everyone could tell just by looking at him that Jackson was sick, but I don't think many realized it was the drug addiction that was really the biggest problem.
TMZ has done some really good investigative work lately, and they've been very accurate in their leads. Today they revealed that Jackson used several aliases in order to gain access to multiple prescription drugs.
Michael Jackson used a slew of aliases to score prescription meds, and we know the two names that could unlock the key to gross abuse by Jackson and some prominent doctors.

We've learned Jackson frequently used the names Omar Arnold and Jack London to get powerful drugs, including Demerol. Jackson also used the name of one of his bodyguards, as well as the name of the office manager for one of his doctors.

…Sources tell us the prescription abuse was so egregious, one doctor would call the pharmacy and say Jackson was coming down to get Demerol. The pharmacy would then fill the prescription, leaving the patient's name blank.
[From TMZ]
They also note that the DEA is joining in the investigation at the request of the LAPD, and that his body was "riddled" with dozens injection marks. TMZ hints that Jackson's death could lead to manslaughter charges against the doctor or doctors who prescribed him all those drugs.
Multiple sources tell TMZ Michael Jackson's body had dozens of injection sites all over his body.

As we first reported, Propofol, a powerful anesthesia, was found in the house after Jackson died. Various medical experts tell us there is absolutely no medical justification for Jackson to have had this drug in his home — it is used to knock people out before surgery. It is administered through an IV.

We're told Jackson wanted the drug to sleep and that he had cravings for anesthesia — whenever he had even the most minor medical procedure … he had the doctor put him under. It is increasingly looking like Propofol may have caused Jackson to go into cardiac arrest and die. The doctors we spoke with say it's reckless for any doctor to supply Jackson with Propofol and especially reckless to administer it to him at home.

The fact that Jackson had dozens of injection sites on his body would have made it clear to any doctor that Jackson had a drug problem.

Criminal manslaughter is defined as the reckless disregard for human life. The talk in law enforcement — this case seems to fit the bill.
[From TMZ]
TMZ doesn't say if the "dozens of injection sites" on his body were all from IVs or if some were from syringes. They note that Propofol has to come from an IV, but that doesn't mean he didn't inject other things. I'm sure any doctor who provided access or administered home anesthesia in any way would lose their license. A manslaughter charge would make sense but would obviously be harder to prove. Something tells me that when it's all said and done we'll find out there were a shocking amount of prescriptions being written and drugs ingested. If it's enough for criminal charges will probably take a while to determine.