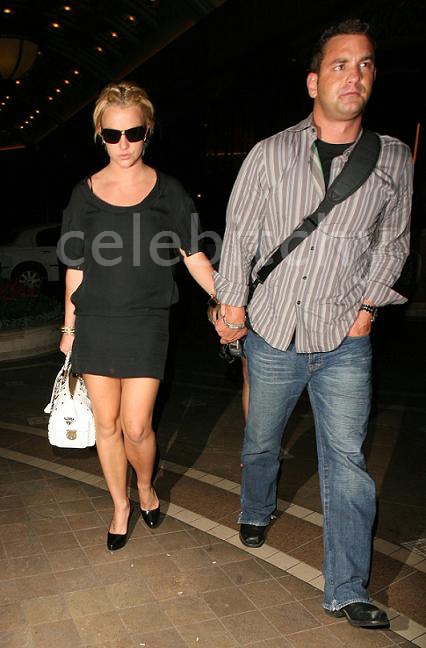 People aren't just laughing at Britney Spears for her performance at the VMAs, they're mad at her. A ton of websites and blogs are saying she should apologize for her performance. I'm not sure to who, specifically… I guess the public in general. I'm not sure she needs to apologize per se, but she should acknowledge that she messed up, and take responsibility. She should also probably make some type of comment about what she's going to do to improve her career and her life. She also shouldn't make excuses. Don't blame your hairstylist, don't blame Sarah Silverman, the media, or all the stuff you've been "going through." She's been doing it to herself. It should be quick and clear, and then she should get the hell outta there before she can say anything that'll make it worse.
Apparently Britney has been considering apologizing at the Emmy Awards on Sunday. I'm not sure that's really the proper forum.
"Is Britney Spears considering gracing another awards show stage just a week after her MTV Video Music Awards disaster?

"Yes, according to an Emmy Awards show source, who tells Usmagazine.com that Fox network brass were 'in negotiations' with Brit's camp as of Thursday afternoon to get her on this Sunday night's annual telecast. The source adds that while her appearance has not yet been confirmed, 'the idea is to have her come on and apologize for the VMAs. She's weighing the offer.'

"Spears, 25, opened last Sunday's MTV Video Music Awards to scathing reviews. Since then, her lackluster performance has been blamed on just about everything, from her hair to her work ethic to her entertainment lawyer.

"Though Spears has been keeping a low profile since the show, a source tells Us that at least some within her inner circle are receptive to the Emmy idea and are urging her to do it.

"However, a source close to Spears says: 'I can't say this is 100 percent not true. All I can say is that the Emmy people aren't dealing with her record company, her manager or her agents at William Morris. So if she is doing anything for the Emmys then it's not going through the official channels.'"
[From US Magazine]
I don't think an awards show is really the format for tearful apologies. Isn't that what "Access Hollywood" is for? Maybe Barbara Walters, if you're a big celebrity. Brit could probably negotiate that. But apologizing in front of a big audience of nicely dressed actors seems like the wrong idea for a trashy dressed singer. The Emmys are about a song and dance number and a few tear-stained montages. It just sounds really awkward. I image Britney's apology would go something like this:
"Hi y'all. No, I'm not here for an award. I'm here to tell ya'll I'm sorry y'all [smacks gum]. I was up 'till morning drinking before my performance, and everyone keeps s'ain it shulda been gooder [smacks gum]. I didn't drink that much y'all. Jus some wine coolers, some cosmos, a couple appletinis, a Yellow Parrot or two, then a Bee Sting and a few Pink Squirrels. I think I had a Rhett Butler and a Roman Snowball, but I'm not sure. [Blows bubble] There was definitely a Turkey Trot and a London Fog. But I stopped 'cuz I wanted to put on a good show for y'all. I think someone put s'mthin in my drink, 'cuz I was crazy hung over the next morning y'all. Sorry y'all. Next time, I'll make my dancers work harder. They really screwed me. And that wardrobe lady. She really screwed me too. And those hairstylists. And the stage director. And the set designer. I'll make sure they never do that to me again, y'all. God bless."
Picture note by JayBird: Images from Brit's VMA performance via The Blemish. Header image of Britney out after the VMAs with her brother Brian. Images thanks to WENN.