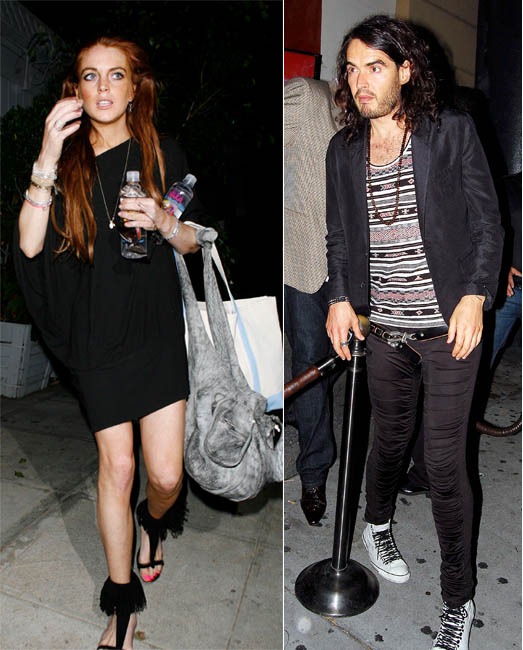 Russell Brand's off-stage and off-screen antics have made him as famous as his actual career. He's known as something of a wicked, naughty, (skeezy?) lothario. While he doesn't seem to be too concerned with the fame or even basic attractiveness of his sexual conquests, the sheer number of them is probably astounding. The British papers follow his antics a lot more closely – they seem to be reporting weekly on random women Russell has picked up in bars and shagged, often two or three at a time.
So you'd think that Russell Brand would be easy pickings for someone as cracked-out and "hungry" as Lindsay Lohan (sorry, that was the nicest way I could think to say it). As it turns out, even Russell Brand is wary of Lohan – this, according to The Sun's questionable sources. But if Lindsay had a cracked-out affair with Russell Brand, don't you think we would know it? Wouldn't she have tweeted all about it in some cryptic "Russy B, drunkie peen8** lick" message? So I feel pretty good saying that Russell and Lohan haven't hooked up, and that Russell is probably the one doing the rejecting:
I never thought I'd live to see the day that Russell Brand turned down a bit of bedroom action. But it is with regret that I bring you the news that my three times Bizarre Shagger Of The Year does in fact have a line which he is not prepared to cross.

The dandy funnyman is refusing to give the dinkle treatment to actress Lindsay Lohan. Li-Lo has been trying to cosy up to the Forgetting Sarah Marshall star at various Hollywood parties over the last few weeks.

Her latest attempt at seducing Russ was at his new best friend P Diddy's annual White Party last weekend. But he politely declined her advances.

I can't say I blame him. The flame-haired thrasher is a one-woman car crash at the moment. Still, it's fair to say Russ is not the most selective of blokes when it comes to notches on the bedpost. He's definitely had worse looking women in the sack.

Once he even boasted about doing it with someone 30 years older than him.

I'd have thought the whole lipstick lesbian thing would've tickled his fancy as well. But apparently Lindsay' s immature behaviour and desperate attention-seeking is a massive turn-off for Russ.

A source said: "Lindsay is a very good-looking girl and she is used to getting what she wants. Russell has been on her radar for a while now but he doesn't want anything to do with her. He finds her constant craving for attention and her heavy drinking a turn-off. It's not like he is short of female attention anyway."

I'll second that. Wherever Russell is there's a stream of lusting women waiting to be inducted into his hall of fame. But it doesn't look like randy Russell will be going without bedroom action for long.

The comic jetted to Las Vegas with P Diddy yesterday and on a video blog, filmed en-route on the rapper's private plane, the pair joked that they would be using the services of some ladies of the night.

Diddy said: "What happens in Vegas, stays in Vegas."

Russell replied: "Thanks Diddy. You provided the plane, the hotel and the big fight tickets."

Diddy then butted in saying: "You provided the whores."

And Russell said: "OK then, but I'm not a misogynist. I like to think of them as damsels."
[From The Sun]
I was sort of chuckling along with the report, especially the part about Russell being the "Bizarre Shagger Of The Year". Just a quick note about that – The Sun's Gossip/Entertainment section is called "Bizarre". So they're saying he's the Gossip section's Shagger of the Year, not that he shags in a bizarre way, although I'm sure he does shag bizarrely. Anyway, I was laughing until I got to the part where P. Diddy called the ladies they were meeting with "whores". Now, maybe Diddy and Russell really did hire hookers, or maybe the girls they were meeting up with were just groupies or whatever. But I still find it disgusting that Diddy would so casually refer to them as "whores". When did Diddy get so f-cking gross? I never was a huge fan, but I seem to remember a time when he wasn't so disgusting.
Lindsay Lohan is shown out on 7/11/09 (with shopping bags) credit: WENN.com and 7/12/09 (bizarre open-toed boots) credit: INFPhoto.com. Russell Brand is shown on 6/9/09. Credit: WENN.com