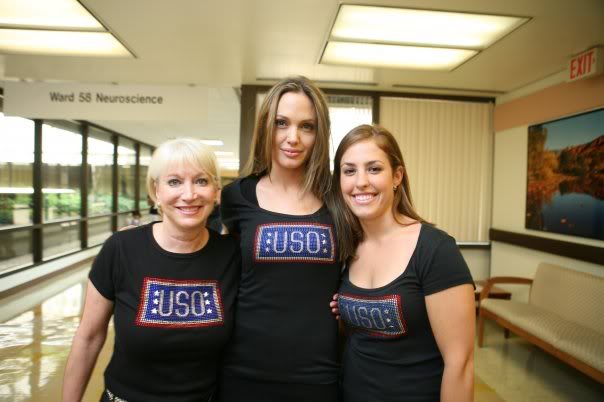 A few weeks ago, Angelina Jolie went to Washington DC for World Refugee Day (June 20th). She did several interviews and participated in a public forum, as well as serving as hostess for an awards ceremony honoring activists and advocates that work with refugees and developing communities. Most of her schedule was public or semi-public, so it seems weird that we're only just finding out about one visit Angelina quietly made while she was in town. It seems Angelina took an unpublicized USO trip to Walter Reed and spent several hours with wounded veterans and their families.
The only reason the trip has become public now is because one of the wives Angelina met has been writing a blog about her husband's physical rehabilitation at Walter Reed, and this woman "broke the story" that Jolie visited. Then, a few of the people that had posed for pictures with Jolie posted those photos on the USO website:
There was no publicity about Angelina Jolie visiting wounded soldiers at Reed. One wife of a wounded soldier has been quietly writing a blog since her husband was first injured overseas. She mentioned the day after it happened in her blog that Jolie had come to visit the soldiers and talked about how she spent 20 minutes with her husband and spent a lot of time with others. She didn't come with some entourage. It was under the radar. After Jolie left someone gave gift bags from her to each of the soldiers on the ward including a $1000 gift certificate to Best Buy.

It's pretty hard to keep a visit from Jolie secret but it sure did take a while for the media to learn about it. Some time after the visit 2 people who took pictures (among many people who reportedly took pictures) posted them to the USO site at different times. The first pics posted were of Jolie putting on a USO T Shirt over her top and were posted by someone who works with the USO. Some time later the other 2 pics showed up on the USO site.
[From Oh No They Didn't]
This isn't the first USO trip Angelina has made – she's visited American troops in Bosnia, Iraq and Afghanistan. If you'd like to know more about the USO, they run a pretty interesting site.
In other Jolie-related news, The New York Daily News' Rush & Malloy are reporting that Jolie and Brad Pitt are seriously considering a semi-permanent move to New York. Apparently, the Brange hates staying in hotels for months at a time (who knew?) and are thinking about laying out $25 million on a group of three condo units in the historic Apthorp Building, which is really pretty but a little gothic.
Brad Pitt and Angelina Jolie may be looking to buy in Manhattan. We hear the star couple has been quietly checking out the Apthorp, the century-old upper West Side landmark that's undergoing a condo conversion.

Until now, Pitt and Jolie have rented when they've come to town. Recently, while Angie's been shooting "Salt," the Brangelina brood has divided its time between the Waldorf Towers and Rupert Murdoch's Rosehearty estate on the North Shore (where Rupe reportedly has been charging them $100,000 a month). But the fortress-like luxury of Apthorp is apparently making the Pitt-Jolies consider settling down here.

"The gated courtyard means they can get in and out of their car without being hassled by paparazzi," says a source. "The building also has several other exits."

The Pitt-Jolies are said to be thinking about putting together three units in the building. "I heard they're ready to spend as much as $25 million," says a source.
[From Rush & Malloy]
Meh, I think this is made up as some sort of cross-promotion between the NY Daily News and the Apthorp, honestly. I could see Brad and Angelina buying a place in New York, but if they ever do, you know Brad's going to shell out big money for some austere, modernist glass box. I don't see him going to some historic, faux-gothic building – although it seems Angelina's style, so maybe she'll convince him.
Photos via ONTD.