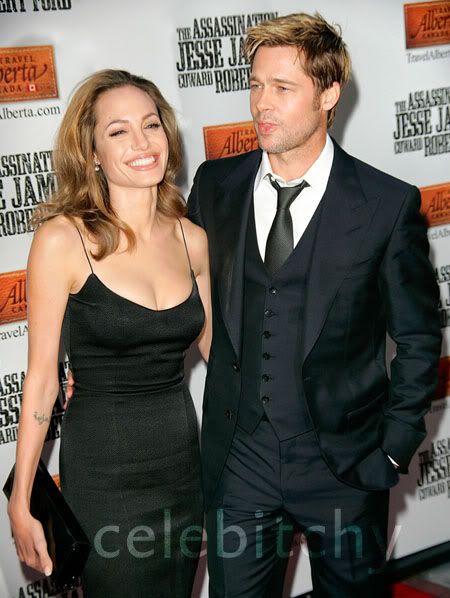 People are saying Angelina Jolie is pregnant after photographs came out of her this weekend looking like she was sporting a growing baby bump. At last night's Assassination of Jesse James premiere in NY there wasn't as pronounced a bump, but she no longer looks scary skinny and had a thicker middle than you would expect for someone so thin. Brad has been dropping hints all over the place, and said in a recent interview that they have to get a bigger bed so their growing brood can fit into it, so I would bet she is pregnant:
"We're not done," Pitt, 43, quipped, acknowledging public interest in the family's growth. "They say, 'Any plans for a fifth?' And I say, 'And a sixth, and a seventh, and an eighth, and a ninth.' That's my answer."

"We also made a 9-foot-wide bed" that fits him, Jolie, 32, and all four children, Pitt who is starring in The Assassination of Jesse James by the Coward Robert Ford, told the Associated Press. "Just big enough. One more and we'll have to go to 11 feet."
[From People.com]
Pitt also spoke about the downside of fame, saying there have been unbalanced people around them and some scary episodes that make him concerned for the safety of his family. He said that they can't really go anywhere due to the hoards of paparazzi that surround them like flies:
"We just take turns and make sure we keep the family together," Pitt said, adding in an interview with USA Today, "It's impossible for us. We're run out of every major city. There's just too many paparazzi. There's always cameras in the kids' faces, yelling their names."

Although he doesn't pack a six-shooter like his latest screen character Jesse James, Pitt admits he's concerned about "how to survive and how to maintain a family life."

"I understand the essence of paranoia. I understand being hunted, to some degree. It's rare, but there are imbalanced people out there. I've had break-ins in the house," Pitt said. "I've had some of these abnormal incidents that can be a bit frightening.

"It's something that I want to be aware of and be cautious about, especially with the family, that everybody's protected," he told the AP.
[From People.com]
With Angelina maybe-pregnant, it's not going to get any better for them. She looks quite happy, and it's a change from her frosty look at some premieres in the recent past. I would guess that she's expecting. Star Magazine is calling her pregnant on the latest cover, saying she had a "secret visit to [a] baby doc," but I would bet they're just speculating like we are.
I have a three year old, and although I have good help that allows me to work, it's still a huge responsibility and I'm not ready for another one yet. One of my friends has five kids and she manages with schedules and chore sheets. It's much more than a full time job for her, and I don't know how she does it, but all of her kids are in school now so at least she has some time off.
Brad and Angelina certainly have the resources to have good help for their children, and they're very hands-on parents. It must be crazy at their house with all those little ones despite all the space, although it sounds like that's just the way they like it.
Brad has recently praised his co-star Mary Louise Parker's adoption of an infant girl from Africa. He said she brought her little boy on the set of The Assassination of Jesse James and called her "a really lovely mother." He said he thought it was a great idea that she adopted.