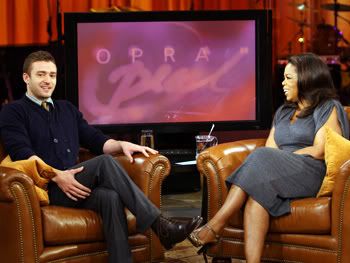 Justin Timberlake went on Oprah today, and without naming names he said he's dating someone and that she "smells lovely." To keep in touch with his unnamed love while he's away on tour, he said they use webcams through the iChat program. He didn't say they cyber or anything, I just made up that headline to be sensational because that's my job. He also said he enjoys using webcams to talk to his friends as it makes him feel closer to them:
Justin has been involved in a few high-profile relationships in the past, but he's keeping his latest romance under wraps. "I'm dating someone," he says. "But all I can tell you is she smells lovely."

Oprah may not get a name out of Justin, but he does share a few secrets about his personal life. "I get pretty romantic around her," he says. Justin admits that he even sings to her sometimes.

While he's away on tour, Justin says he stays connected to his mystery woman through iChat, a computer program that lets you see the person you're talking to with a webcam. "Technology is a wonderful thing sometimes. … I find that to be really cool, when you can actually see someone's face. I do it with my friends, as well, just to have a conversation back and forth. It just makes you feel closer, that's all."

Dating isn't easy—especially when your relationship gets played out in the public eye. In a past interview, Justin said tabloids create soap operas out of people's lives. "If two famous people are dating each other, what I found—and I could be wrong—but just in my personal experience, [they think] if you're not going to get married, then you're breaking up."
[Oprah.com via GossipRocks]
It's cool to hear a celebrity extol the virtues of technology. My husband and have used webcams when we're away from each other and I use them with my family so they can see their grandson, they're a lot of fun and do make you feel closer to the person. There's also something romantic about it if you're using them with your significant other, like the person is so real to you but so far away.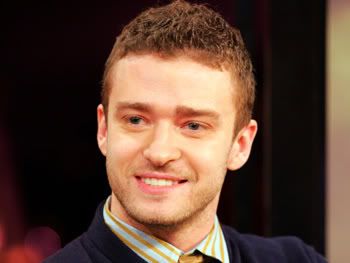 Oh and Justin talked about Britney to Oprah, and pretty much said he was too young to know her that well, that they were both kids, and that she has a big heart. He said he has nothing but love for her but hasn't talked to her in years. He pretty much dispelled any myths that he was helping her out during her divorce or that he had talked to her while she was in rehab, as has been rumored.
Oprah: What do you think is going on with Britney?

Justin: I don't know, to be honest with you. I haven't spoken to her in years. I mean, there's no ill will—I have nothing but love for her. It's funny because we dated each other at a time…wow, I haven't talked about this in a long time. It's interesting.

Oprah: But you've never talked about it to me, so it's okay.

Justin: Hey, let's get it in, girl.

Oprah: Let's get it in.

Justin: We were teenagers, you know?

Oprah: Yes, famous teenagers.

Justin: I think that's basically the best way to describe what happened to us. I think she's a great person, and I don't know her as well as I did …. What I do know about her is she has a huge heart, and she is a great person.
[From Oprah.com]
He answered that quite diplomatically and was non-committal. He probably practiced it and gave Oprah the go-ahead to ask about Britney.
Meanwhile Justin hints at his rage at the paparazzi by saying they're constantly around, even when he tries to do something boring like go grocery shopping. He said that if he thinks too hard about it, it can "consume" him"
Even when he's doing something mundane, like grocery shopping or walking his dogs, Justin says he has constant companions…the paparazzi. At first, he says their presence was surreal.

"[When] you drive out of your [driveway] and people are kind of sitting waiting to follow you, you know, 'He's going to go to Whole Foods. We need to capture that.' You're just like, okay, this is kind of weird. … You kind of try to pretend it's not there."

Over the years, Justin says he has become defensive and protective if the paparazzi followed him while he was with friends and family. Now, he tries to come to an agreement with photographers. "It's like, 'Look, you guys have the technology of telephoto lenses and you can shoot those pictures [from far away],'" he says. "I think it's one of those things that, if you let it, it will consume you."
Justin was recently videotaped bitch-slapping a paparazzo and has been involved in well-publicized scuffles with them in the past.
Justin credits his success to his hard work, and says that it doesn't come by luck. As for how he leads his everyday life, he says it's kind of boring and that he enjoys golf, having game nights with his friends, and getting off remotely with Jessica Biel. Of course I made that last part up, but it's all I could picture when hearing this story. Someone please hack into that stream and tape it for the benefit of the Internet gossip community.
All pictures from Oprah.com.