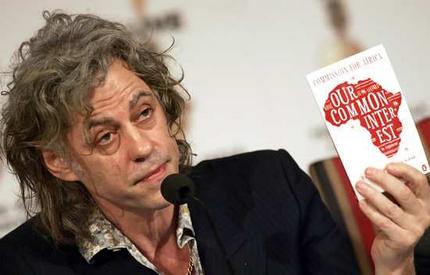 It seems to me that if you're famous, there's no such thing as resting in peace in death. Ten years after the death of INXS lead singer Michael Hutchence, his mother Patricia Glassop is out getting paid for interviews, where she slags off Peaches Geldof, and calls Bob Geldof Satan.
"He's certainly not a saint. I can't see that side of him at all. I think he's Satan," she said in the interview (with Australian television show A Current Affair).

Mrs Glassop, who has been formally notified that the knighted musician is seeking to adopt her granddaughter, claims Geldof rarely allows her to even see Tiger Lily.

"I am not allowed to speak to her on the phone. He's even changed the phone number," she said.

Taking aim at Peaches, she claimed the wild child "throws her knickers around in parties" and sets a band example for 11-year-old Tiger Lily.

"I don't think a girl who … throws her knickers around at parties should be (Tiger's role model).

"Tiger knows about (Peaches' behaviour) and reads about it," Mrs Glassop said.

Mrs Glassop has seen her granddaughter twice in the past seven years; once on a trip to London, and again last year when the 11-year-old came to stay with the family on the Gold Coast for five days.

It was after this trip that Mrs Glassop claims the 11-year-old rang her repeatedly and pleaded to be allowed to come home to Australia.

"She rang here five nights in a row when she went home, begging to come back and live with us but Bob, of course, wouldn't let her."
Patricia also claims that Sir Bob is only after her granddaughter's inheritance, but somehow I don't believe he's inclined to steal from his children. I also suspect that he has plenty of his own cash to spend.
Also, it's been seven years since Heavenly Hiraani Tiger Lily's mother Paula Yates died, and Tiger went to live with her equally strange named half sisters. If you wanted to claim custody of her, couldn't you have done it a little earlier?
For such an urbane, charming man, Michael Hutchence seems to have a pretty strange family. They couldn't mutually decide where to scatter his ashes so divided them up between them. They sold his possessions on eBay to fund overseas holidays. They wrote a book about his life. They hired a notorious celebrity manager to handle his funeral, and broker magazine deals. Now they're making a movie about his life. It seems to me the only person trying to profit from Michael Hutchence's life is his family, not Sir Bob Geldof.
Update by Celebitchy: Paula Yates was married to Bob Geldof from 1986 – 1996, and they had three children, Fifi Trixibelle Geldof, 24, Peaches Honeyblossom Geldof, 18, and Pixie Geldof, 17. Yates moved in with Hutchence and they had a daughter, Heavenly Hiraani Tiger Lily, in 1996. Hutchence was found dead in his hotel room, an apparent victim of autoerotic asphyxiation, in 1997. Paula Yates died from a drug and alcohol overdose in 2000. Geldolf then went to court and got custody of his three daughters and became the guardian of Heavenly Hiraani Tiger Lily, eventually enraging her grandmother when she was low on cash. [All details from Wikipedia]