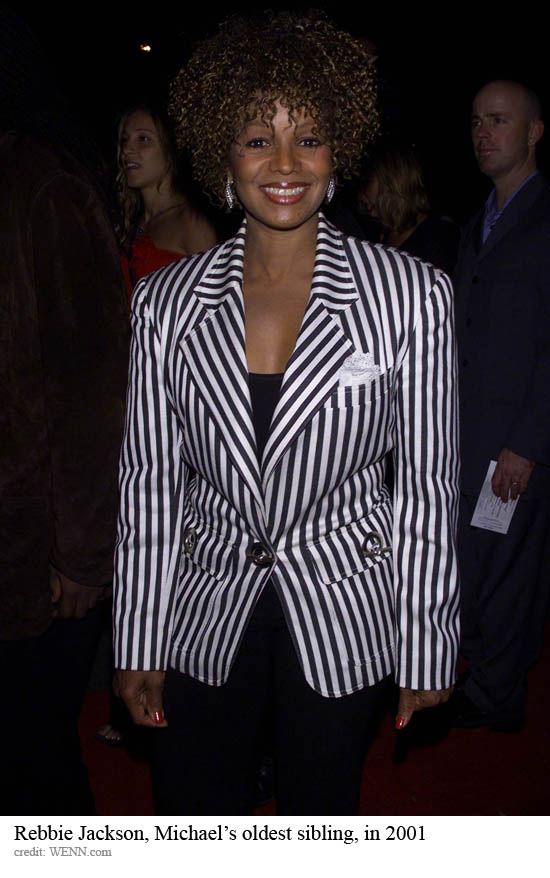 The media has been speculating that Michael Jackson's younger sister and the second most successful member of his family, Janet, will step in and raise his children. Michael stipulated in his will that his mother Katherine be granted custody, but Katherine is 80 and it's unknown how much longer she'll be able to care for his kids. Janet, 43, was seen comforting Jackson's children during Michael's memorial and many outlets have guessed that she would soon be taking a role as mother. According to TMZ, the oldest Jackson child Rebbie, 59, is the one who will actually be raising Michael's children. Rebbie has three children, the youngest of which is 24, and has been married to her childhood sweetheart for over forty years. She's been helping her mother with the children in the wake of Michael's death and they're said to adore her.
Multiple sources in the Jackson family tell us — even if Katherine Jackson gets custody of Michael Jackson's kids — Michael's big sister Rebbie Jackson will raise the children.

The 59-year-old singer, who shares a home in Las Vegas with her hubby of over 20 years has kept a low public profile, but privately she has been deeply involved in the lives of Michael's children.

We're told Rebbie is currently living with Katherine at the family's Encino home and is caring for the kids day-to-day. As for the kids … they all adore her.

Although the family is divided on many issues involving Michael's estate, we're told there's no argument when it comes to Rebbie caring for the kids. Whether she eventually becomes the custodial parent in name or not, she will end up with the primary responsibility of raising Michael's three children.
[From TMZ]
It's so nice to hear that Katherine has help with the children and that they have another aunt who wants to raise them. Many people were worried that Michael's kids would be subjected to exploitation by their cold-hearted grandfather, but it sounds like there are enough people around them to protect and care for them at this difficult time. Amid all the crazy stories about Jackson's life and his complicated financial affairs, it's reassuring to know that his children are with family members who love them.