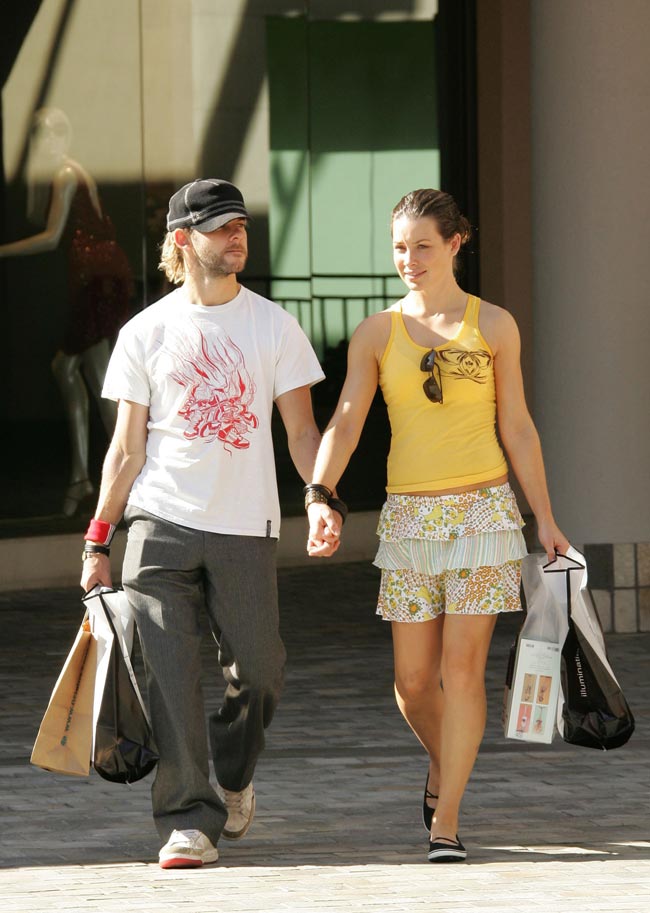 Evangeline & Dominic in November, 2005. Credit: Bauergriffinonline
Star Magazine and the National Enquirer have very similar stories about Evangeline Lilly and Dominic Monaghan this week. Both are claiming that Evangeline and Dominic are engaged again, and this time they're seriously planning for a wedding. The Enquirer's version is a lot nicer – they go on and on about how Dominic and Lilly invited his parents to Las Vegas, and announced their engagement all over again:
After an aborted plan to marry two years ago, the on-again/off-again couple is so serious this time about saying "I do" that they recently invited Dominic's parents to join them in Las Vegas – so they could get their blessing, say friends.

"Dominic and Evangeline have decided that now is the time to make it official," revealed an insider. "They've been through breakups and makeups and feel that their love has stood the test of time."

Dominic's parent's "couldn't have been happier" with their plans to marry.
[From National Enquirer, print edition, August 3 2009]
I really like them as a couple. I respect that Evangeline, who could be some over-exposed professional "Hot Girl" like Megan Fox, chooses instead to be low-key, with a boyfriend that she seems to have a real connection to. I kind of think their engagement really is back on. They got back together in February of 2008, after a separation of only a few months. Star version of the whole engagement drama is perhaps having a Vegas elopement:
Lovebirds Dominic Monaghan and Evangeline Lilly are thinking of taking a trip down the aisle in Sin City! While [hanging in Las Vegas]… "they were in such great moods, they looked really sweet with each other and started talking about how much fun it would be to have a Las Vegas wedding," a source tells Star. "They seemed tickled by the idea of eloping and marrying at some place like the Little White Wedding Chapel."

[They] broke off their original engagement in November 2007 after three years together but reunited a few months later. They're now stronger than ever.

"The distance between them has been a problem, since she's shooting Lost in Hawaii and he's in LA. But it won't be an issue when the show ends. They can be in the same city," says an insider. "I wouldn't be surprised if they wed sooner, though. She can't wait to be his wife!"
[From Star Magazine, print edition, August 3, 2009]
Yeah, I'm not sure. Evangeline is supposed to be pretty religious, and I could see her wanting and needing a big church wedding. But then again, maybe not. She's obviously got a strain of dirty hippie in there too, so maybe a Vegas wedding is where it's at!