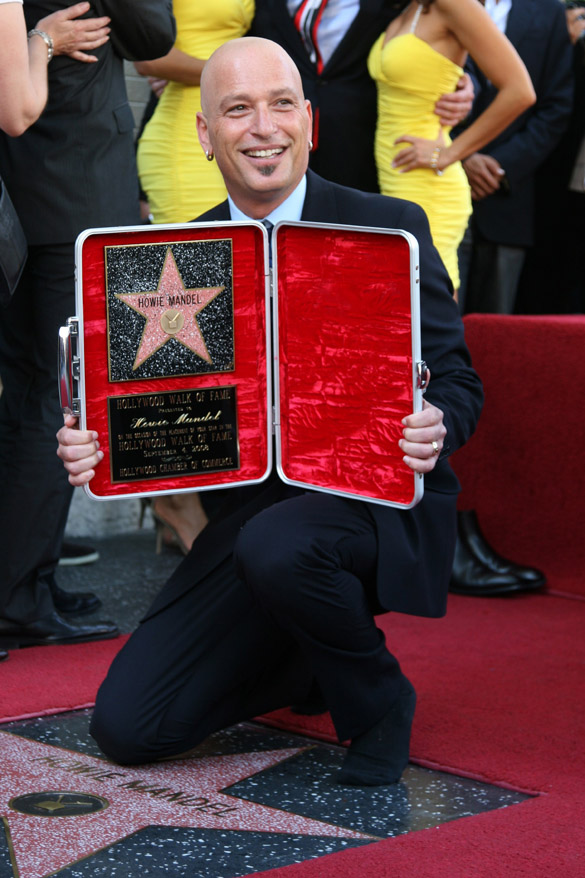 Howie Mandel has written a book about his long struggle with ADD and OCD. For many years – most of his life in fact – his obsessions and compulsions ruined his life, adding all sorts of misery to his existence – and that of his wife Terry. It sounds like Howie was basically living in a prison due to all his fears and anxieties. In fact Terry said their lives revolved around Howie's issues – which he's finally been able to conquer. For the most part.
Howie Mandel's lifelong battle with mental disorders nearly cost him his marriage. The "Deal or No Deal" star talks frankly about this struggles with attention-deficit and obsessive-compulsive disorders in a new book, "Here's the Deal: Don't Touch Me."

"Howie's account of his issues is brave, hilarious and heartbreaking," a source familiar with the project, due out in November, told The Enquirer. "But he also makes it clear that the road was also a nightmare for his wife Terry, the love of his life. For years, everything revolved around Howie's fears and obsessions."

Howie, 53, writes that he was a germaphobe that would banish Terry to a hermetically sealed room if she had a cold and would often walk around their home wearing a surgical mask and gloves. "At times he couldn't be touched," said the source. "He was driving Terry crazy." But with time and therapy, Terry ultimately helped Howie emerge from his isolation. Today he's no longer even on medication, according to the source.

Although Howie is still a "germ freak" with a peculiar habit – he hasn't shaken hands with anyone since 2001 – he and Terry have learned to work through the issues together. "In his own way, Howie is an amazing guy. He continues to do stand-up comedy and concert dates every year and has become a big advocate for kids and mental health issues, added the source.
[From the National Enquirer, August 3, 2009, print ed.]
I have a friend who took a trip to Bangkok to see a sick relative and developed a slow but sure case of OCD as a result. She always traced it back to that incident (which involved a severe bacterial infection) and hearing so much about MRSA. Being around her was a nightmare – you're always walking on eggshells. It's impossible for someone without OCD to keep up with all the rules so you don't freak the person out.
That said, thanks to swine flu I've also developed a semi-case of OCD. I hold my breath whenever someone sneezes around me – or just if someone stands too close. The other day I was on the bus and this guy sitting next to me sneezed. He didn't make any attempt to cover his mouth or sneeze into the crook of his arm. In fact he turned in my direction. I made a very loud, obviously disgusted sound and moved my hand (which he'd just sneezed on), along with the rest of my body. I clearly offended the crap out of him, but I didn't care since a) he made no attempts to protect my health in the slightest, doing the most minimal courtesy and b) I'm pretty sure he gave me pork flu.
See that's the thing with OCD – once it becomes severe, you become oblivious to the feelings of those around you. Nothing is as important as staying away from germs, or whatever your particular obsession is. I can't imagine what it must have been like for Terry. The thing about banishing her to a hermetically sealed room is so extreme, and frankly so sad. Can't you imagine having a terrible cold, and all you want is for the person you love to make you chicken soup and put a cold compress on your head? Instead Terri's locked away in a vault until she can be decontaminated. And I can't even imagine what it'd be like to live as Howie, with OCD that extreme. Just the thought of living like that makes me feel anxious.
It sounds like Howie's managed to reach a reasonable level of mental health. He'll probably never be completely rid of his OCD, but people can be around him and he can be around people. Sure he doesn't want to shake their hands, but given all the germs and whatnot… I just consider that good mental health. But we've already discussed my issue.
Here's Howie Mandel (with his wife Terry) getting his star on the Hollywood Walk of Fame in September. Images thanks to WENN.com .