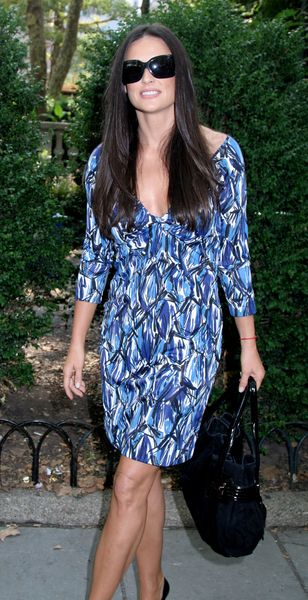 Quite often an actress will take their husband's name privately, if not professionally, when they get married. It happens less often that an actress takes her partner's name two years after their wedding has taken place.
Demi Moore married Ashton Kutcher in 2005. But she's just getting around to officially taking his name on her driving licence and credit cards.

A source told In Touch magazine, "Demi did this for Ashton. She knew that this was something he wanted, so she finally made the switch."

That means Demi will be Mrs Kutcher on her black American Express card, her passport and other documents, but in her working career, she'll keep her name from her first marriage to Freddie Moore.
Demi's birth name is actually Demetria Gene Guynes, not quite as catchy as Demi Moore on a movie poster.
Demi Moore is the name the actress will be using when working, although she recently complained that at her age (44-years-old, in case you were wondering) there are no good roles for women.
Demi said in an interview with Red magazine: "It's been a challenging few years, being the age I am, with so much focus now on how I look. Almost to the point where I felt like, well, they don't know what to do with me. I'm not 20. Not 30."

"But I'm certainly different from what most people feel someone in her 40s should be. For many female actors, who turn 40, it means the end of their career, it's time to retire. There aren't that many good roles for women over 40. A lot of them don't have much substance, other than being someone's mother or wife. If we are told we are not valuable once we hit 30, it is a problem. We all have more to give. We just can't bend over and wait for something to happen."
Demi, you are approaching the half-century mark. Don't go looking for those roles for 20-30 year old women, you can't compete. Dare I suggest you were never that much of an actress to begin with? There are at least a fair amount of roles for older women, but the roles for older women trying to look 25? Maybe you shouldn't have spent the rumored $500,000 on plastic surgery, and instead asked your surgeon to make you more like Helen Mirren.
Note by Celebitchy: I think Helen is being kind of harsh to Demi. She has a good point that there aren't a lot of roles for older women, and that there is ageism in Hollywood. JayBird suggested in a post about that issue that Demi start her own production company and make her own roles.
Demi is shown at New York Fashion Week on September 6th in Bryant Park. Images thanks to PR Photos.