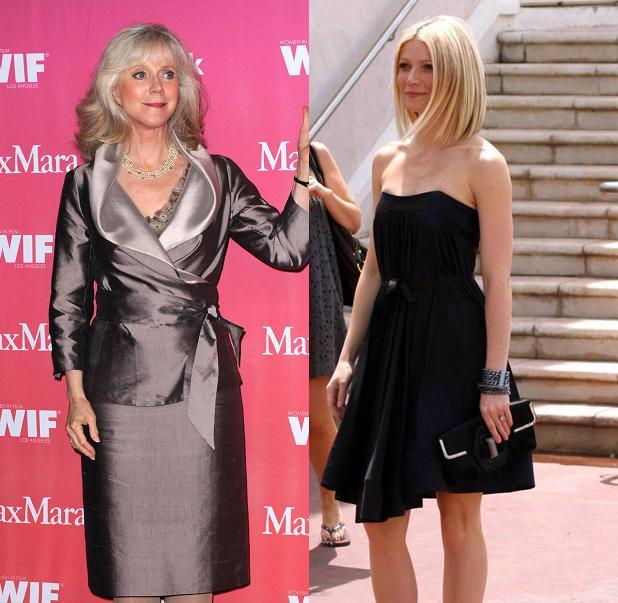 The more ridiculous I find Gwyneth Paltrow, the more I love her mother, Blythe Danner. Blythe is now, and has always been a class act. She has grace, style, warmth, and not one shred of pretense. So what happened to the daughter, one might ask? It seems Gwyneth might have been the victim of a mother who doted on her and talked her up a bit too much, if this new interview is any indication. Could it be that all of Goopy's problems are a result of an overly-indulgent mother who was constantly telling Goop that she was undoubtedly God's Gift?
Blythe attended the Lucy Awards, and spoke to Fox News' Pop Tarts on the red carpet. When asked about actors' kids growing up to join show business, Blythe admitted that she didn't want Gwyneth to become an actress because Blythe thought Goop was "so smart". According to Blythe, if Goop had chosen to stick with her education and had become a scientist, "we wanted her to find a cure for AIDS or something." Bless Blythe's heart:
Gwyneth Paltrow is an Academy Award winner and considered to be one of the finest actors of our generation, but her parents initially thought she was too intellectual to follow in their footsteps and enter showbiz.

"She's so smart we wanted her to find a cure for AIDS or something," mama Blythe Danner admitted at the recent Women in Film Crystal + Lucy Awards. "We were pretty firm about her finishing her education but when we saw how talented she was we finally said okay."

And it sounds though Paltrow's two little ones might be on the path to a career or creativity like their famous folks too.

"Apple and Moses love to fantasize," Danner added. "I'm always down on my hands and knees playing a character. They really love that."
[From Fox News]
Aw, that's cute about her grandkids. I talk so much smack about Gwyneth, but I get the feeling that she totally adores her mother, and they probably have a great relationship. After Bruce Paltrow's death, I think Gwyneth has made an effort to spend more time with her mom, and to give Blythe lots of time with the grandkids. So Goopy gets some bonus points for that, hands down. But she never would have found a cure for AIDS. For real.
Here's Gwyneth at the photocall for "Two Lovers" at the Cannes Film Festival on May 19th. Images thanks to Mavrix. Blythe Danner is shown at the Women in Film Crystal and Lucy Awards on June 12th. Image thanks to WENN.com .