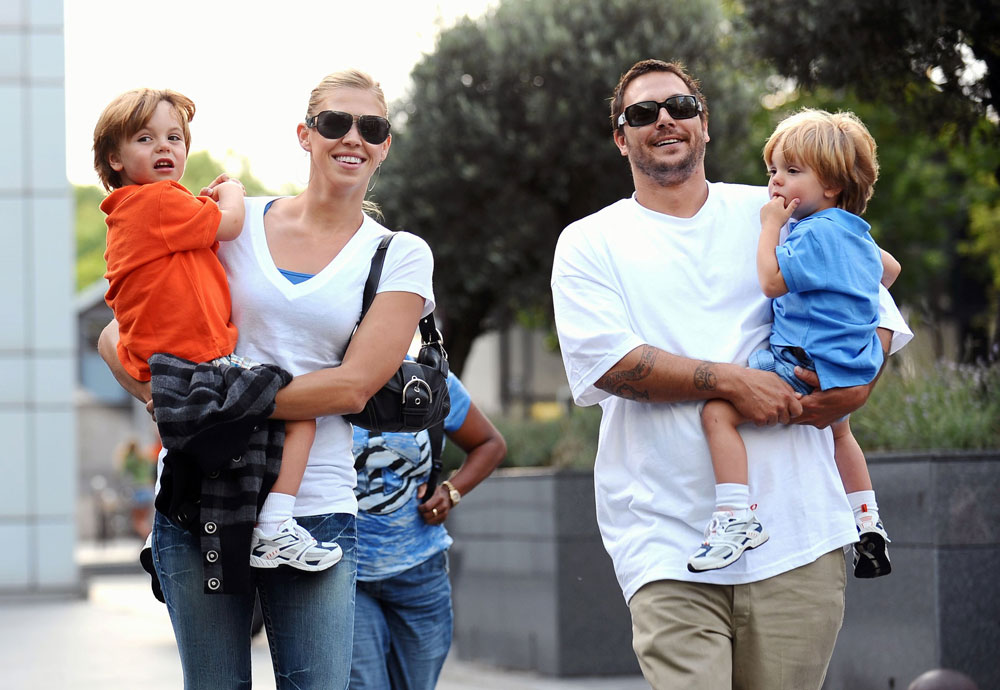 We've heard rumors of a K-Fed reality show for months, but now it's semi-official. US Weekly is reporting that Britney's ex Kevin Federline is filming a pilot for VH1 featuring his new girlfriend, Victoria Prince. Federline and Prince shot scenes while partying in Las Vegas last week. It's thought that they're still trying to work out a final deal with the network known for reviving the careers of lesser celebrities in highly contrived and often offensive scenarios.
In order to look his best on camera, or more likely to create some sort of interesting plotline, K-Fed has been ordered by VH1 to lose 45 pounds through a trainer they've hired for him. His trainer revealed the details to Radar Online, and it all sounds very sensible and like he won't be deprived at all.
Kevin Federline is headed to Vegas. But instead of going to gamble and party, Britney's ex will be shooting a new reality show — and RadarOnline.com has learned exclusively that he's been ordered to lose 45 pounds!

VH1 producers want K-Fed to shed the pounds during filming and have hired a celebrity trainer to help him lose the weight, we've confirmed.

In an exclusive interview with RadarOnline.com, trainer to the stars Chris Cormier, reveals how he plans to get Kevin to shed his beer belly.

"I put Kevin on a diet plan that consists of eating 6 meals a day, every three hours," Cormier told RadarOnline. "It speeds up your body's metabolism and you start burning fat fast. I've been doing this for 30 years and I'm 42."

The noticeably heavier Federline arrived in Las Vegas on Thursday, where instead of starting his new diet, he spent the day relaxing at the Hard Rock Hotel & Casino Pool.

K-Fed and girlfriend Victoria Prince later headed to Wasted Space, where they sipped Grey Goose cocktails, later continuing their party at the new Paradise Tower Mega Suite.

A source tells RadarOnline.com that the show will also feature Victoria and Federline's two sons with Spears, Sean Preston and Jayden James.

"Victoria is supposed to have a big part in the show," the source said. They're billing her as Kevin's new Britney."
[From RadarOnline]
The show will probably have more drama if it features K-Fed getting his ass kicked by a trainer and trying to cheat on his diet. The plan sounds perfectly reasonable, though, and the only exercise mentioned by the trainer is a three mile walk in the mornings. I want to see K-Fed beg for mercy as a drill sergeant-type trainer calls him names and snarls at him to squeeze out one more rep . None of this "nice daddy losing weight sensibly" crap. When K-Fed is involved, some harsh treatment is called for.
Unfortunately the advance details make it sound like they're going to take it easy on him along with featuring his children heavily. His kids have a hard enough time being photographed so often by the paparazzi. They don't deserve to have their home life shown on television. Let's hope for their sake that this show is limited in scope and doesn't get picked up for several season.
K-Fed is shown out with his girlfriend and sons on 7/6/09. Credit: Bauergriffinonline