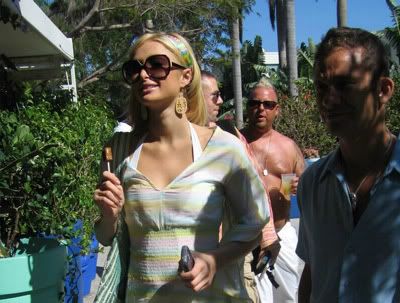 Paris Hilton has overcome her fear of foreign languages and insists that she's still with Greek oil heir Stavros Niarchos III.
The hotel heiress was doing her thing on the red carpet at the Roxy nightclub in LA – but Stavros was nowhere to be seen.
She'd turned out to support pal Bijou Phillips, who was performing in a one-night stage production of Hedwig And The Angry Inch.
According to IMDb, Paris said her boyf, who is at the University of Southern California, was at home concentrating on his studies…
"He's turning 21 in two weeks, so he wants to get all the work done before the big birthday."
Further rubbishing reports of trouble between the lovebirds, she added: "We just got back from the Bahamas.
We just got back two hours ago. We've been relaxing for the past five days."
Paris must be waiting eagerly for Niarchos' birthday. He stands to inherit $275 million when he turns 21. Paris is only expected to get a mere $50 million for her inheritance.
Hilton and Niarchos were last photographed together about a week ago.
Paris shouldn't be so concerned about money. She's signed up to add her name to a line of sunglasses to join the watches, handbags, leather goods, and cosmetics under the Paris Hilton label. [via]
Pictures [via]