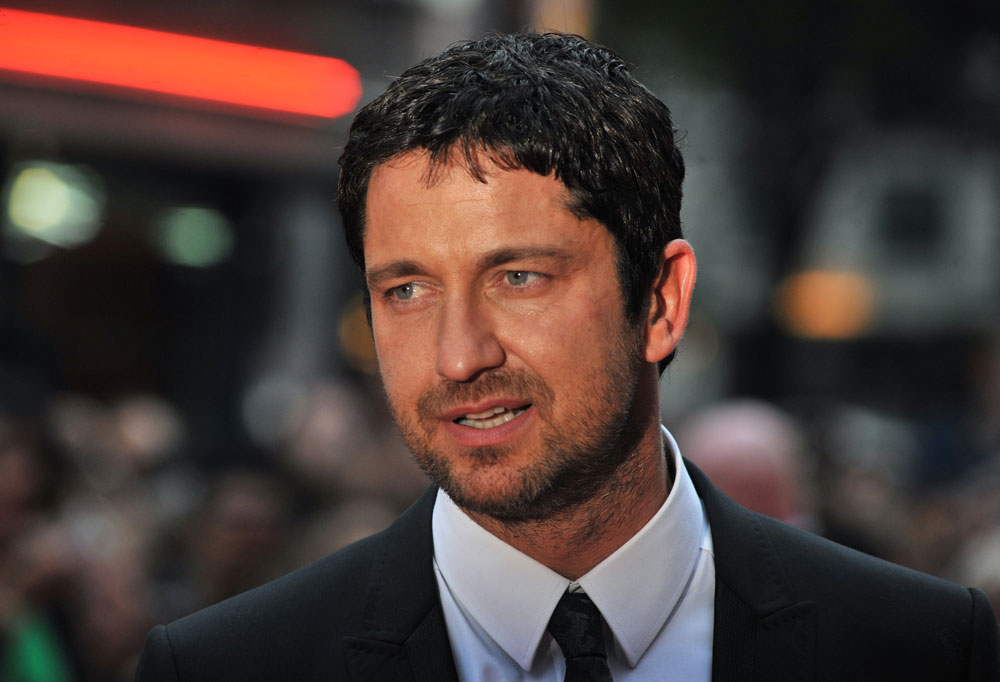 Gerard Butler and Katherine Heigl attended the London premiere of The Ugly Truth last night. I'm kind of "meh" on Katherine's dress – while I appreciate a girl who's not afraid to wear green on a red carpet, the actual cut of the dress is weird. Heigl has a nice figure, I don't get why she's been covering up so much lately. As for Gerard, I'm not a huge fan of the scruffy, unshaved look. That being said, I always like him in a suit. And Gerard and Katherine have looked consistently adorable together - I actually think they must get along really well in real life. I wonder what Gerry's secret is for curing Heigl's constant diva act?
Gatecrasher has a funny story up about Gerard's activities in New York last week. Apparently, one of the "Real Housewives of New York" was trying to get her claws into Gerry, and he wasn't having any of it. Personally, I could totally see Gerard with NeNe, the totally awesome "Real Housewife" of Atlanta. But the broad hitting on Gerry was Kelly Bensimon, whose claim to fame this year has been giving her boyfriend a beatdown. Thank God Gerry steered clear of her:
Kelly Bensimon was in for a taste of the ugly truth when she was apparently dissed by Gerard Butler, with whom she swapped numbers after a night of heavy flirting at the SoHo Grand in June.

The "Real Housewife" looked upset when she caught the Scottish hunk flirting with "Damages" actress Rose Byrne at a Gramercy Park hot spot last week. Says a spy, "Kelly blocked Gerard from speaking to Rose and was flirting up a storm – but he couldn't have seemed less interested."

Later, Butler found Byrne, apologized for the awkward situation, and chatted exclusively to the pretty brunette in a private corner for the rest of the evening.
[From Gatecrasher]
Gah! He was chatting up Rose Byrne? She's pretty and everything, but she plucks my last nerve. Part of it isn't her fault – she wasn't cast correctly in Damages, and she doesn't have the skills to pull off her character. Oh, well. At least she wasn't a "Real Housewife". So perhaps Gerry does have some standards? Or at least he has good enough radar to detect Psycho McCrazyEyes.
Gerard Butler and Katherine Heigl are shown at the UK premiere of The Ugly Truth on 8/4/09. Kelly Bensimon is shown on 7/22 and 7/9/09. Credit: WENN.com