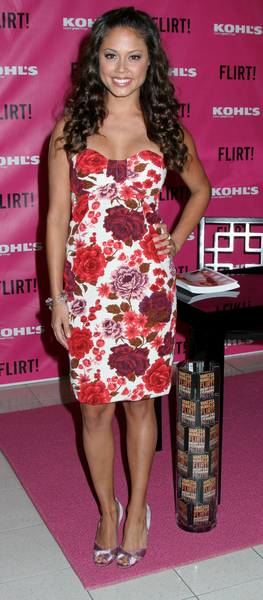 Vanessa Minnillo is hardcore. She's got a reputation as being a bit of a diva – supposedly that's why she was axed by MTV and "Entertainment Tonight" – and apparently she's bringing that same diva mentality to her relationship with Nick Lachey. She's told him that he's got to marry her by next year or she's out the door. I think Vanessa Minnillo has an inflated sense of self. When she worked for "Entertainment Tonight" she was supposedly a total bitch when she had to actually work, and thought she'd become enough of a celebrity that she shouldn't have to interview people… which was her job. Ahh, to be paid to stand there and look pretty. Pretty much what I do here at Celebitchy.
"Vanessa Minnillo has hit Nick Lachey with a wedding ultimatum – marry me by next year without a prenup or I'm gone! 'Vanessa loves Nick, but she's prepared to walk if he's not willing to marry her,' an insider told The ENQUIRER. 'And she's not going to get involved in a prenuptial agreement. She feels marriage is forever, and she doesn't want to begin a lifelong commitment by signing an agreement that's just an out for a divorce.' Ex-boy band member Nick, 33, and the 26-year-old beauty are spending time between homes in Los Angeles and New York – and are nearly ready to seal the deal, say sources.

"As the Enquirer recently revealed, Vanessa has picked out an engagement ring – a platinum band with a large emerald-cut diamond in the center and two smaller emerald-cut stone on each side. She first spotted the sparkler at the Kentucky Derby in May. 'But all bets are off in Nick forces a prenup on her,' said the insider."
[From The National Enquirer, print edition, October 8, 2007]
My favorite part is just how worried Nick is about his money. Supposedly the "Enquirer's" source said, "'Nick wants the prenup, mostly because he saw what happened with his first marriage to Jessica." Um, isn't that exactly how he got all his money that he's worried about? When he was with Jessica, their net worth was around $50, but he was only responsible for $5 million – so 10%. Yet he ended up with about half of their net worth, which means he gained about $20 million just for being married to Simpson. I'm not arguing whether he did or didn't deserve it, but I just think it's really ironic that he's so worried about losing it in the exact same way he won it.
Picture Note by Jaybird: Here's Vanessa Minnillo at the launch for her "limited edition" of Flirt cosmetics. "Limited edition" meaning it won't sell well so they're planning on canceling the line from the get-go. Images thanks to PR Photos.